The crypto market has evolved along the same lines as classical markets. The difference is that classic financial markets have taken decades to evolve, while cryptocurrencies are moving many times faster. The crypto derivatives market now already offers a wide range of instruments, from simple CFDs to complex options.

What is Binance?
The most popular crypto exchange in the world has relatively recently mastered the direction of trading deferred contracts. For this purpose, the owners of the company had to open a separate service called Binance Futures.
Features of the Binance derivatives trading platform:
the types of contracts traded are perpetual (the trading period is set by the seller);
two coins - BTC/USDT - are used as a crypto pair;
according to the terms of the contract, the margin (start) is 0.8%; standard funding rate is just 0.01%;
the time frame of the contract is 8 hours;
traders can use a credit limit of up to x125.
Today, this crypto exchange is the most popular due to the good reputation of the main trading floor. In a day, $1.5 billion worth of futures are traded on the exchange.
What are crypto derivatives?
Crypto derivatives are used for two main reasons: hedging and speculation. Binance derivatives in Pakistan are used in many areas, but primarily for hedging purposes when investors want to protect themselves from price fluctuations. In this case, signing a contract to buy the asset at a fixed price helps mitigate the risks involved.
Another way to benefit from Binance crypto derivatives trading is through speculation, which is when traders try to predict how the price of an asset might change over time.
In addition, the biggest attraction for Binance derivatives trading is leverage. Leverage allows you to gain significant exposure to an underlying asset at only a fraction of its total cost.
A derivative is a contract between a seller and a buyer to trade an underlying asset at a certain price.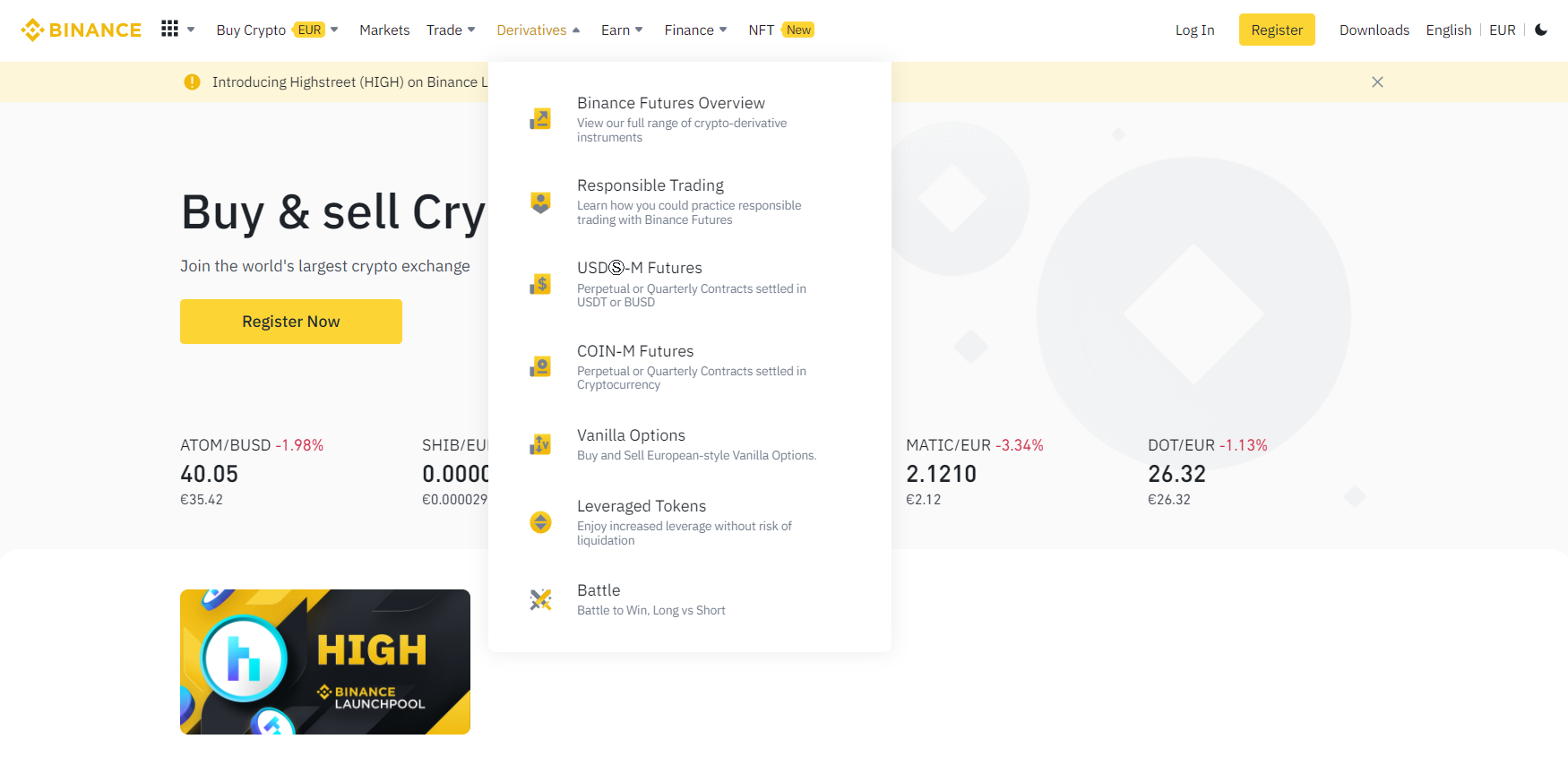 What is a crypto derivatives exchange?
A crypto exchange is a marketplace where digital assets are bought/sold. Most of the crypto exchanges that traders are familiar with are centralized. These include Binance, Huobi, Bittrex, OKEx and other popular companies.
The advantages of Binance's centralized crypto derivatives trading platform are:
Instant order execution due to the absence of the need to write each transaction to the blockchain;
High liquidity. The concentration of a large number of traders on one platform and market makers allows leading exchanges to provide acceptable trading volumes not only in popular pairs (BTC/USDT, ETH/BTC), but also in exotic ones (TRX/XRP, EOS/ETH);
Loyalty programs. They are active on the most of the platforms. If someone registers through your referral link, you will receive a reduction in commissions or a portion of the rebates of referred clients;
Good for trading. For trading, only the centralized platforms are suitable, because their combination of qualities makes it possible to make transactions quickly and cheaply. A large number of assets are available to traders. The trading software is constantly evolving;
More than 365 cryptocurrencies are available on the Binance platform for crypto derivatives trading in Pakistan. The platform also supports various fiat currencies including US Dollars, Euros, Australian Dollars, Pounds Sterling, Hong Kong Dollars and more.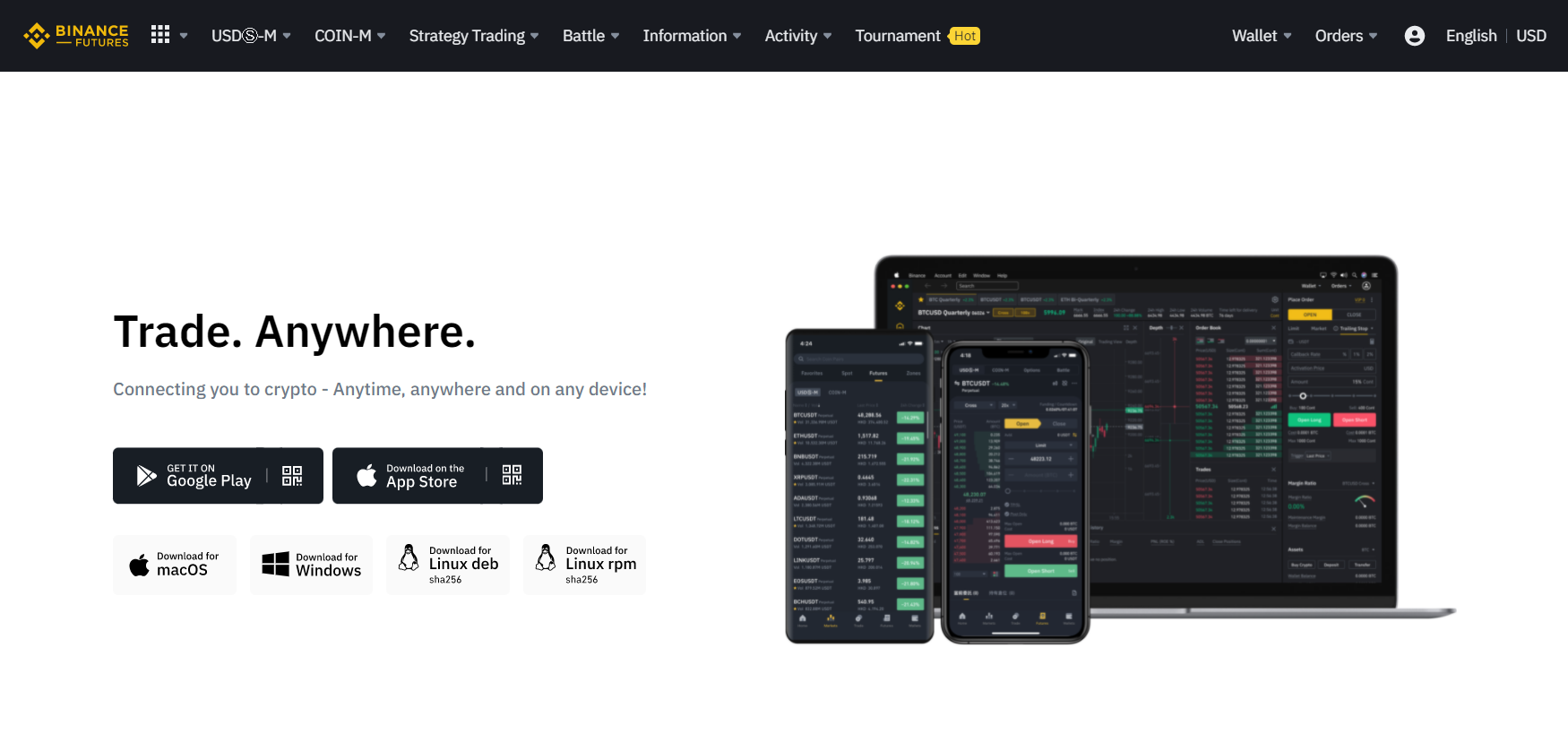 How does crypto derivatives trading work?
A trader can make money on Binance crypto derivatives through changes in the price of the underlying asset. As the future market price of the underlying asset is unknown, all traders take the risk. If the commodity is cheaper at the time of execution, the seller makes a profit and the buyer is left with a loss. If the price goes up, the buyer wins.
Depending on your location, Binance may offer between 50 and 591 crypto pairs.
To increase earnings from Binance derivatives trading, the trader uses leverage, a credit that the exchange provides. The amount of leverage is proportional to the deposit the trader has made. This allows the trader to make transactions for large sums.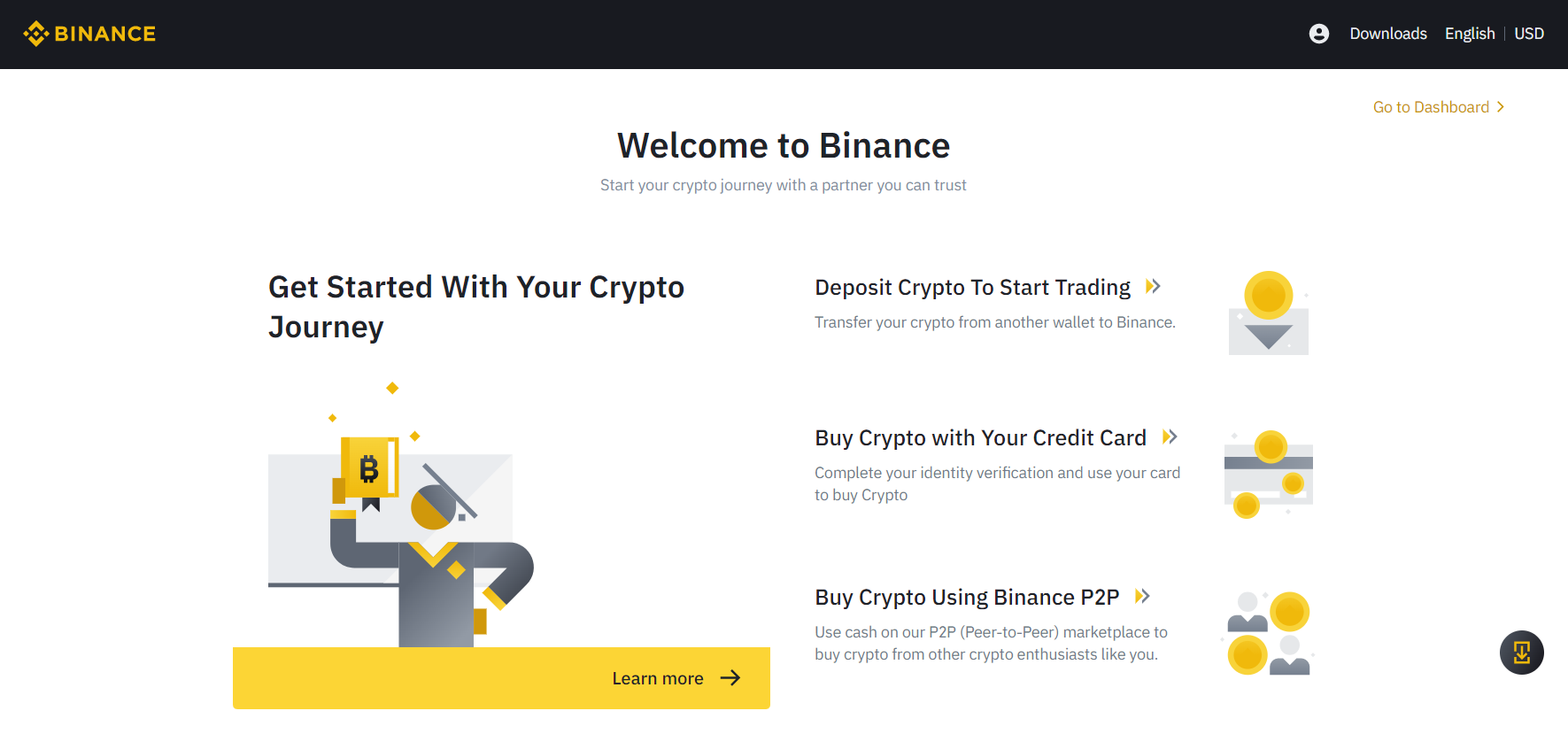 How to trade Binance derivatives in Pakistan?
Binance crypto derivatives trading in Pakistan offers several growth prospects for a good trader. The trick is to develop a strategy before starting with Binance derivatives. A trader should analyze and understand the risks associated with Binance derivatives trading before starting a trade.
There are two types of analysis used in Binance crypto derivatives trading - fundamental and technical. The first involves analyzing the news, economic and political components that affect the exchange rate price. The second involves working with the history of price movement and pattern formation. The trader's task is to control the price, buying and selling coins at the right time.
Binance crypto derivatives trading platform is suitable for beginners. It is important to consider the following rules, and you will succeed!
You should not give in to emotions. A trader must keep his composure, control his actions and be as cold-blooded as possible.
When opening an order, it is recommended to put no more than 5-10% of the deposit. Such approach excludes loss of coins and allows less anxiety in the process of trading.
When working on the Binance derivatives trading platform, it is important to rely only on your strength and knowledge. The best option is to monitor price movements based on fundamental and technical indications. Selling and buying cryptocurrencies should be done with a strategy in mind.
The optimal option is to use multiple currency pairs. If you work with just one crypto, there is an increased risk of losing money.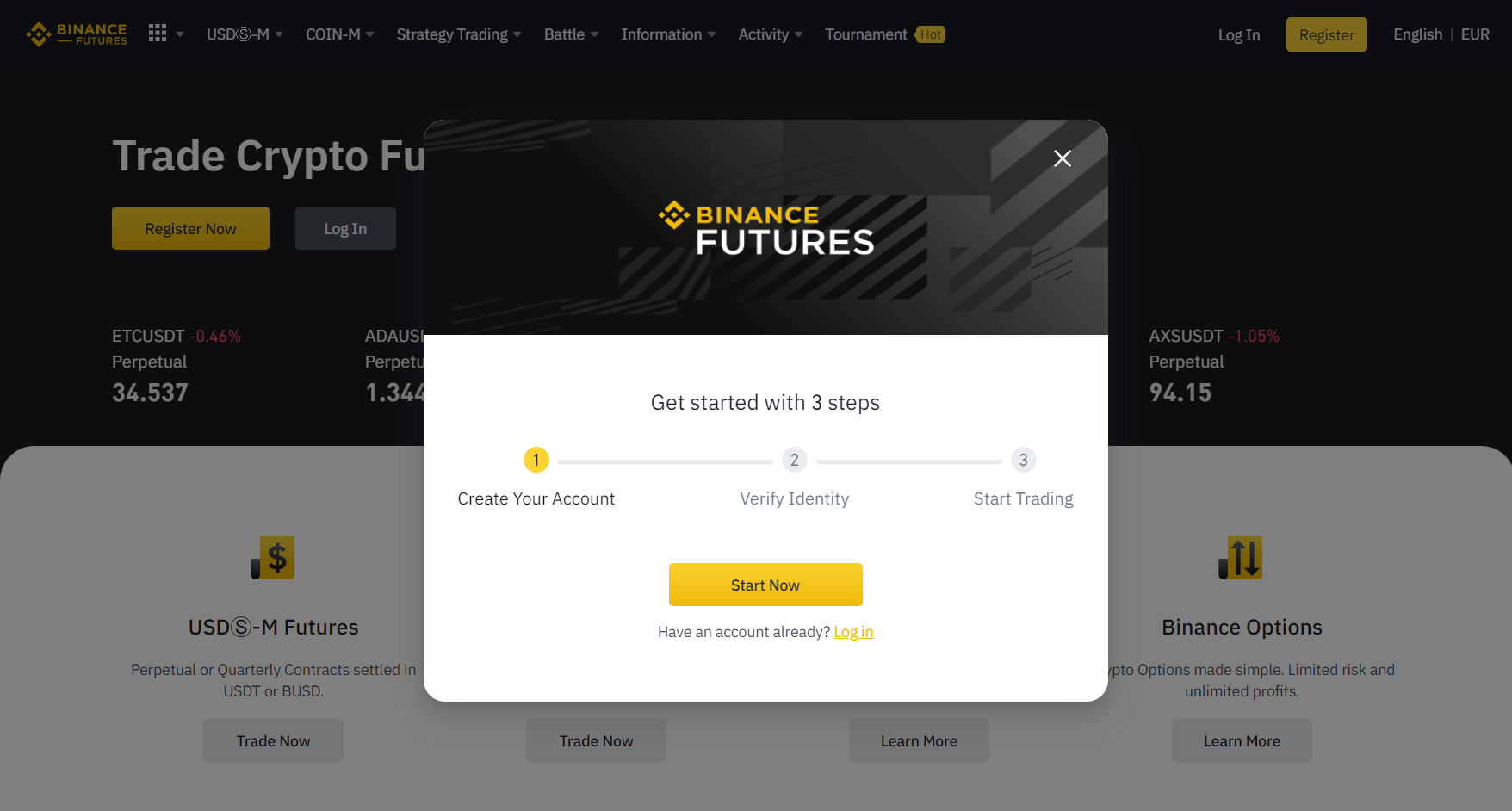 How to sign up?
To start trading on the Binance crypto derivatives trading platform, all you need is a laptop or computer and registration on the exchange's official website.
The registration process may take a few minutes, as Binance will verify your account information. To secure your Binance account, we recommend that you enable two-factor authentication. To do so, go to the "Security" section of your profile.
Users can access the Binance dashboard through a browser or downloadable desktop app. The company also offers mobile apps for iOS and Android, which can be downloaded from the Apple and Google Play shops.
How do I open a demo account?
Binance crypto derivatives trading platform is interested in creating the most favorable environment for newcomers. That's why it offers a demo account. You will be able to trade with virtual money instead of real money.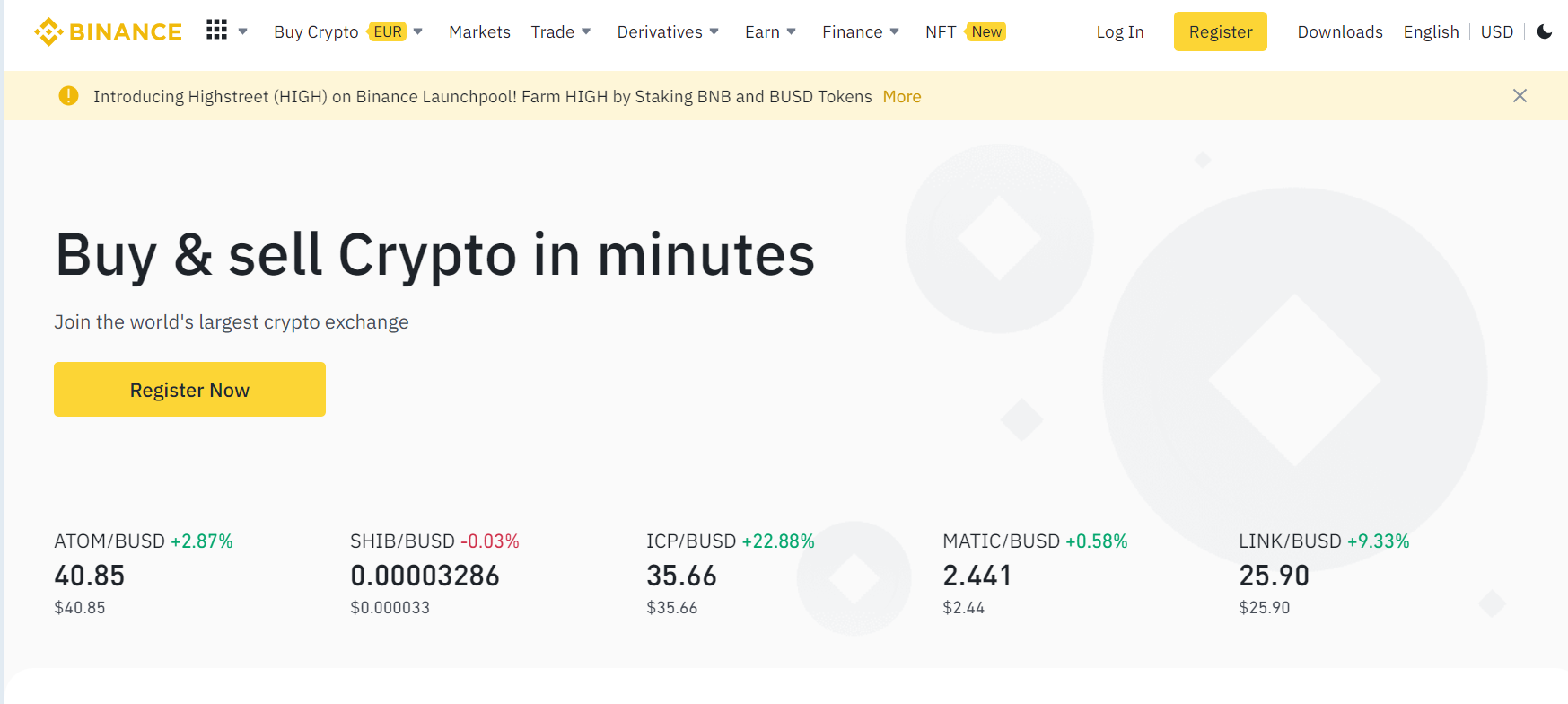 How to make a deposit?
Users can easily start trading Binance derivatives with a variety of payment methods, including bank wire transfer, credit or debit card, and cash. There is a suitable payment method for every user on Binance.
How to withdraw money?
In order to withdraw the assets to your wallet, you need to go to the appropriate section in your personal cabinet and form an application, in which you need to specify the following parameters:
crypto to withdraw;
transaction amount; wallet to which you want to withdraw coins.
Most of the small withdrawal requests (up to 1 BTC) will be fulfilled in 1-2 days.
List of Binance derivatives:
Binance derivatives trading in Pakistan is quite easy. If you already have a Binance account, you can start trading derivatives in minutes. To do so, go to the "crypto Derivatives'' section and select the asset you are interested in. We wish you a successful investment!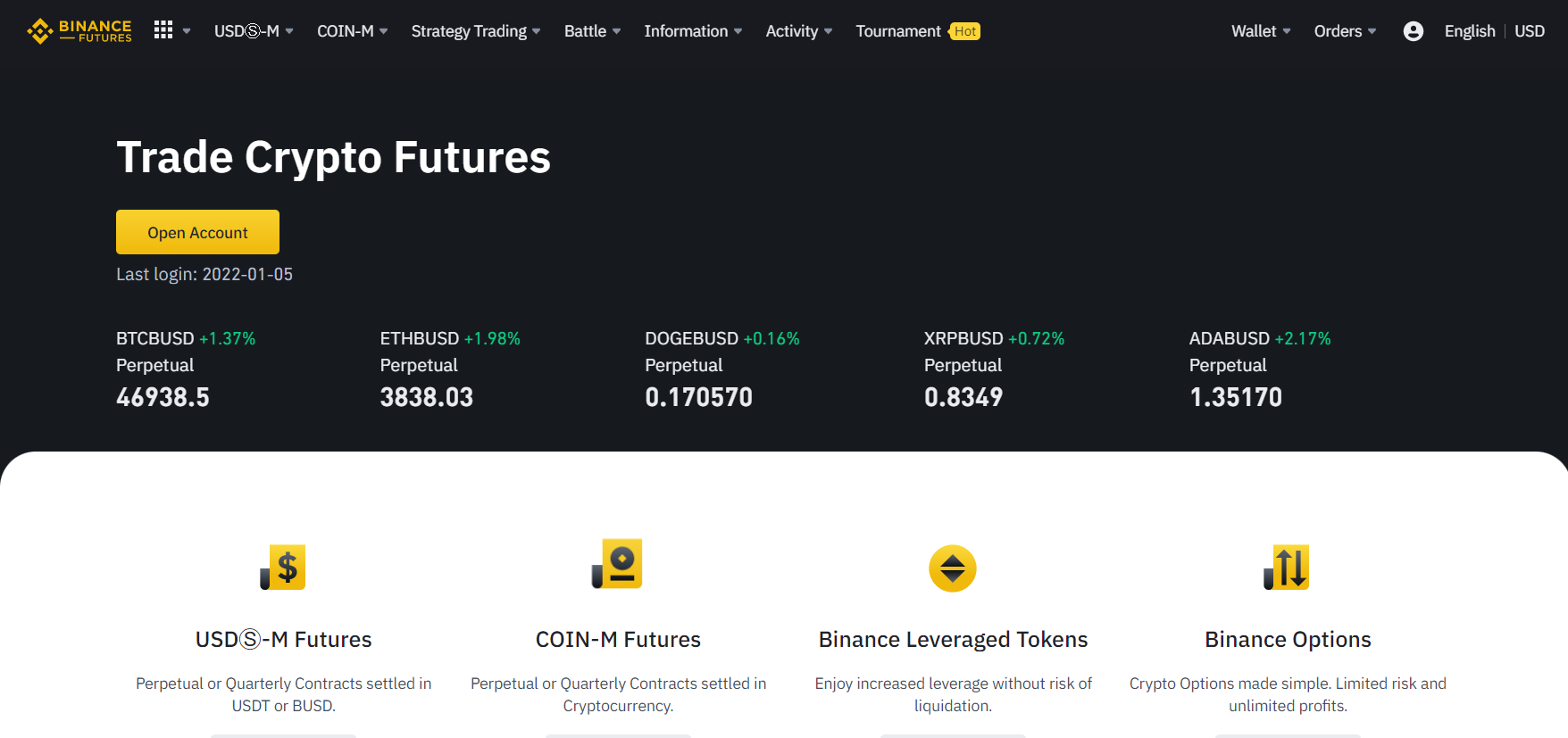 How does crypto futures trading at Binance work?
Binance crypto futures in Pakistan fall under the category of derivatives, that is, trading instruments derived from an asset. Futures is a very popular trading instrument that was created a long time ago to speculate on the value of commodities and raw materials. The strategies used in trading such futures are generally applicable to cryptocurrencies as well. A futures contract in crypto trading is an agreement between two parties to buy or sell a crypto, which is to occur on a certain date, at an assumed certain price.
Binance crypto futures trading is suitable for those who want to start using crypto, but without actually keeping it in digital wallets or worrying about its security. There are two main directions when trading crypto futures at Binance:
A long position, when a trader buys a contract with the expectation of future growth.
Short position, when a bid is made for a decline in price.
One can open long or short leveraged positions to make additional profits in markets with high volatility (risks are also increased).
Binance crypto derivatives trading platform is a reliable and secure platform for buying and selling cryptocurrencies quickly with robust and streamlined processes. You are only three steps away from your first bitcoin. Give it a try and you're sure to succeed!
Related pages
OKX Crypto Derivatives in Pakistan
SIMPLE AND RELIABLE
MONEY WITHDRAWAL