CoinTiger
This crypto exchange has cryptocurrency, fiat and margin trading services. As well as futures, Labs, Rocket, a voting platform and program. The platform offers a feature rich and intuitive interface available in the following languages: English, Turkish, Russian, Indonesian, Chinese, Vietnamese and Korean.
It can be seen that the developers have tried to create a high-quality, and most importantly, convenient platform. Most of the terminal is occupied by a chart provided by the TradingView service.
Advantages of the CoinTiger exchange:
130+ cryptocurrencies for trading on various markets - BTC, USDT, ETH, TRX, etc.;
A rich selection of trading pairs - BTC/USDT, BTC/BITCNY, ETH/USDT, EOS/USDT, ETH/BITCNY, etc.;
CoinTiger's own token - TigerCash (TCH), which makes it possible to pay already low transaction fees;
Services for cashing out CNY and USD;
Real-time market data;
Fast deposit and withdrawal of funds;
Several types of orders: market order, limit order and stop limit;
K-line chart - display of historical price data for the past period: day, week, month, year or all the time;
24-hour multilingual customer support;
Fiat, cryptocurrency and margin trading.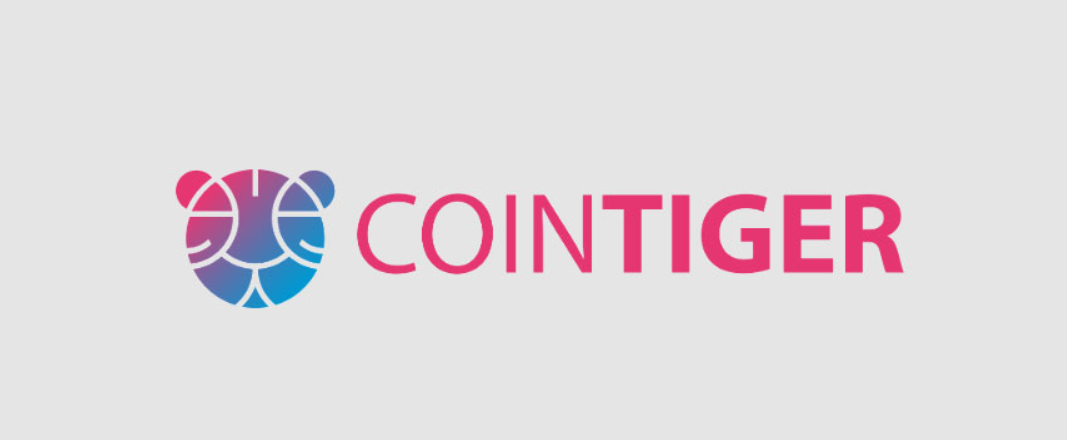 Verification on the CoinTiger platform
It is not necessary to pass verification on the CoinTiger crypto exchange if you deal only with cryptocurrencies. But if you work with fiat currencies, you will need to go through this procedure. Only verified users can buy and sell cryptocurrency for fiat.
The platform also allows you to enter fiat currencies. At the moment, only the US dollar and the Chinese yuan are supported. The service offers to enter USD or CNY, which are immediately exchanged for USDT (the digital equivalent of the US dollar) or BitCNY (the virtual equivalent of the Chinese yuan). In the future, it is also planned to purchase the in-platform TCH token for fiat.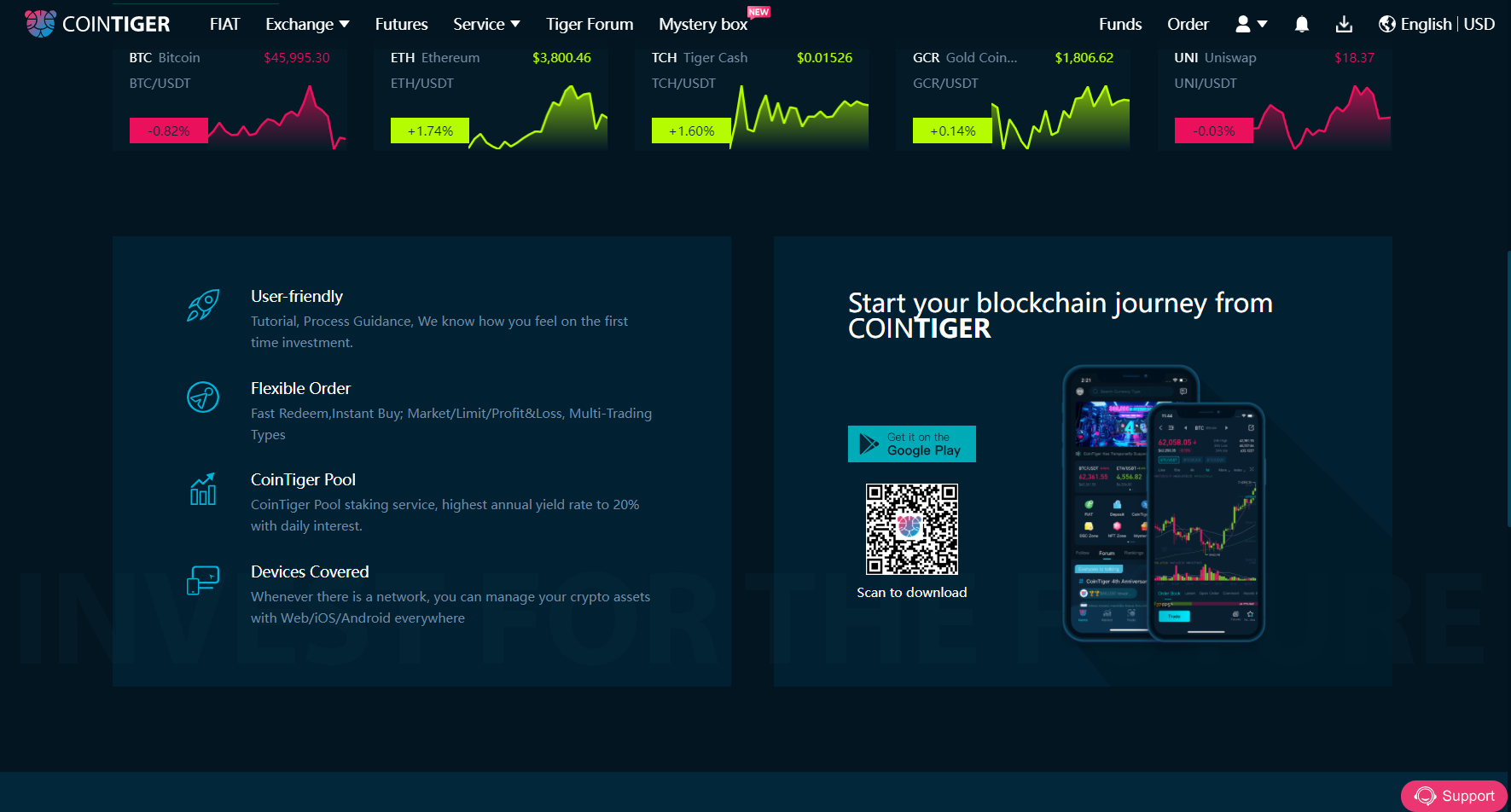 Crypto exchange fee on CoinTiger
Cointiger.com does not charge any fees for topping up your account. But on each trade, users pay a commission, which is 0.15% for takers and 0.08% for makers. There is also a commission for withdrawing funds from an exchange account. The amount of the commission fee is individual for each digital asset:
BitCNY - 1;
BTC - 0.0005;
Dash - 0.002;
EOS - 0.1;
ETH - 0.1;
FIL - 0.013;
USDT - 1, etc.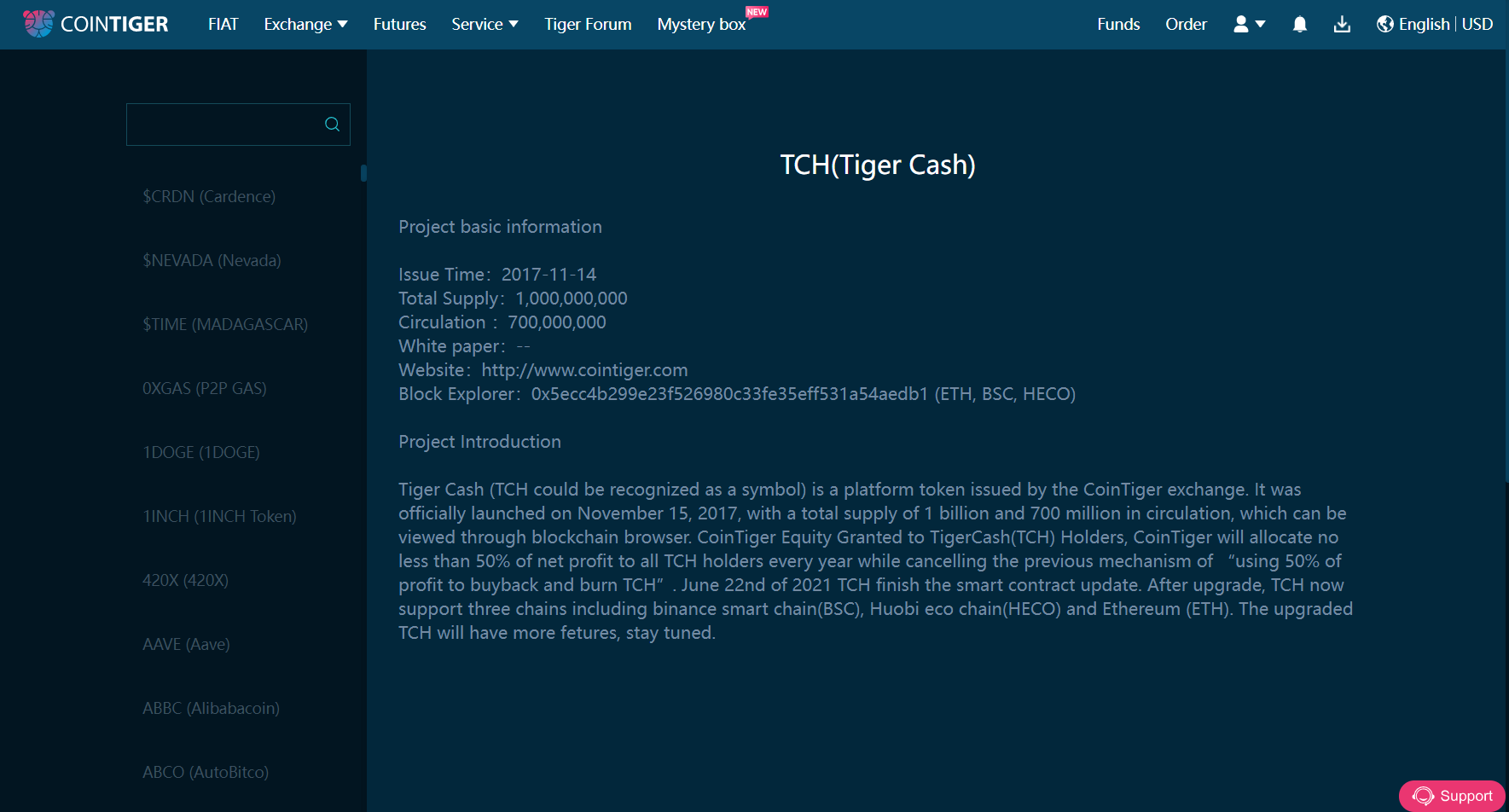 Support service
You can contact support as follows:
e-mail: support@cointiger.com;
feedback form and online chat on the site;
Telegram;
Twitter;
Facebook;
Reddit.
What are cryptocurrency derivatives?
The cryptocurrency market can be divided into spot trading and trading in derivatives, or derivative financial instruments. Today we will explain what cryptocurrency derivatives are and how they can be used.
What are derivatives?
A derivative, or derivative financial instrument, is a financial contract between two or more parties who wish to buy or sell an underlying asset at a set price in the future.
The value of the contract will be determined by changes in the price of the underlying asset. Derivative contracts can have anything as an underlying asset: conventional currencies, cryptocurrencies, commodities, bonds, stocks, market indices, and interest rates. Derivatives can be traded in two ways: through exchanges or through a consumer-to-consumer (C2C) system. The second method has its own differences related to regulation and trade. In the crypto industry, derivatives are becoming increasingly popular, especially bitcoin futures contracts. Recently, CoinTiger crypto futures in Pakistan have been very popular.
Types of Cryptocurrency Derivatives
Cryptocurrencies are a highly speculative market with large price fluctuations occurring on a daily basis. Naturally, traders seek to capitalize on these fluctuations. Using crypto derivatives, traders can speculate on the future price of bitcoin or other altcoins and make a profit if their predictions turn out to be correct. There are various types of crypto derivatives that can be traded on either traditional exchanges or regulated crypto exchanges such as the CoinTiger derivatives trading platform.
CoinTiger derivatives in Pakistan are very popular. Below we will look at the main types of crypto derivatives traded on the CoinTiger cryptocurrency derivatives trading platform.
Futures contracts
A futures contract is a financial contract entered into between two or more parties in which the underlying asset, in our case a cryptocurrency, is bought or sold on a certain date in the future, but at a price set in the present. A futures contract allows investors to hedge positions and reduce the risk of unpredictable market fluctuations, which is quite appropriate given the volatility of cryptocurrencies. Thus, by signing a contract that directly sets the price of the underlying cryptocurrency, traders can reduce their risk by trading bitcoin and altcoin futures. The first bitcoin futures were offered by the Chicago Mercantile Exchange (CME) and the Chicago Board Options Exchange (CBOE) in December 2017. Currently, the Chicago Mercantile Exchange (CME) is the largest derivatives exchange in the world, handling over 20% of all derivatives trading globally.
CFDs (Contracts for Differences)
A CFD is an agreement based on an underlying cryptocurrency that enters into an agreement to pay the owner the difference between the price of the underlying asset at the beginning of the contract and the price at the end of the contract. When you open a CFD, you are speculating whether the price of a cryptocurrency will rise or fall. If the contract is liquidated and your price predictions turn out to be incorrect, you will have to take higher losses as this is a leveraged product.
ETFs (exchange-traded funds)
An ETF is a derivatives contract that tracks the change in the price of a particular cryptocurrency or group of cryptocurrencies. Traders can diversify their portfolio with an ETF without actually buying or owning the assets tracked by said ETF.
Swaps
Swaps are a type of crypto derivatives that allow the parties involved to exchange cash flows from two different financial assets. For example, at some point in time, one party may switch an uncertain cash flow, such as a floating interest rate, to a definite movement, a fixed interest rate. The swap can be carried out both with interest rates and with the base currency. Swap contracts are rarely traded on an exchange, as they are usually negotiated between two parties privately and through an investment banker. The first regulated institutional exchange to introduce bitcoin swaps was LedgerX, which added derivative contracts back in October 2017. Only accredited investors and institutional clients can access the LedgerX trading platform. There are also many other institutional exchanges that provide these types of contracts.
Options
An option contract is an asymmetric derivative that imposes obligations on one party while the other party decides later, i.e. when the option expires. This means that one party is obligated to either buy or sell later, while the other party has the option to make its choice. Obviously, whoever makes the choice must pay a premium for the privilege. These types of contracts come in two forms: call option and put option. A call option gives you the right, but not the obligation, to buy a cryptocurrency at a later date at a given price, while a put option gives you the right, but not the obligation, to sell something at a later date at a given price. Therefore, the contract has 4 options and the owner of the contract can choose to go long or short a put or call option.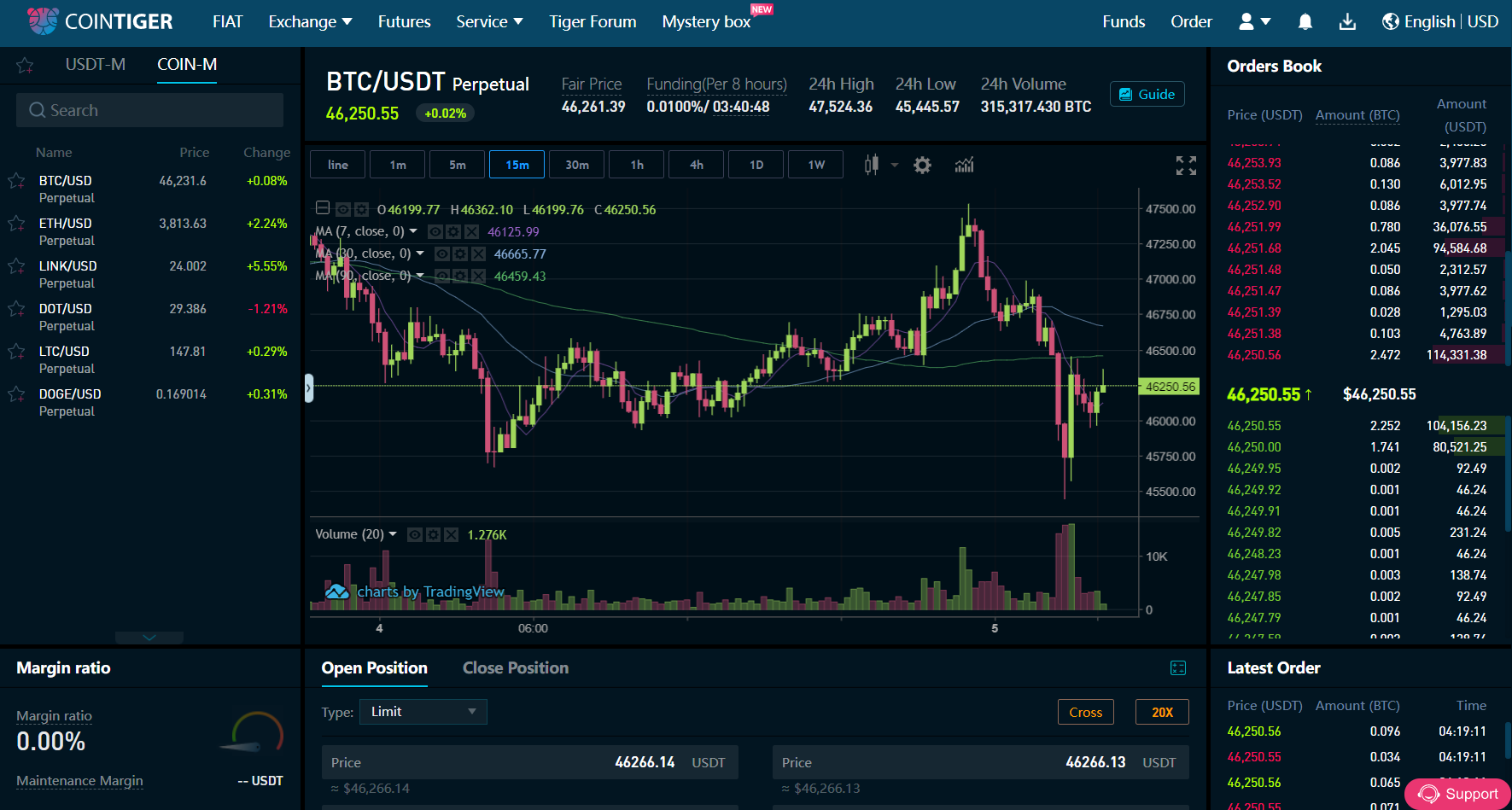 How to start trading CoinTiger derivatives in Pakistan?
How to register on CoinTiger (website)?
Visit CoinTiger, click "Register".
Please register by mobile phone or email and fill in the information according to the tips.
Enter the verification code and complete the registration.
If you haven't received a verification code, please try again and check if you have enabled the interception of your SMS/emails.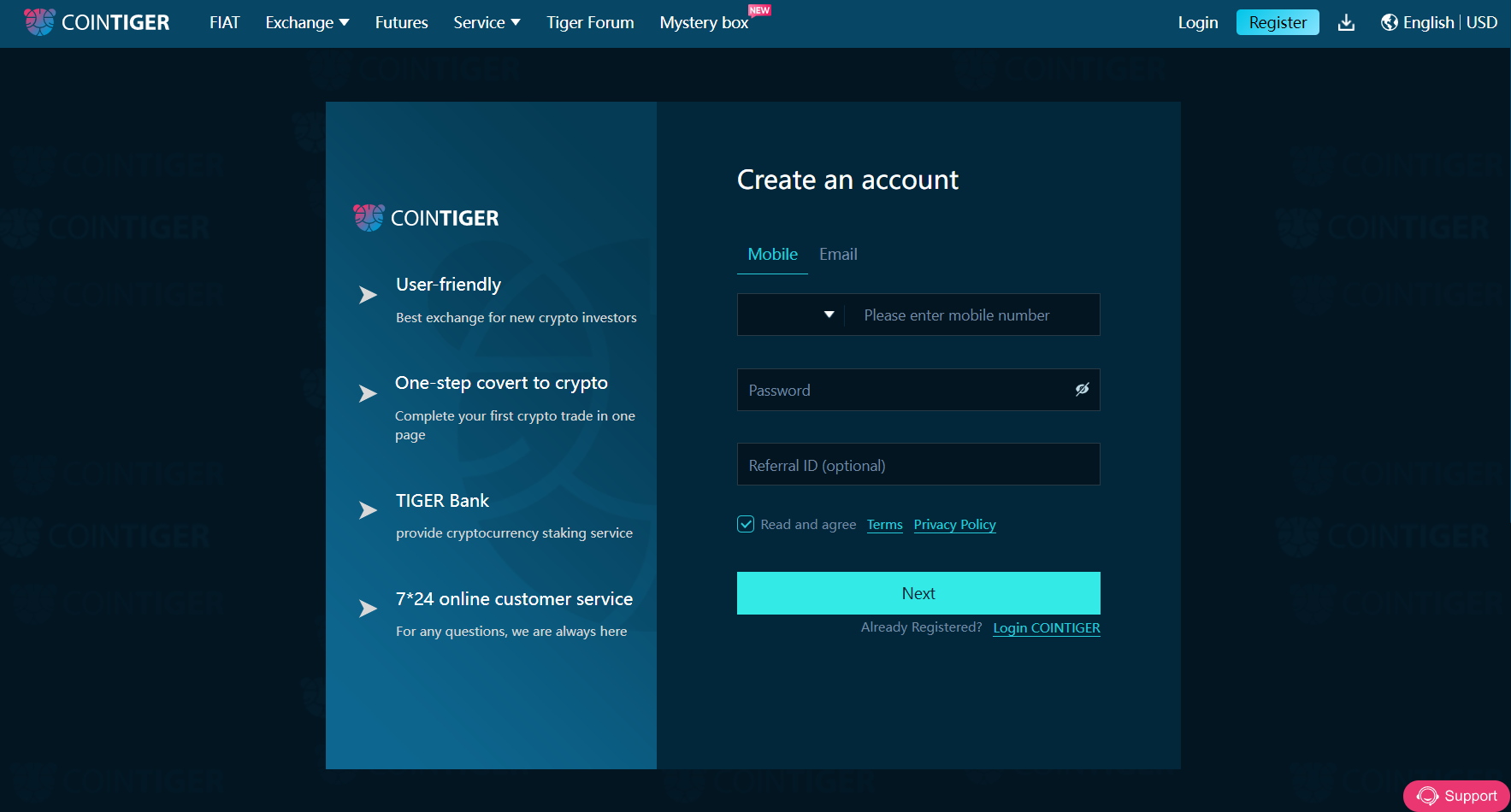 How to deposit?
Log in to the official website of CoinTige Click "Funds" - "Deposit" in the upper right corner.
Select the coin you want to deposit.
You can check your deposit in "Deposit Records".
Reminder:
Please check your deposit tokens and deposit address before you start depositing, your assets will not be recovered if you deposit to the wrong address.
Deposit address will depend on block update, please always deposit to a new address.
Parts of the token have restrictions on the minimum deposit amount (for example, the minimum deposit amount is 50), be sure to read all the tips before making a deposit.
Smart contract deposits or block rewards are not currently supported.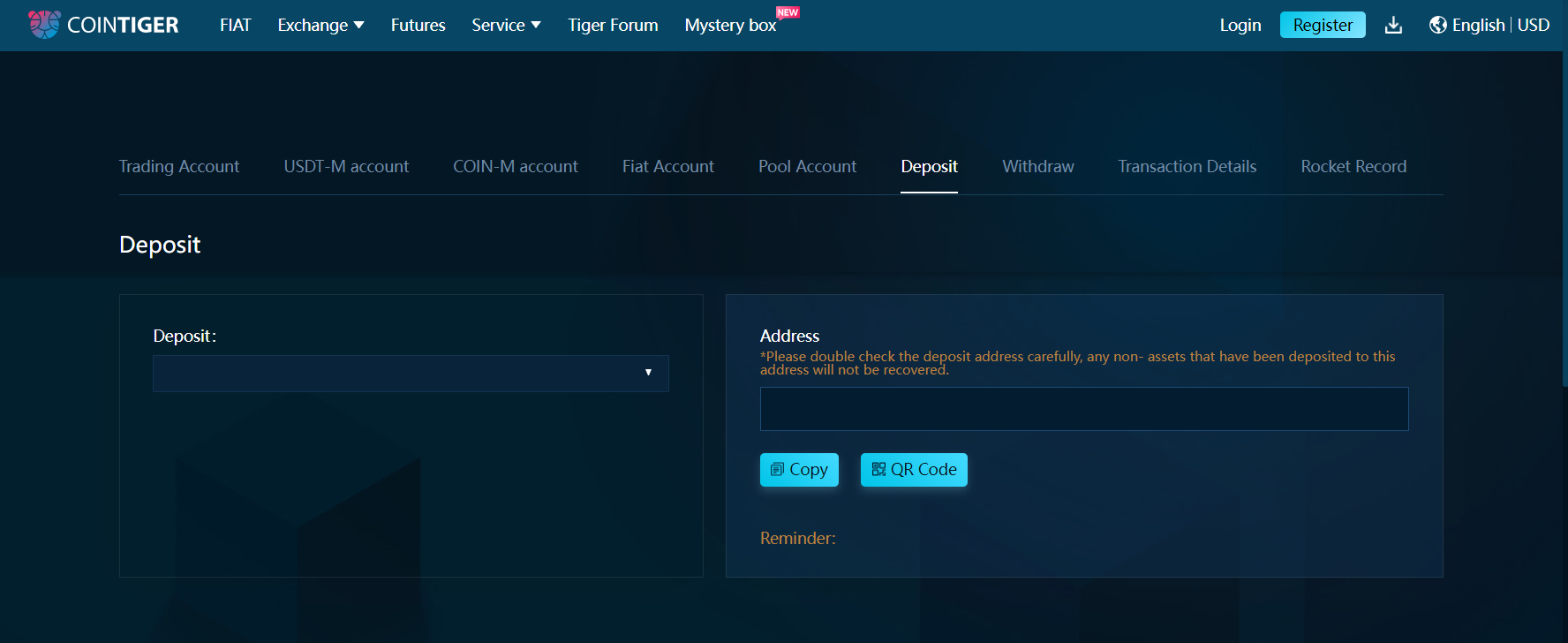 How to trade CoinTiger cryptocurrency derivatives?
Go to the CoinTiger website. Click "Login" on the menu and enter your login details.
If you want to purchase TCH with USDT, select USDT Market and enter TCH in the search field. You can then enter the transaction page by clicking on the TCH/USDT pair.
You can trade on CoinTiger through market sell/buy and limit sell/buy. If you choose to market sell/buy, you can set a price close to ask1/bid 1 for a sell/buy. However, you can also trade via maket if you want to transact immediately.
Note: A stop-limit order will be executed at the specified (or potentially better) price after the specified stop price is reached.
How to withdraw?
Visit the CoinTiger website. Click "Funds" - "Balance" to go to the withdrawal page.
*If you have never set a funds password before, please set a funds password first.
Select the withdrawal token (ETH), click "Manage addresses" - "Add address" and fill in the relevant information according to the tips.
Please write the withdrawal amount, verification code, asset password and other available information on the withdrawal page, click "Submit" after double verification.
You can check the withdrawal progress in the "Withdrawal Record" section after the withdrawal.
Reminder:
Please check your deposit tokens and deposit address before you start depositing, your assets will not be recovered if you deposit to the wrong address.
Please do not withdraw your assets to the smart contract address, otherwise your assets will not be recovered.
The minimum withdrawal amount and the withdrawal fee are different for each token, please check the additional information after you click on the token on the withdrawal page.
Verification
To identify a person, you need to go to the "Authenticator" section on the account settings page. Here you need to do the following:
Select the country of residence from the proposed list;
Enter the full name, as in the passport;
Indicate the number of the identity card (passport, ID card or driver's license);
Upload a photo of the ID page with basic information.
The exchange has a very convenient training in CoinTiger cryptocurrency derivatives trading.
Start CoinTiger crypto futures trading and you will succeed!
FAQ:
Am I compatible with a fiat deposit?
CoinTiger provides access to OTC trading only and operates as a platform where merchants and users can trade freely.
As a buyer, is there any risk of not receiving tokens after payment?
Once users place a purchase order, the platform will lock the merchant token in the platform wallet and the payment will be secure. If you have not received your tokens after 30 minutes of payment, you can contact CoinTiger to file an appeal and our exclusive customer support team will assist you.
Is KYC required to trade fiat money?
What is the fee for trading fiat money?
There are currently no fees for fiat trading.
Is the price the latest on CoinTiger?
The price is provided by third party sellers, they can adjust the token, price, trading amount limit and trading method according to the market.
How to pay when buying tokens in fiat trading?
You need to pay merchants using the payment method they provide, such as online banking, mobile banking, Alipay, WeChat, or other third-party payment platforms. Please click "Paid" in the order details after completing the payment.
SIMPLE AND RELIABLE
MONEY WITHDRAWAL