Buy General Motors shares in Pakistan
In today's world of investing, online trading has gained a strong foothold. Brokerages offer convenient online trading platforms through which you have access to all transactions in the stock market. Whereas in the past an investor had to call his broker on any issue, paying attention to his work schedule and adjusting to it, things are very different now. Now a trader can view any information related to the stock market and make any transaction at any time convenient for you. Would you like to place buy and sell orders, set market limits, specify a stop loss or determine order status? You may also want to read the news about trading organisations, recall all the assets you currently own, access your previous investment reports, etc. Online platforms provide detailed dashboards to make this possible.With online trading, you can place trade orders or cancel them directly from the comfort of your home. You can buy shares or mutual funds or invest in an IPO and start by simply opening an account and trading with any registered broker.
Today's review is about investing in General Motors stocks in Pakistan.
Why are investors attracted to General Motors Company?
General Motors Company (GM for short) is an American car company founded on 16 September 1908 and engaged in the production of cars and vans, marine engines, industrial equipment, communications technology and financial services, among other activities. GM has been a public company since 20 December 1916, listed on the New York Stock Exchange. One of the largest companies in the world, headquartered in Detroit.
General Motors of America was founded on September 16, 1908 as a holding company for Buick. Due to its dynamic development other companies, engaged in production of automobiles, started to buy it. Thus Oldsmobile merged with Olds Motor Vehicle Company in 1908, as well as Cadillac (bought by GM for $5.5 million on July 29, 1909).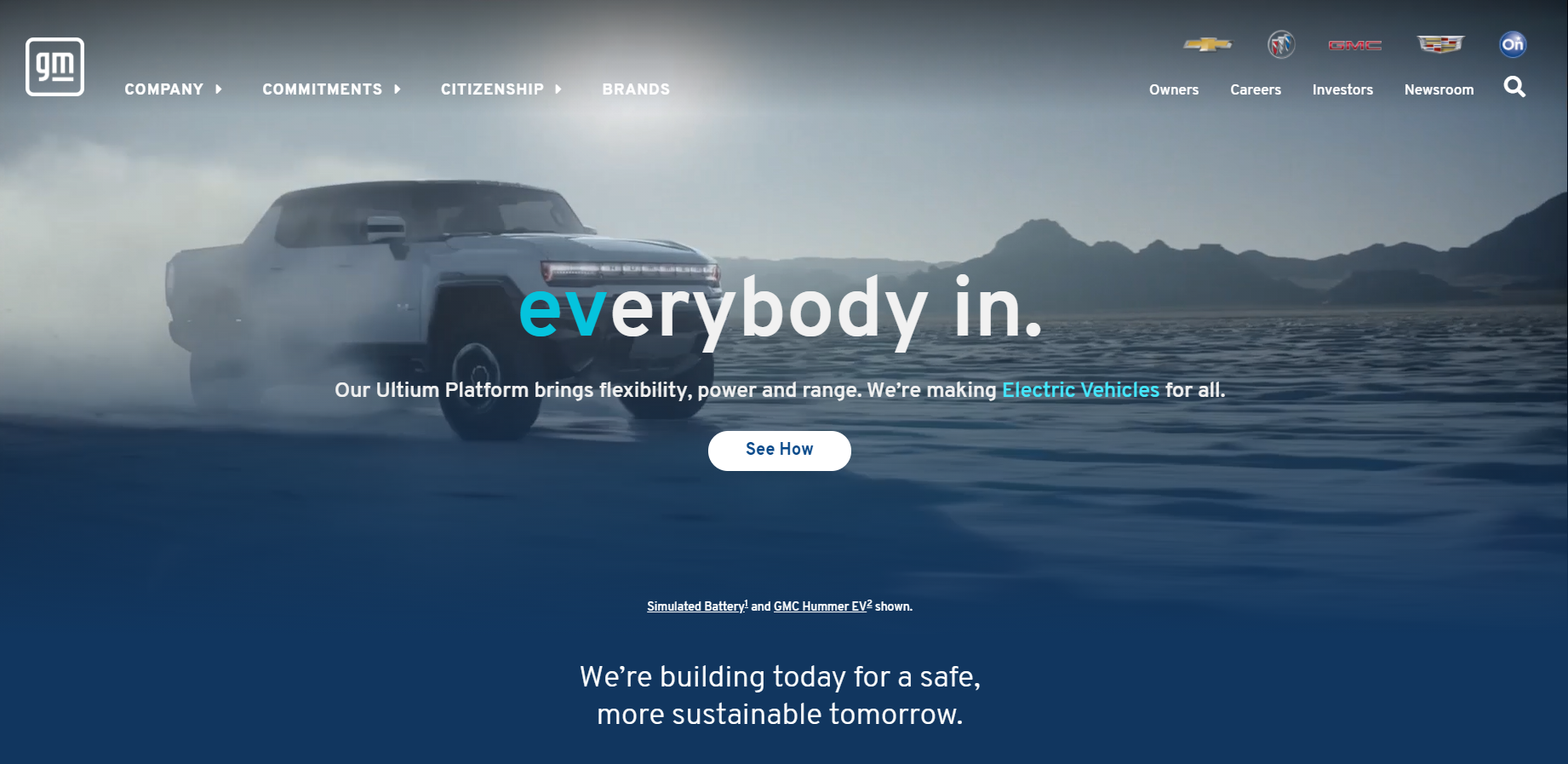 The merger policy in the US continued until the US auto industry was concentrated in the hands of three corporations: General Motors, Chrysler and Ford. In 1925 General Motors acquired the British car manufacturer Vauxhall, and in 1929 the German Opel.
The group's individual brands for the American market were to occupy different market segments from the 1930s, occupying different positions in terms of price and prestige, from Chevrolet to Pontiac, Oldsmobile and Buick to Cadillac. In the 1960s, these distinctions began to largely blur and these brands also began to compete with each other.
General Motors was the first American corporation to announce annual profits in excess of one billion dollars in 1955. On May 28, 1999, Delphi Automotive Systems was separated from GM.
In the first decade of the 21st century, the concern struggled financially. In 2009, Rick Waggoner stepped down as president and was replaced by Fritz Henderson.
On June 1, 2009, the concern declared bankruptcy and filed for bankruptcy. On 11 July 2009, GM was acquired by the US Treasury Department and has operated as General Motors Company ever since. Part of the rights to the Saab brand were bought by the Chinese company BAIHC.
More than 2 years after bankruptcy and a year and a half after restructuring, the concern made a profit of $9 billion in 2011 (of which $7 billion in North America alone), the highest in its history. At the same time, the company made 9 million vehicles, up 7.6% from 2010, making it the world's biggest auto maker by volume. Earlier this title belonged to Japanese corporation Toyota.
Today General Motors is present in 120 countries. Subdivisions of the automobile concern work with brands: Baojun, Buick, Cadillac, Chevrolet, Daewoo, GMC, Holden, Isuzu, Opel and others.
In 2010, the company held an IPO, recognized as one of the largest in history. The cost of securities started at $33 per share, thus GM earned $15.8 billion at its offering.
Today, GM stock is valued at $57.53, showing a 161.84% increase in value over the last year.
The company is of interest to investors all over the world, including Pakistan.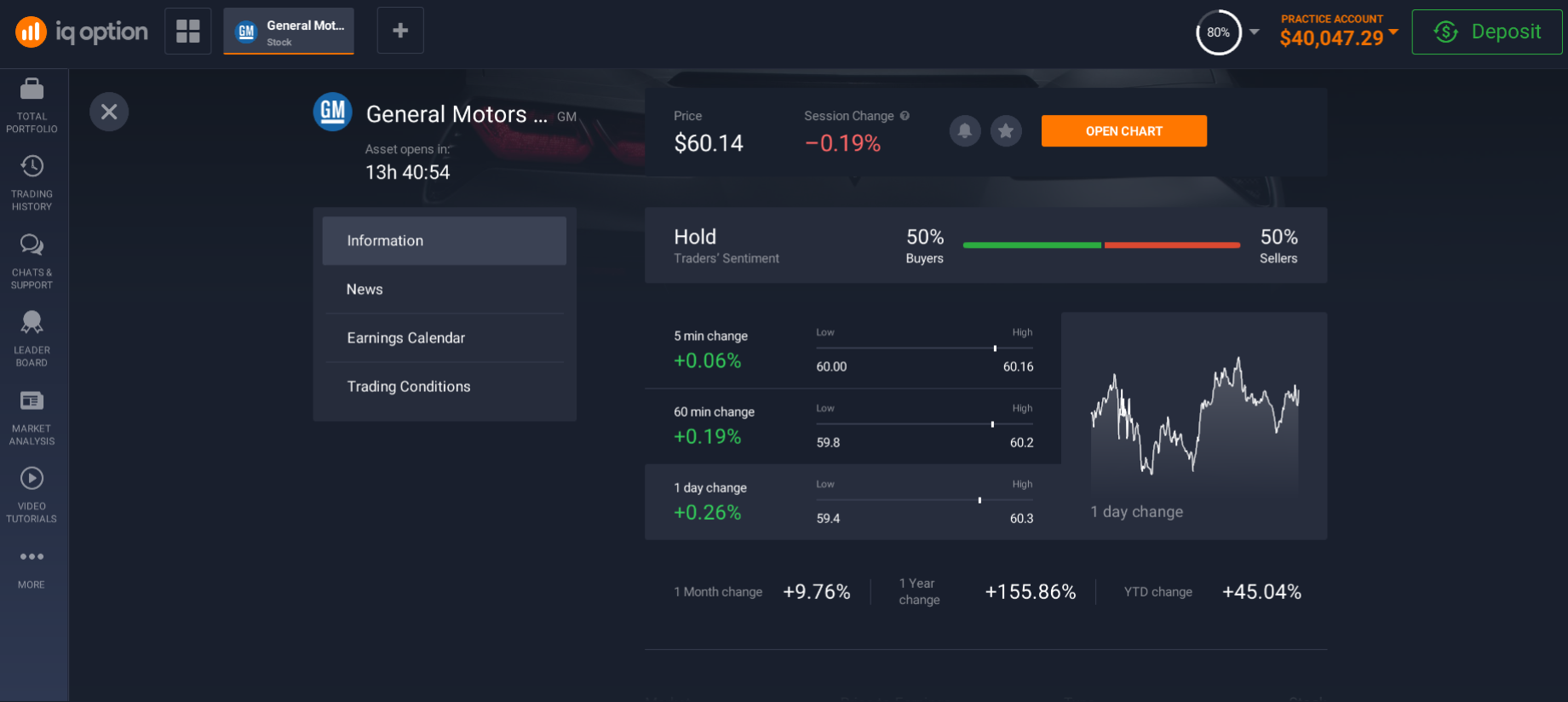 How to invest in General Motors shares in Pakistan?
General Motors shares are traded on the NYSE as well as the Hamburg, Frankfurt, Berlin, Munich, Hanover, London and other European stock exchanges.
You will find the company's shares under the ticker symbol GM.
Before you start working with the issuer's shares, you need to find a broker who works with the carmaker's stock.
The choice of brokerage companies is now extremely large, but your task is to choose the best intermediary. To do this, firstly ask whether the brokerage company has a license for brokerage activities. Secondly, check the reviews of the company's activities.
Check how the trading platform works. Remember, online trading differs from classic investing in that you will be acting on behalf of the broker, using the online trading platform provided, but virtually on your own. Therefore, functionality, informativeness, clarity and ease of use are important qualities of the platform.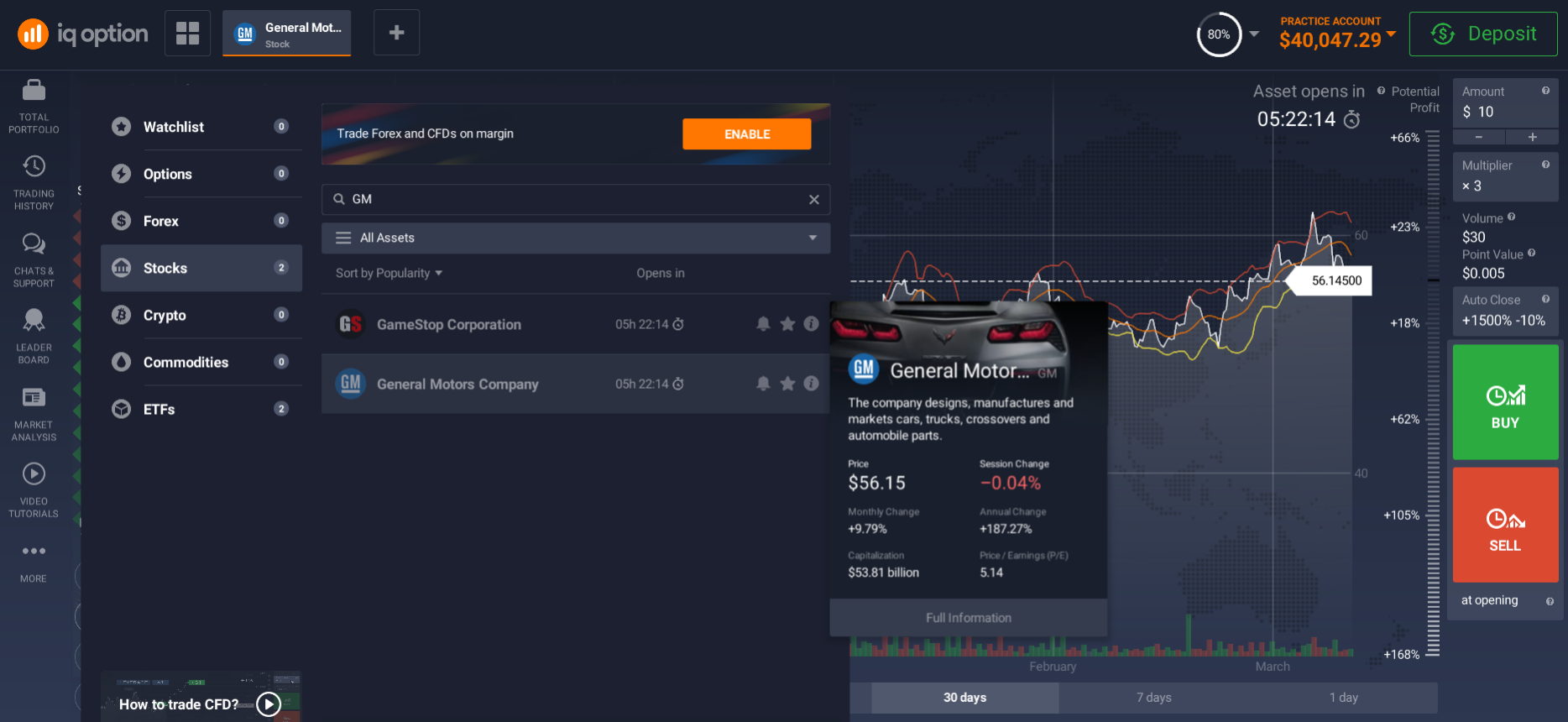 Whether investing in shares via the dividend method or trading in derivatives is the next question.
If your available investment capital is a substantial amount and you want to have passive income for the future, feel free to choose the dividend method.
Dividend investing is widely regarded as one of the safest methods of investing. The size and frequency of dividend payments are determined by each company, based on internal policy, at a general meeting of shareholders.
General Motors pays a quarterly dividend of 4.5-5% per annum.
However, it is worth remembering that the company may suspend its dividend payments, directing all profits to the company's development, as well as cancelling the payment altogether if the company's financial condition deteriorates or it goes bankrupt.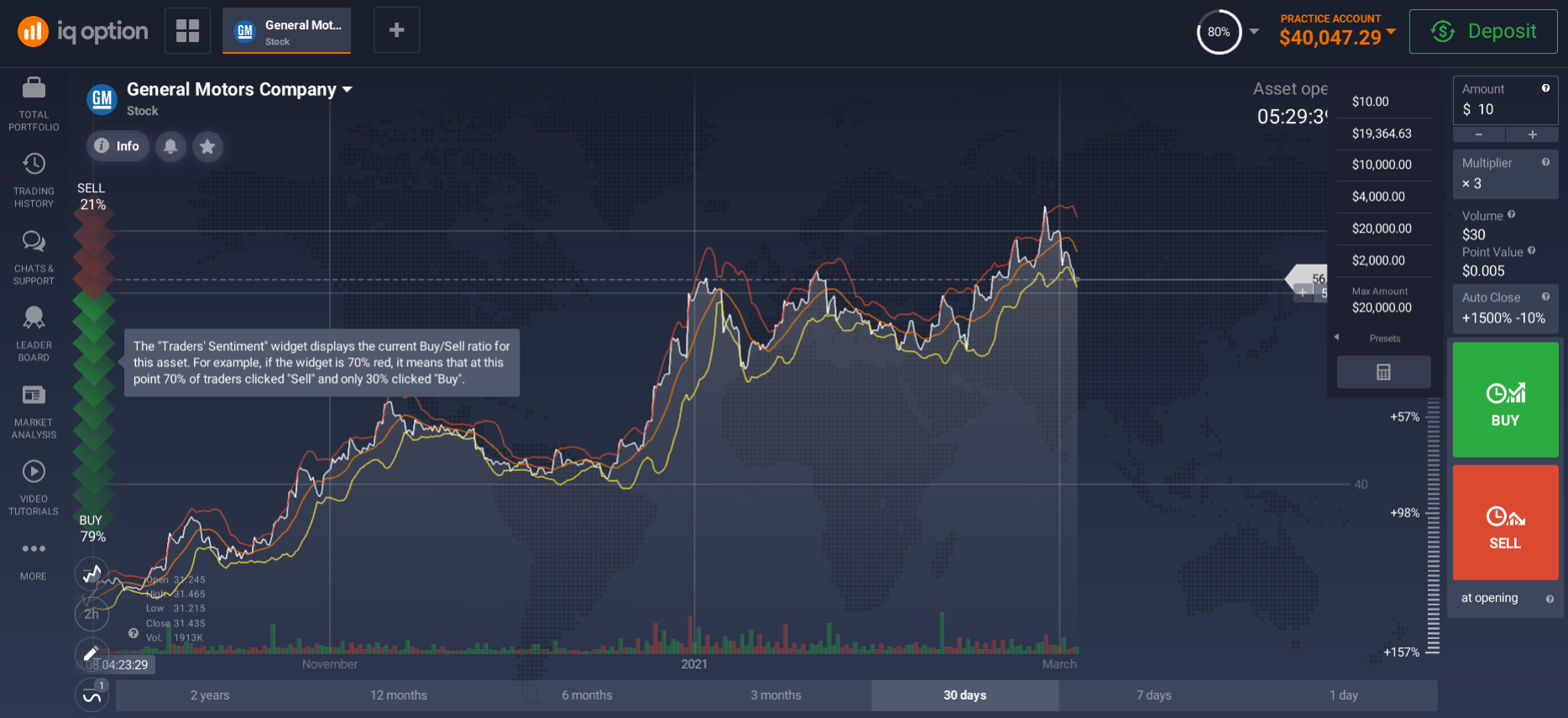 Many traders choose to trade in CFD derivatives.
CFDs are a form of derivatives trading that allows you to make potential profits by speculating on rising or falling prices in global financial markets (or products) such as stocks, indices, commodities, currencies and fixed income securities.
It is a contract between two parties, usually described as a "buyer" and a "seller", where the two agree to exchange the difference in the price of the underlying instrument from the time the contract is entered into until it is terminated. The seller would be an online trading venue and the buyer would be an individual. Thus, differential contracts are derivative financial instruments that allow the trader to profit from prices that are both up and down in the financial markets, depending on which position is opened. If you believe that the price of an instrument is rising, you should enter into a long / buy position to be able to profit while you should enter into a short / sell position if you believe the opposite.
Trading CFDs gives you the opportunity to make money whether the market is rising or falling.
When trading derivatives you can use leverage, but remember that this also increases the risk of the transaction.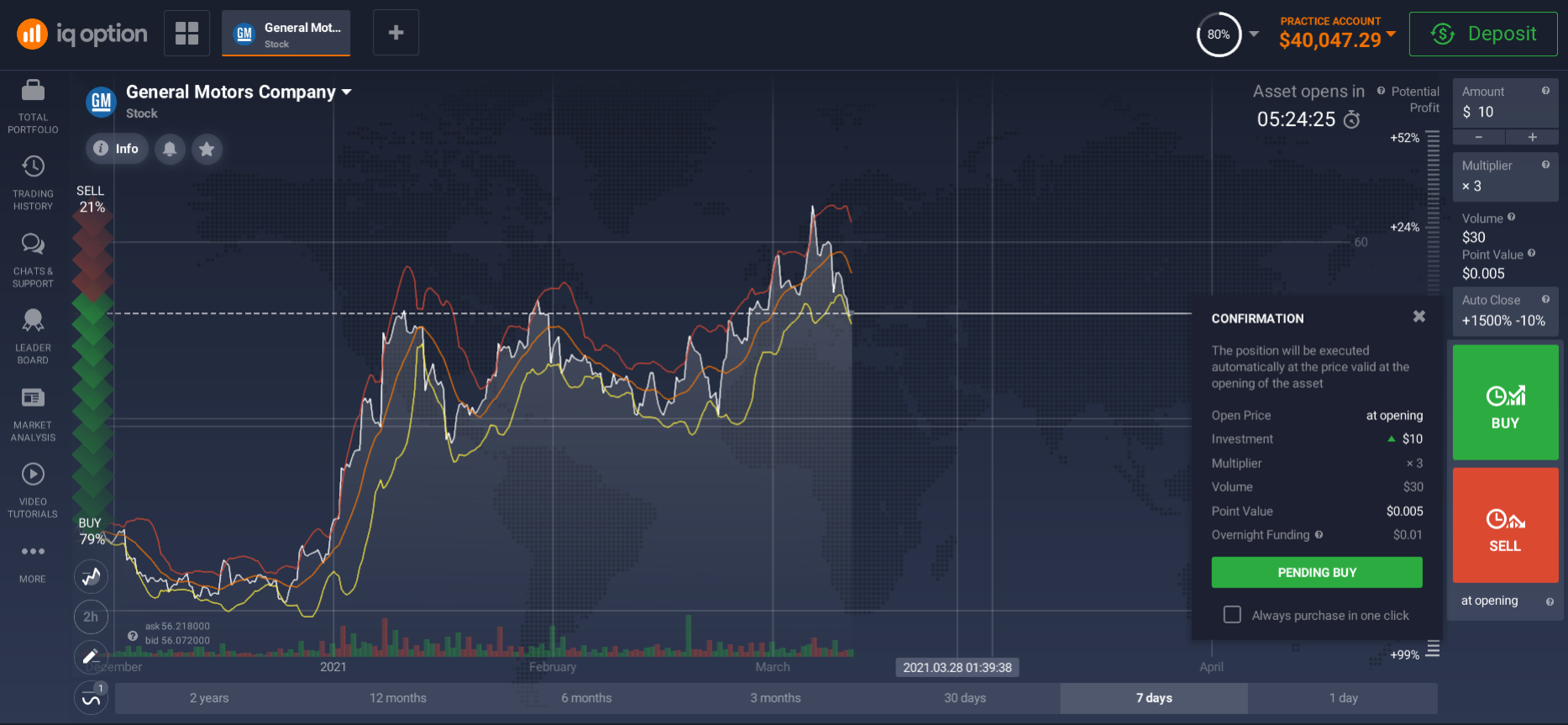 How to buy General Motors shares in Pakistan?
Once you have decided on your investment method and chosen a suitable broker, go through a simple registration on the trading platform. Enter your current information: username and email address to receive an activation code. After you have completed the activation code you will now be able to work on the platform using your account. If you are already registered in one of the social networks, you can also log in through this social network without registration.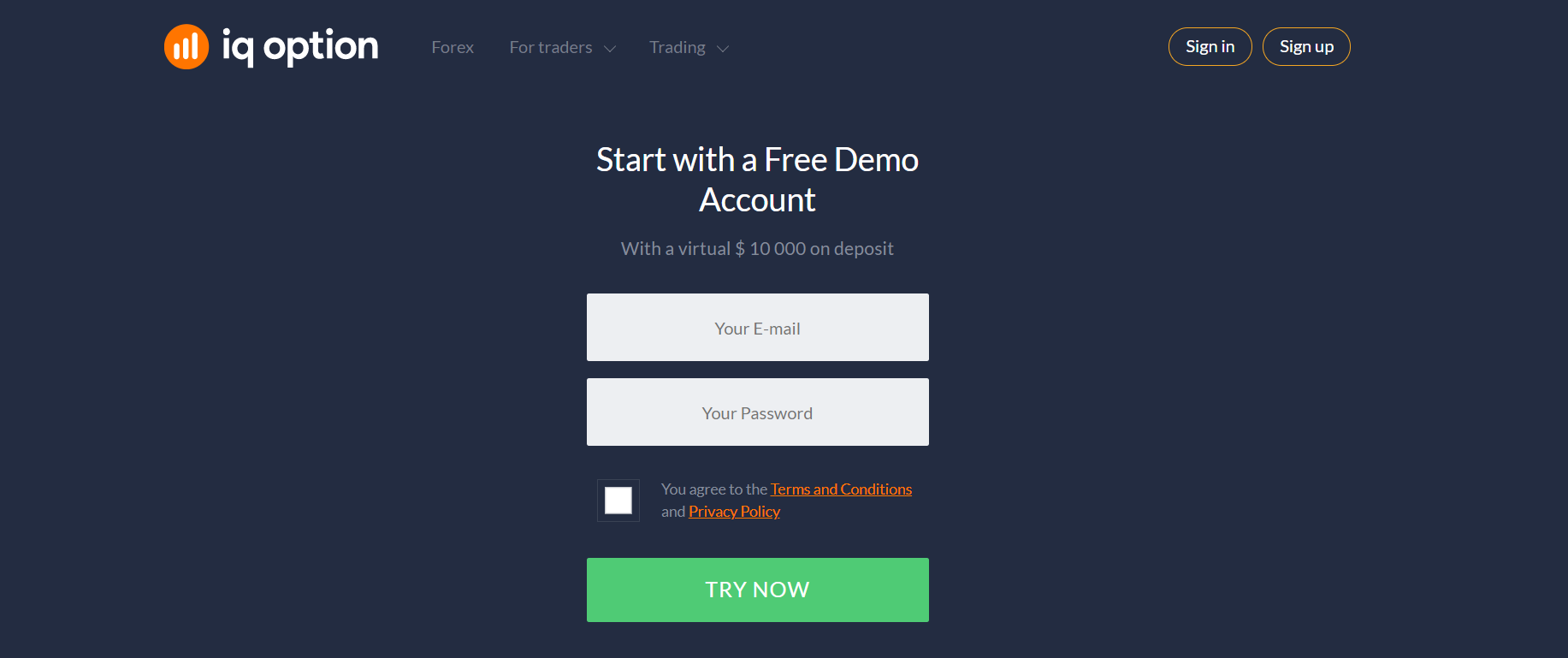 We recommend that potential traders who are new to trading or would like to try out the platform should start with a demo account. The demo account is activated by the system upon first login to the website automatically. It is free of charge and does not require any kind of "pre deposit", which some brokers require from their clients first. This demo account has preset practice funds of $10,000, which you can use to carry out practice transactions.
This money is fictitious, so you will not risk any real money when you are learning or becoming familiar with the platform.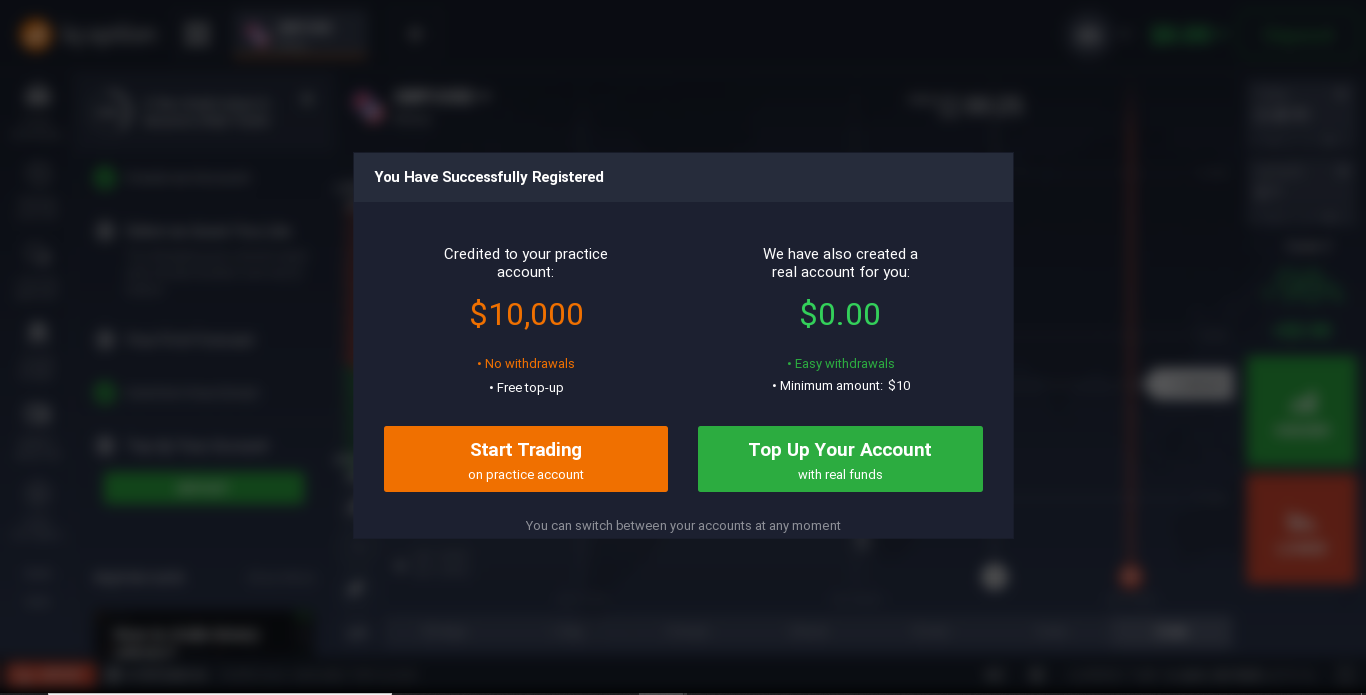 To start trading online with real money, activate a live account by depositing $10 or more.
There are several ways to do this. To see the funding options on the platform, click "Deposit" and the system will redirect you to the funds transfer page where you will see all the available payment methods. You can use your bank card or any of the available online payment systems. The money is credited to your account instantly.
Using the same methods you can withdraw your money later on.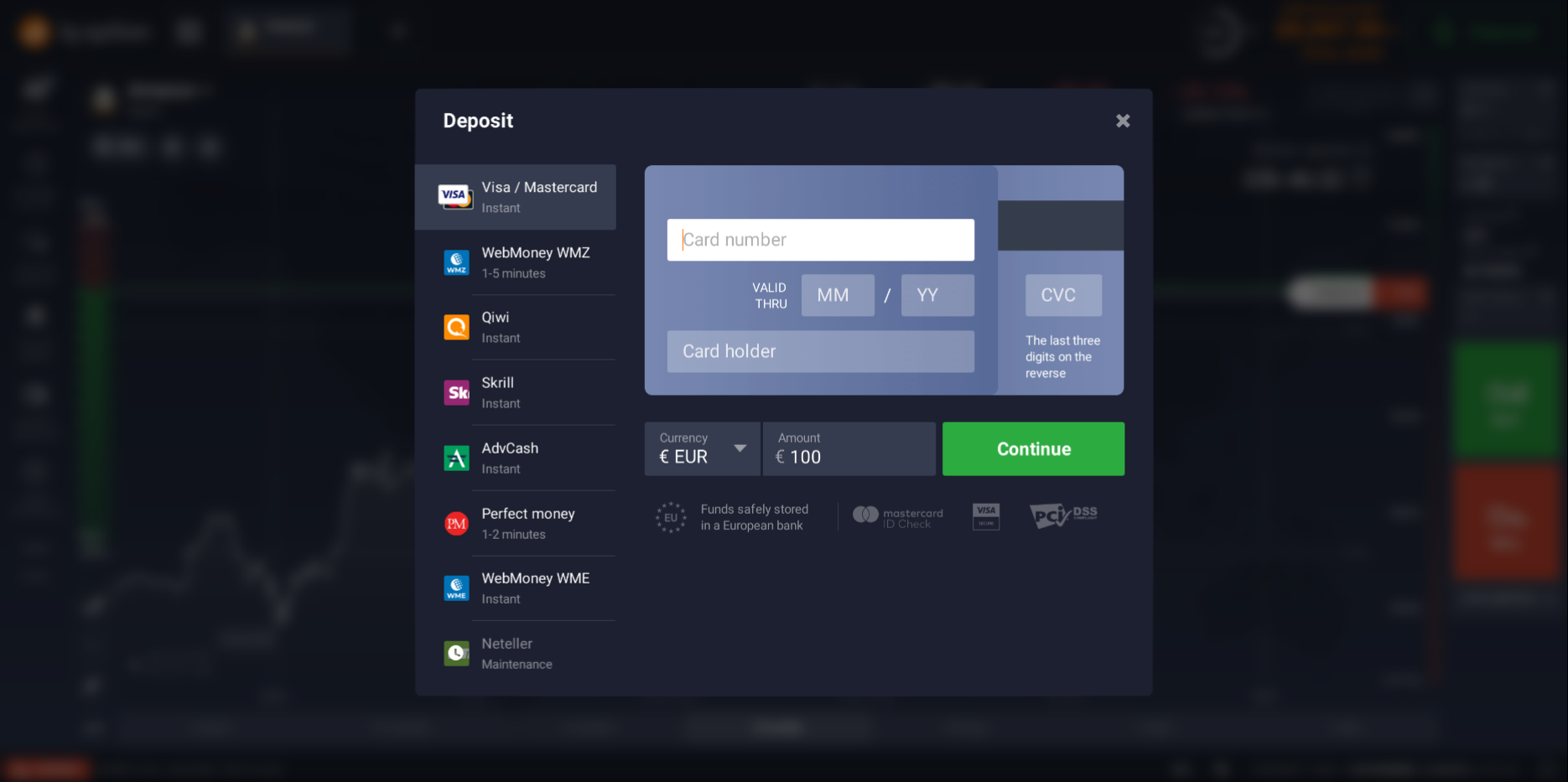 Prerequisites for successful investing
Investing is a science which requires that a potential investor understands certain regularities and processes and is constantly learning and improving his knowledge. If you persistently study such processes, monitor market trends, and track the behavior of certain companies, you will eventually learn how to analyze and predict the possible growth or decline in the value of a company's assets. This will allow you to make successful transactions in the investment market and grow professionally as an investor.
You should not forget that stock price fluctuations are influenced by many external factors, such as the political situation in a country, economic laws, the general state of the market in the country and the world economic situation. Therefore, do not ignore the news and keep up-to-date on the state of the company in which you are investing. Trust only trusted sources of information.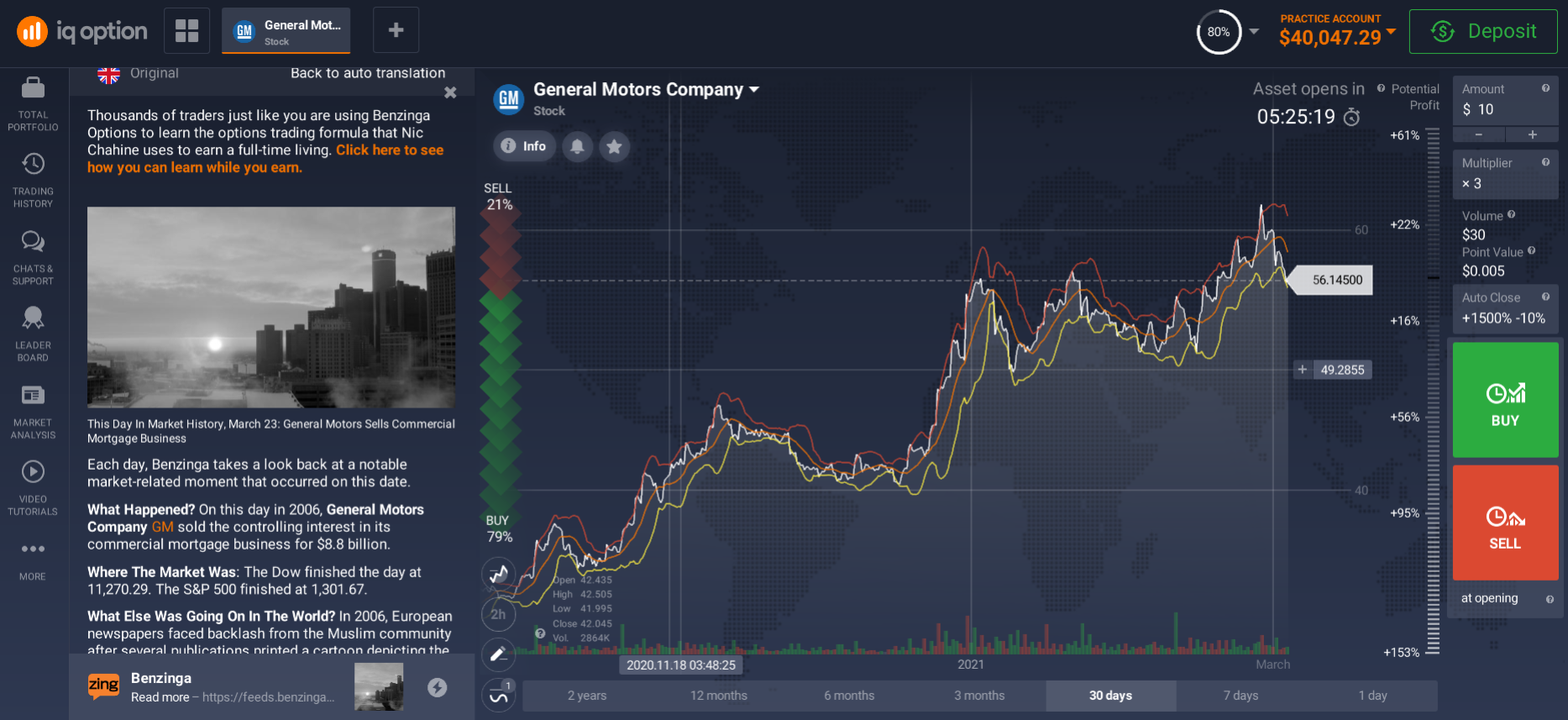 Pay attention to all tutorials on and off the platform. Learn to analyse how certain events, whether a man-made disaster or the passing of a new law, affect price fluctuations in the market.
Constantly work on improving your strategy and rely on your experience rather than luck.
By following the advice of experts and continuously deepening your knowledge, you will eventually develop your own trading strategy, which will sooner or later produce good results.
SIMPLE AND RELIABLE
MONEY WITHDRAWAL
GENERAL RISK WARNING:
The financial services provided by this website carry a high level of risk and can result in the loss of all your funds. You should never invest money that you cannot afford to lose