The first cryptocurrency marketplaces had limited functionality. Until 2017, there was little competition in the market and users had to choose among a small number of cryptocurrency trading platforms. But as cryptocurrencies became widespread around the world, new, more sophisticated marketplaces began to emerge, offering users a wide range of services and tools for derivatives trading.
Some older crypto exchanges could not compete and adapt to the changing conditions of the crypto market, pushing them far into the background. Crypto exchanges with modern approaches to platform development have taken the lead. OKX derivatives trading platform was one of those platforms. As a pioneer of the crypto market, it has not only managed to stay afloat, but also maintain its leading position in cryptocurrency trading.
In this review we will explain what OKX trading platform is, its advantages and disadvantages, how to register, deposit and withdraw funds from the exchange.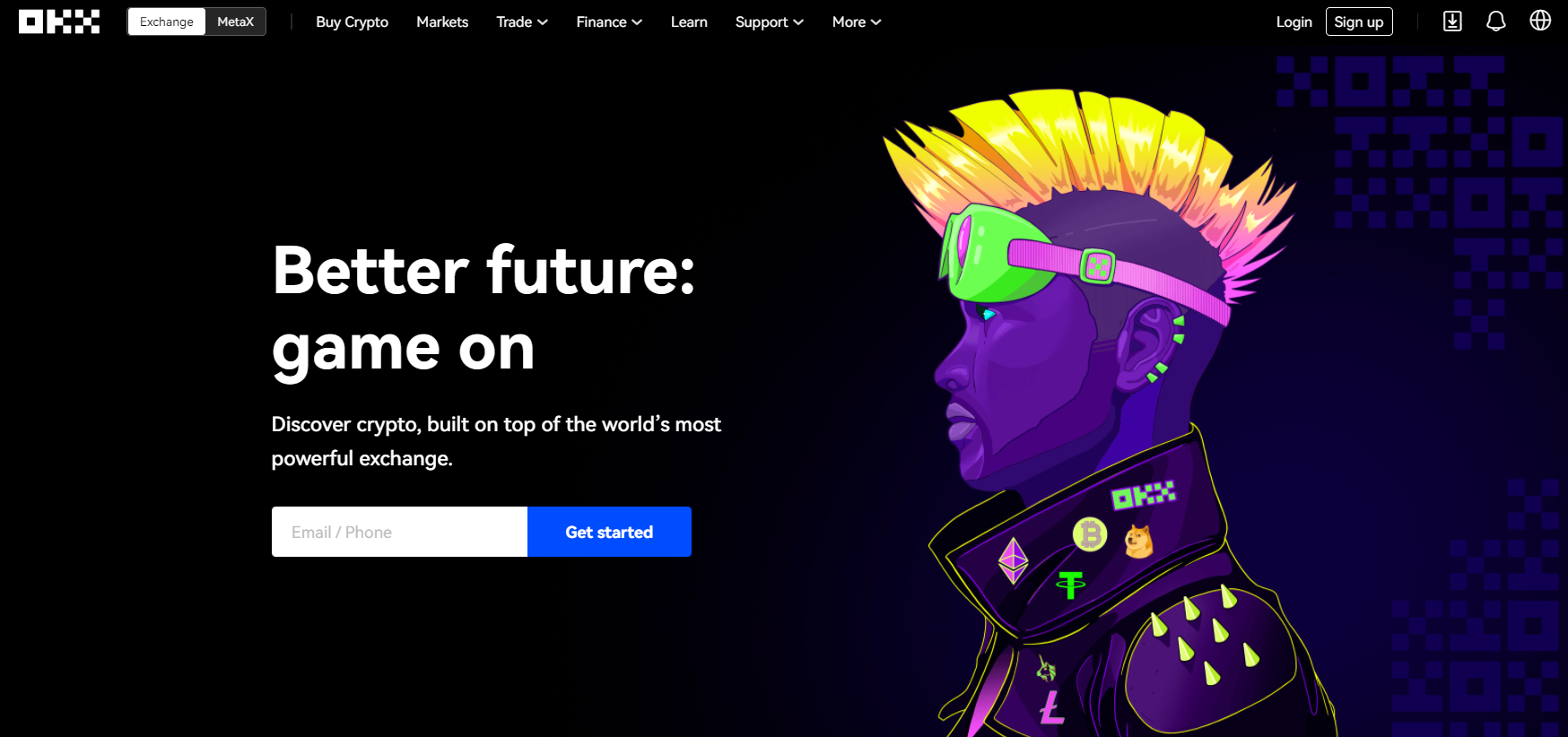 What is OKX: the exchange
OKX cryptocurrency derivatives trading platform is a cryptocurrency exchange established in Hong Kong in 2014. The Chinese government's tightened policy on cryptocurrencies prompted the crypto exchange to move to Malta in 2018, where it is now located. The Chinese authorities banned ICO token trading, which was a large part of the exchange's revenue.
The crypto exchange provides users with trading on the cryptocurrency spot and futures market.
The exchange's list of investors attracts attention, including VenturezLab, founded by well-known investor and crypto-enthusiast Tim Draper.
The number of OKX crypto derivatives trading pairs on the crypto exchange is 391. OKX crypto derivatives trading platform supports trading of many popular crypto-assets and staplecoins, such as Tether (USDT), USDC and USDK. The exchange also provides margin trading and various financial instruments: open-ended swaps, futures and options.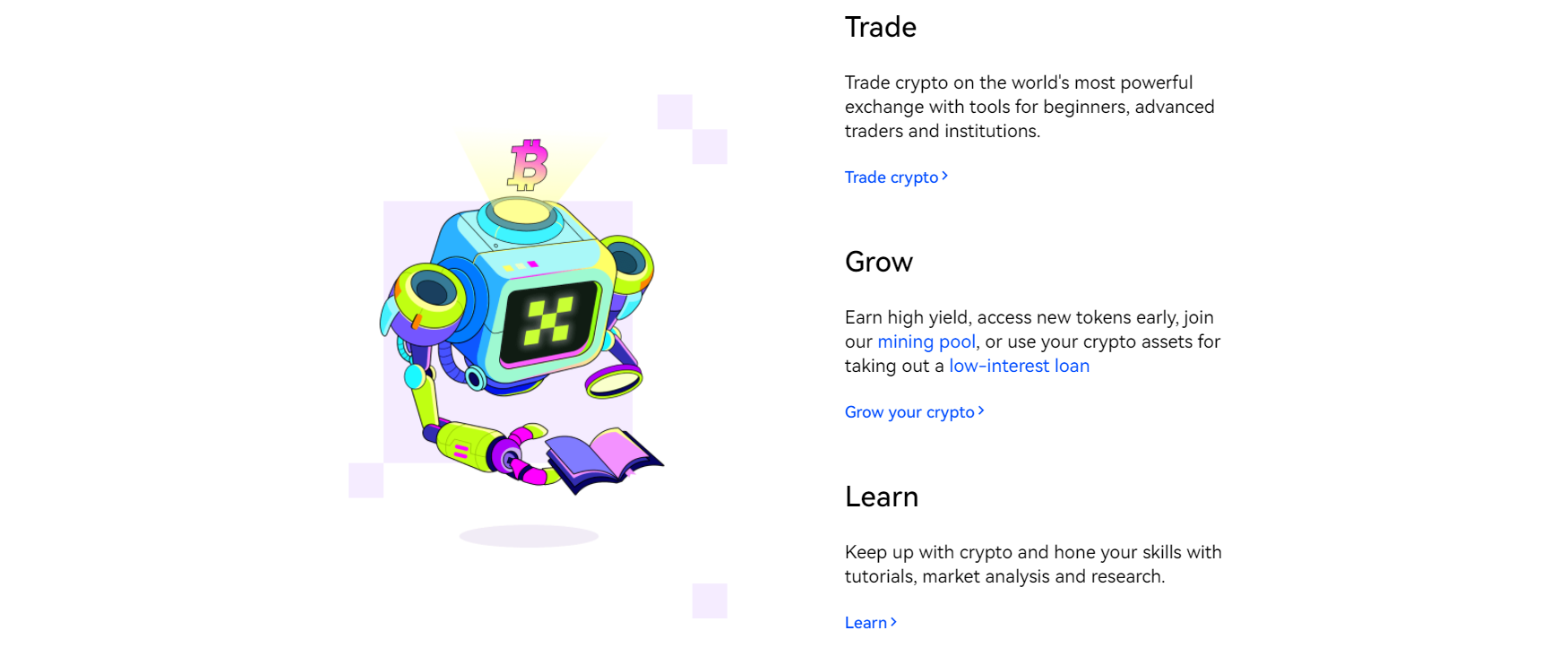 What are cryptoderivatives?
A derivative is an instrument whose value depends on or is derived from an underlying asset or group of assets. It is essentially a type of contract between parties who undertake to transfer a pre-agreed asset (or amount of money) at a specific time and price.
How does the derivative work?
Imagine a European investor whose account is denominated in euros. He buys shares in a US company through a US exchange and for US dollars. At this point there is an exchange-risk because if the euro rises against the dollar, his share price will go up. the profit from selling the shares in the American company after conversion into euros will be lower than expected.
To hedge, an investor can apply a derivative financial instrument (derivative in English means "derivative") by fixing a certain exchange rate.
The most common underlying assets in derivative transactions are commodities, currencies, bonds, shares, interest rates and market indices, which are usually purchased through brokers.
Important: Often OKX crypto derivatives in Pakistan are purchased precisely to offset the impact of negative market trends. In the language of financiers, this is called hedging, or buying the opportunity to sell or buy an asset at pre-agreed terms.
Types of OKX cryptocurrency derivatives in Pakistan:
Futures contracts (futures) are agreements between two parties to buy and deliver an item at a pre-determined price and delivery date. Traders use futures to mitigate risk or speculate on price differences in the underlying asset because the parties engaged in the transaction agree to buy or sell it. A futures contract's purpose is to fix the price of a commodity that will be supplied in the future.
Forward contracts (forwards) are similar to futures, but they are traded off-exchange and are not subject to the same restrictions and standards compliance requirements that futures transactions are subject to. The parties to a forward contract might add extra clauses to it. For example, to specify not only the time of delivery of the items but also the method of delivery.

Swaps are a sort of derivative that is frequently used to swap one type of cash flow for another. An interest rate swap, for example, can be used to transfer from a variable interest rate loan to a fixed interest rate loan or vice versa. Simply described, a swap is a one-time exchange of assets (currency, securities, and so on) that occurs throughout the course of trading on an exchange. Its unique feature is that the exchange occurs for a limited time only, after which the transaction participants restore their assets to one another. The swap not only insures the risks, but it also allows you to select markets in a different jurisdiction.

Options - this deal is similar to a futures contract in that it allows you to buy and sell stocks.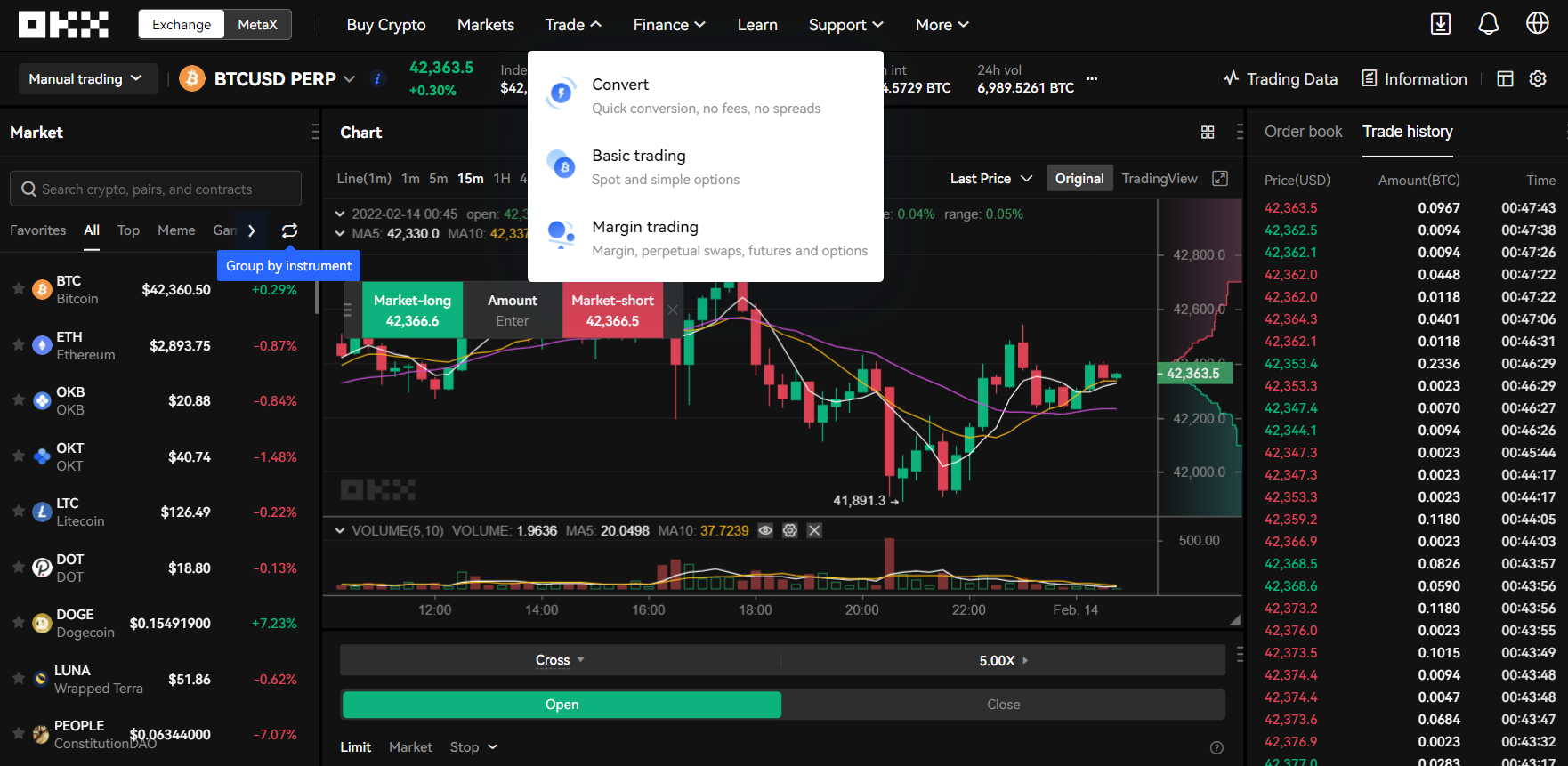 Functions OKX derivatives in Pakistan:
Risk management is a term that refers to the process of Financial derivatives are utilized to both enhance and lower the risk of holding an asset because their prices are related to their underlying assets. By purchasing a spot commodity and selling a futures contract or an option, you can lower your risk. If the spot price (current price) falls, so will the value of the associated futures and options. The contract can then be repurchased at a reduced price, partially compensating for the spot commodity's loss.
Prediction of price. The derivatives market frequently tracks the spot market and is a valuable source of data.

Advantages in terms of operations Markets for derivatives are more liquid than spot markets. For traders, this means fewer commissions and other expenditures.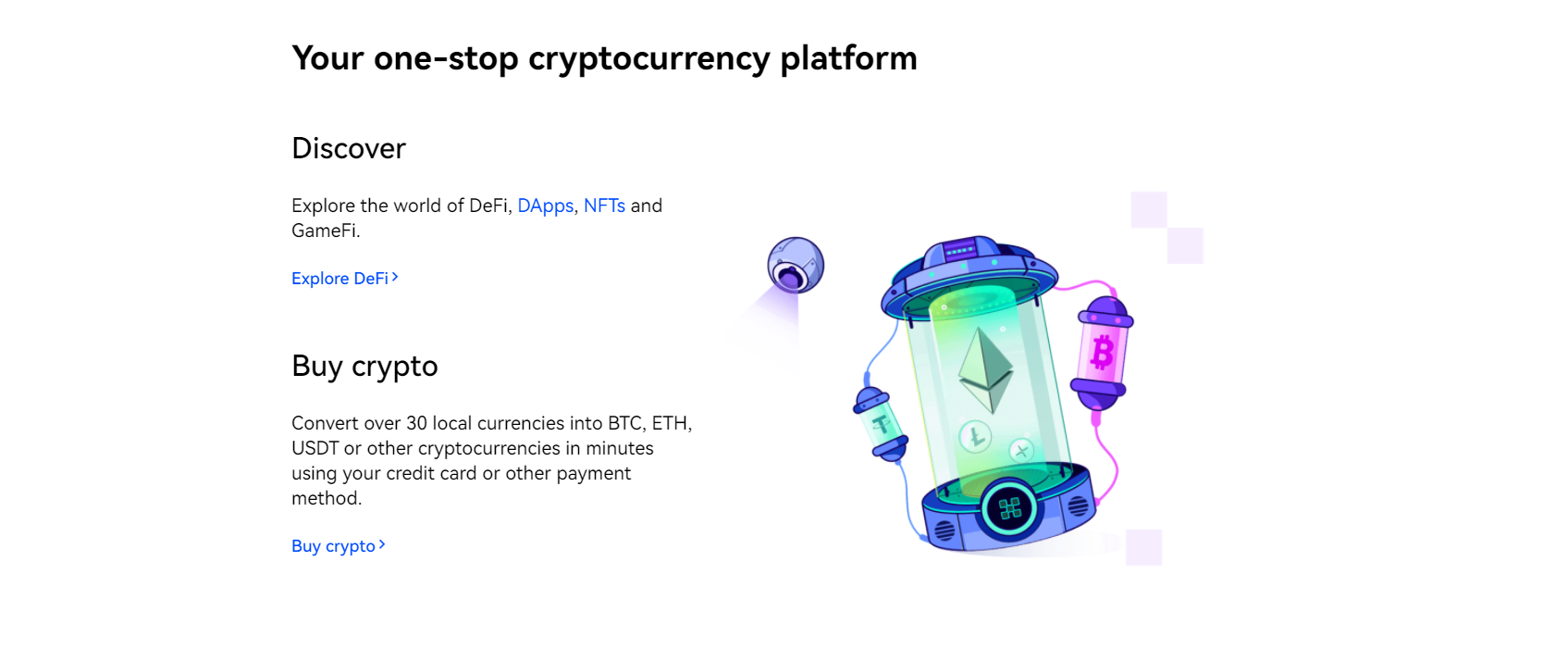 Registration on OKX
Go to the "Create account" tab or use the quick access form on the home page.
Enter personal data to create an account.
Confirm the account via the link in the email.
Registration completed.
Below we'll show you in more detail how to register a new account via the "Create account" link.
A simple form opens in which you need to give your personal details: email (you can also use your phone number), make up a password, and enter a referral link (in the "Invitation code" box) if you want to help your friend earn more money. You then need to confirm the creation of a new account. You can also quickly sign up for a new account via your Google or Telegram profile.
The site will then ask for an anti-bot check and enter a six-digit code from the email provided. If the code is correct, the site will congratulate you on your successful registration and redirect you to a quick access page to fund your cryptocurrency account or buy digital currencies for fiat.
This completes the OKX account registration procedure.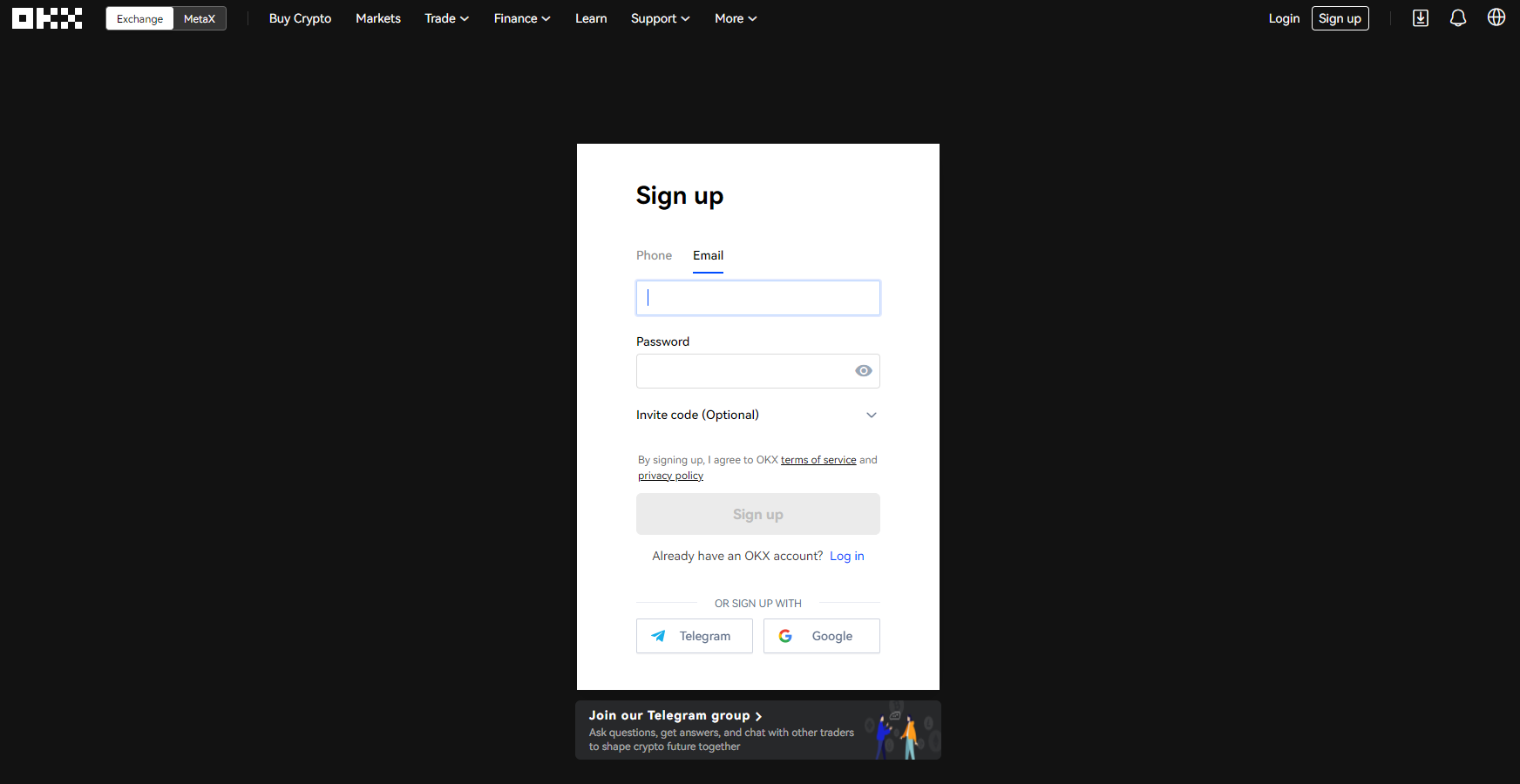 How to get verified on OKX?
Go to the "Identity verification" section.

Select the type of verification (individual or corporate).

Select a verification level.
Fill in your personal information for the chosen verification level.
Upload necessary documents for each verification level.
Wait for the verification.
Attention!
Also note that OKX offers two forms of account verification - for individuals and legal entities (companies).
Verification of personal account
There are three levels of verification for a physical person:
The first level - you have to fill in personal data and enter your ID number.
The second level - besides the personal identification document you also need to go through the verification of the person.
The third level - after passing the previous two levels of verification, the user must accept a disclaimer in the mobile app or on the website.
Passing the verification increases the withdrawal limit:
As mentioned above, OKX also has P2P trading, and the level of verification passed also affects the limits.
Verification of a legal person (company)
A distinctive feature of OKX is the ability to verify the corporate account, which allows for fair and transparent operations, which is especially relevant with the current trend of cryptocurrency regulation in a growing number of countries.
There are two types of corporate account verification on OKX:
Simple - you need to fill in company details (number, country of incorporation, address, etc.).
Extended - you need to provide information on your income including the sources of income, as well as to attach scans of documents.
Process of verification on OKX
Let's consider the process of verification on the OKX exchange using the account of an individual.
The verification section is located in the user menu.
Select individual account verification.
The next window will open a form to fill in your personal details:
Country (please note that the exchange does not cater for residents of certain countries, the list can be found on the website);
Real name and surname;
Document type (Internal passport, Driver's license, Foreign passport);
Document number.
After confirming the sending of the information, you will have to wait for verification, a notification will come to the email specified during registration.
You can then proceed to the second level of verification, where you need to attach a scan or photo of the document indicated at the previous level, as well as take selfies with this document.
As a rule, two levels of verification will be more than enough. However, if a third level of verification is required, you will need to be prepared to sign a disclaimer and possibly be video interviewed by an exchange representative.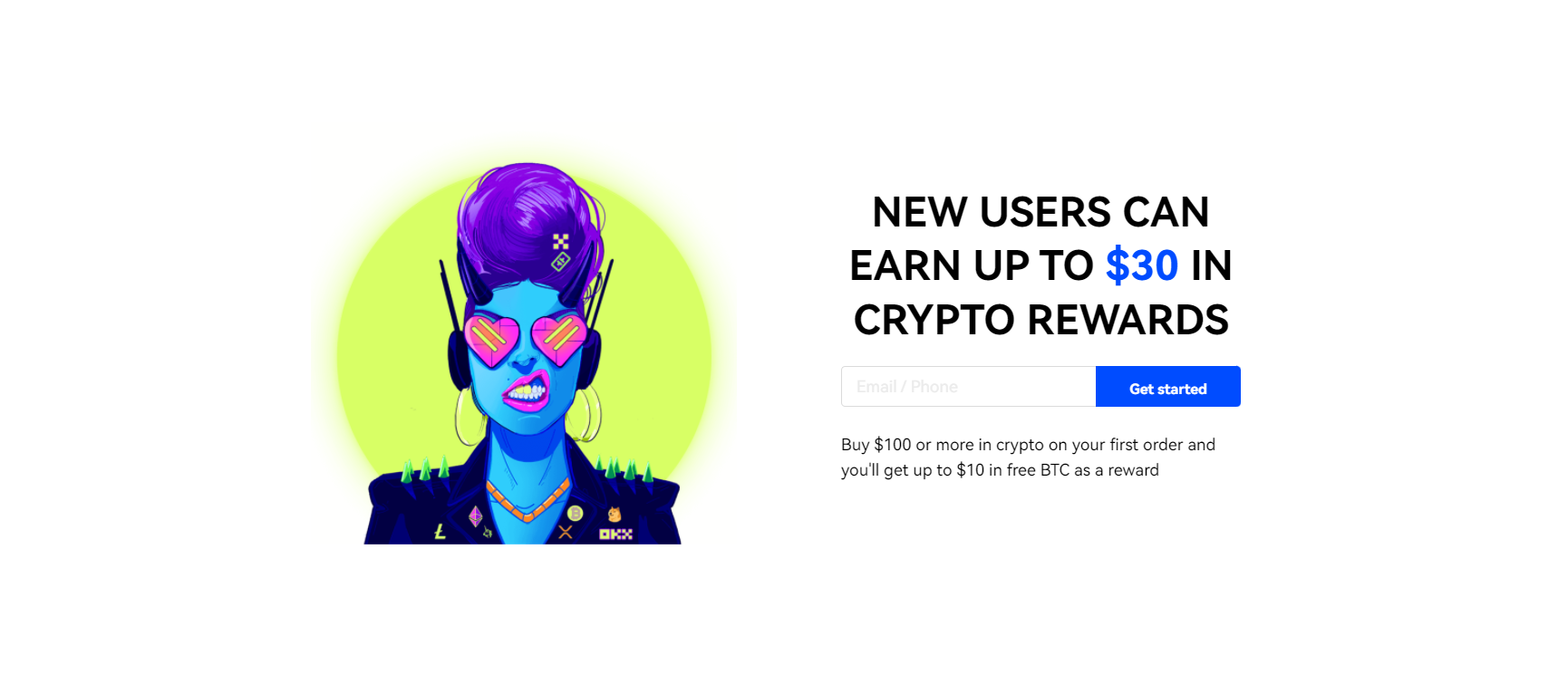 We recommend OKX cryptocurrency derivatives trading as it is different from all the others due to its enormous functionality; here users can not only trade in classic cryptocurrencies, but also trade on margin, which allows them to work with small amounts of money while still earning good profits.
Related pages
Forex trading with innovative online trading platform in Pakistan
Features of the currency pair USD/JPY
SIMPLE AND RELIABLE
MONEY WITHDRAWAL