Binary options are widely regarded as the most flexible and practical financial instruments in the global exchange market. Experienced traders often use them in their trading strategies. Let's find out what this financial instrument is, how to trade it and what features you should know about it.
The topic of this review is trading real binary options in Pakistan.
What are options?
Binary options, which we trade online, are a product of the 21st century. However, real binary options originated a long time ago. The first mention of option trading is the story of the ancient Greek philosopher Thales, narrated by Aristotle . Predicting a bountiful harvest of olives, Thales bought the right to use Davil from its owner. Who was happy to pass on the risk of future olive prices. He was happy to pass on the risk of future prices of olives to someone else. Thus, Thales exercised the first call option in history. His potential risks in this transaction were limited to an upfront payment.
A unique period in Dutch history, called tulip mania, is also known for the use of options - people entered into contracts to buy the bulbs of rare tulip varieties before they were physically delivered.
Options contracts became more popular after the opening of the Chicago Board of Options Exchange (CBOE) on 26 April 1973, when the exchange launched standardised options contracts. American legislators also promoted options trading by allowing banks and insurance companies to include options in their investment portfolios and strategies. By the beginning of 1975, the daily turnover exceeded several hundreds of option contracts.
Today, real binary options are traded on regulated exchanges. Trading real binary options requires considerable capital, execution and legal support. The advent of internet and computerized trading systems has created a more viable and liquid options market than ever before. So a new form of options trading through online platforms is born.
Binary options, which we have the possibility to trade online, differ from real binary options, because we do not buy the asset, which we select as the underlying for the option contract, and consequently we do not own it. Instead, we speculate on the movement of the price of that asset, i.e. our main objective is to predict the direction of the asset's price movement.
If our predictions are correct, we will make a profit; if not, we will lose the entire amount of our investment. Since in the case of binary options there are only two possible completions, making profit or losing the whole invested amount, this is often called "all or nothing". The dual nature of options has caused negative feedback from many traders. Why do we hear quite often that trading binary options is a scam? Read below.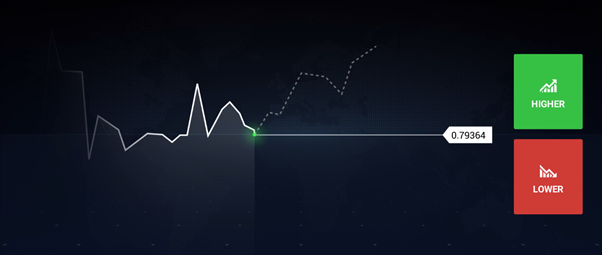 Why do they call binary options trading a scam?
Let's first understand what a binary option is.
A financial, or stock option, is a contract that gives the holder the right to buy or sell a particular asset at a certain predetermined price over a certain period of time or on a specific date.
Thus, the essence of an option lies in the fact that its holder has the right, but is not obliged, to perform the actions stipulated in the contract. And if, when exercising the option, negative consequences may arise, its holder may refuse to exercise his rights. On the contrary, if the situation is favourable, the contract holder will choose to exercise his rights and complete the transaction. The right to execute or not execute the transaction makes the decision-maker's position flexible enough. Obviously, this flexibility is of some value in itself.
Trading options online consists in correctly predicting the behavior of an asset's price. As already stated above, trading options online, as opposed to real options, is not backed by a physical asset, i.e. there is only a monetary calculation on the value of the asset. Investing money in this kind of contract, the trader has to make a forecast on the basis of which underlying asset was chosen for the option contract. If the underlying asset is a stock, you have to make an analysis of the stock market. If you have chosen a currency option then you will need to analyse the currency market. And so on. So it's not a matter of guessing the price in the future, but of analysing the market.
Experienced traders use complex calculations, using methods of technical, and rarely fundamental analysis.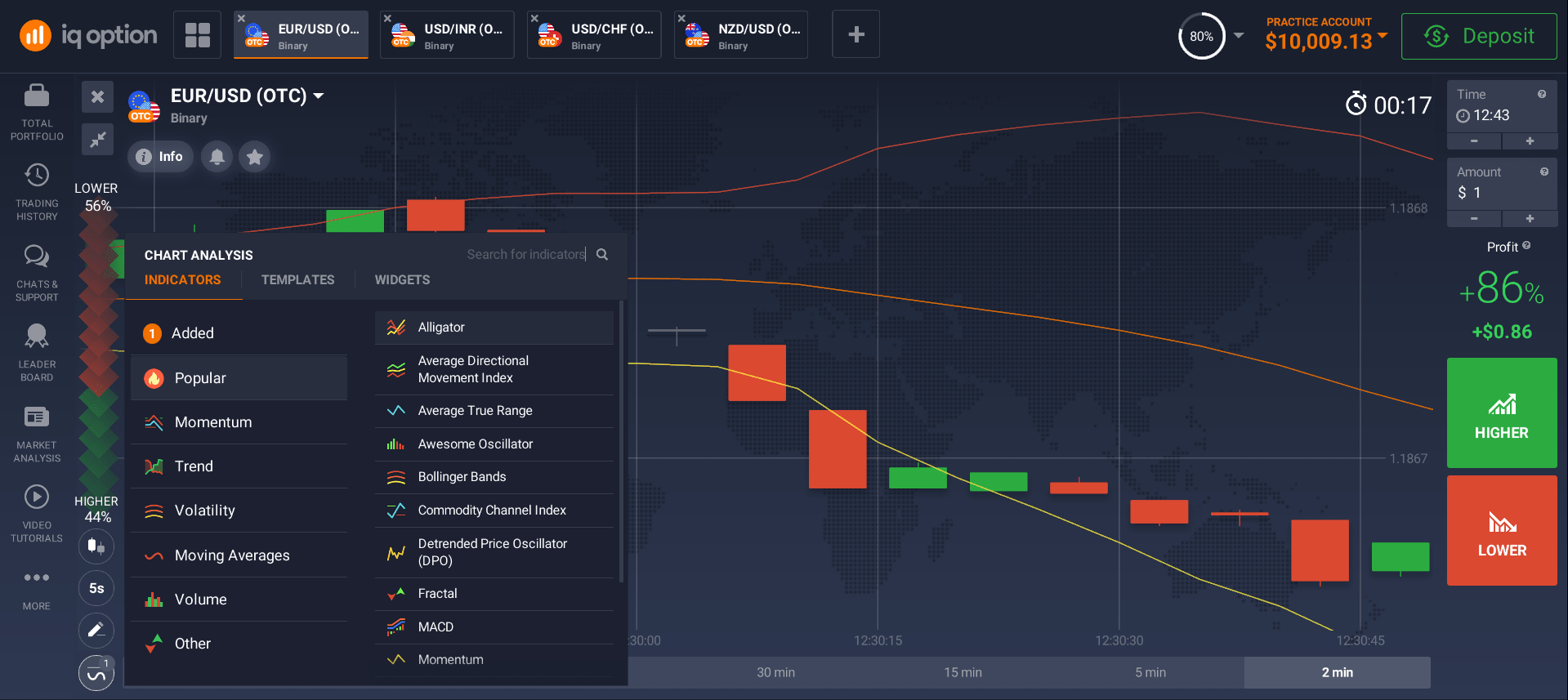 Thanks to technology, access to binary options trading is now available to everybody, people who have never had anything to do with investing before often take on the role of a trader. On the one hand, this is a good thing. On the other hand, many inexperienced beginners get a false impression of binary options. The all-or-nothing result, the need to make a prediction in the direction of increasing or decreasing the price of an asset, and the minimum length of a transaction, which can sometimes last even a few seconds, are associated by many with gambling. You come in, make a bet, wait and either lose or win.
The false notion of binary options trading leads to trading "at random" when the trader relies only on luck. Of course, such trades are unlikely to be successful. The result is lost money and negative feedback.
Investing is a science. You have to have a basic understanding of exchange laws, understand what market trends are and how to use them in trading, and know which assets to choose.
So, before you start trading binary options, study thoroughly this unique financial instrument, decide on your goals and trading strategy, study the market, learn how to analyse it. And only then start trading.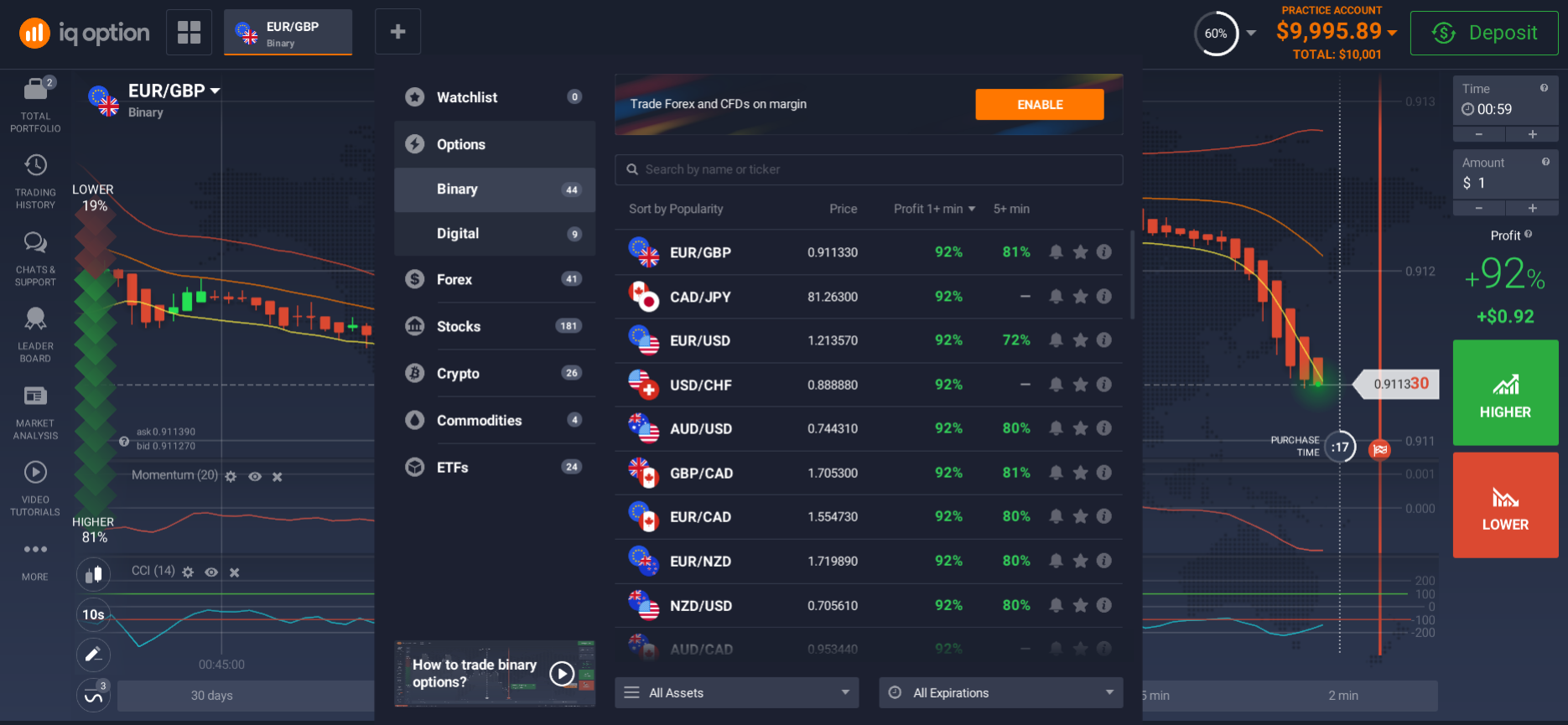 Researching the options market
Options differ in various ways: their duration, the underlying asset, the type of settlement, and so on.
A distinction is made between stock options, currency options and commodity options. Depending on the time of expiry options contracts are divided into two large categories:
In addition, financiers distinguish Asian options.
American options can be exercised at any time before the expiry date, while European options can only be exercised on the day of expiry. Asian options can be exercised throughout the lifetime of the asset, but only at pre-specified times.
A distinction is also made between put and call options. Deliverable options involve the physical delivery of goods (oil, industrial metals, grain) or a financial underlying asset (stocks, currency) by the seller to the buyer. A cash option involves payment of the difference in prices at the time the option contract is exercised on the last date of trading. Financial settlement options have no physical (material) embodiment - interest rates, exchange rates, weather, stock indices. On the expiration date, estimated options are automatically closed by the exchange. In online trading, we only deal with settled options.
There are many sub-types of options contracts, accordingly, in each case it is a different strategy and trading peculiarities.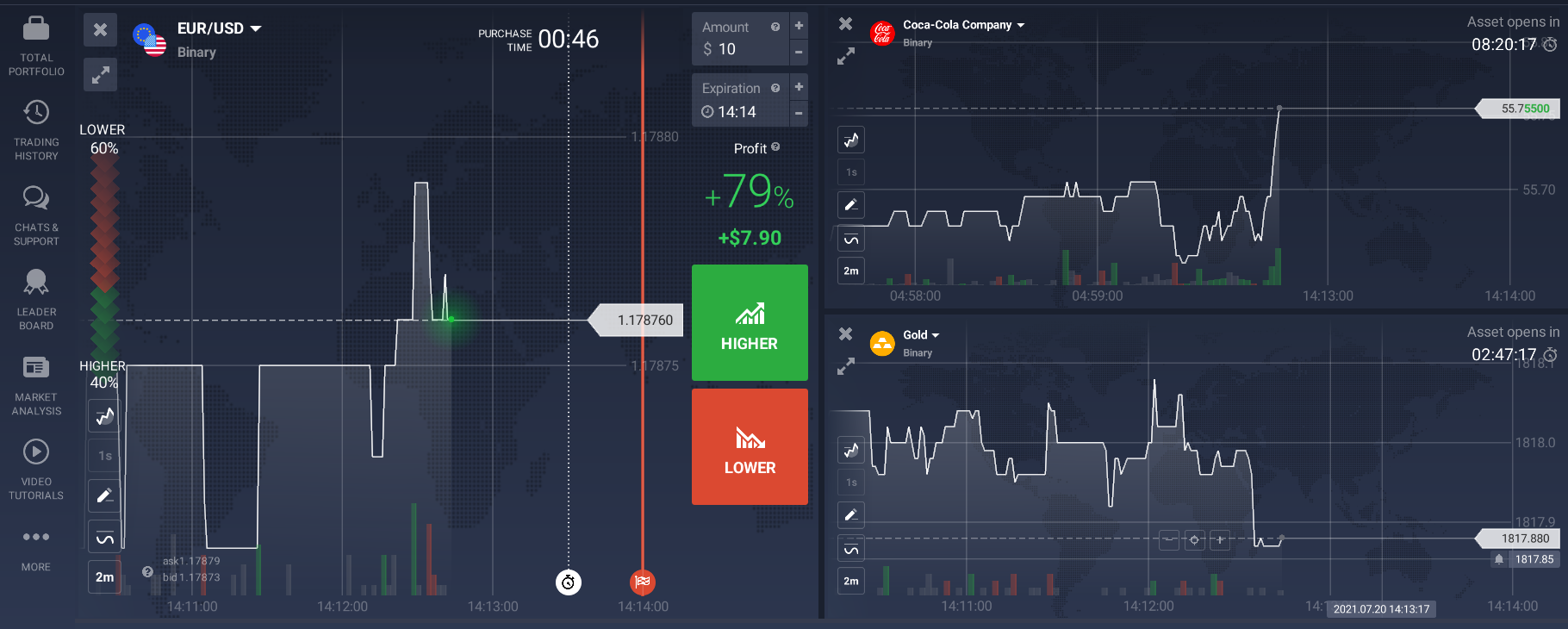 Learning section
Brokerage companies have developed advanced trading platforms with a special "training" section. In this section you will find many video tutorials on trading and investing. The lessons are presented in simple and easy-to-understand language, so you can easily understand the meaning of complex terms and concepts. In addition, there are examples of how to trade, how to use complex indicators for technical analysis, how to use the economic calendar, and so on. Be sure to check out these lessons, especially if you are a novice trader.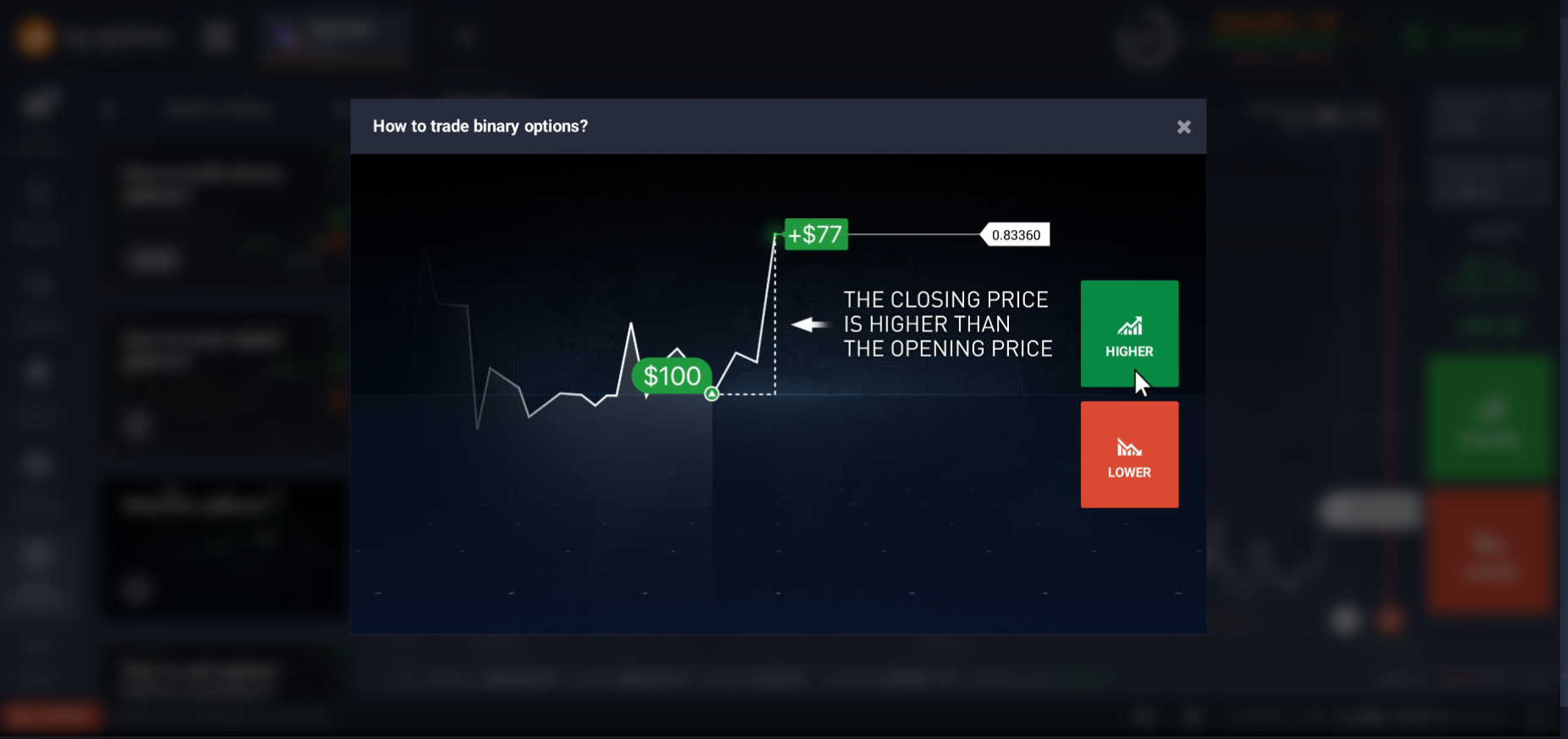 Demo account
In addition to the tutorial section, reliable trading platforms give you the opportunity to open a demo account to learn how to trade on the platform. After logging in to the trading platform, the system will prompt you to activate your demo account. Do not miss this opportunity! When you activate your demo account, you will see on the balance a certain amount of dummy funds, which you can and should use for test operations. Try to open an option contract. To do so, select the underlying asset, the duration of the trade (expiry time) and think about whether the price of the asset will move up or down. Select the appropriate option 'up' or 'down'. Look at the results and analyse them. Use the multiplier function which activates the leverage. Find out how this feature works, how your profit increases if a trade is successful, and what the cost of a bad trade will be. Watch the video tutorials on how to use the technical indicators and try them out on a test trade.
A demo account can help you learn how the trading platform works and hone your trading skills, without risking your own money. You can use your Demo account for as long as you like, and you can roll over the funds on your demo account as needed.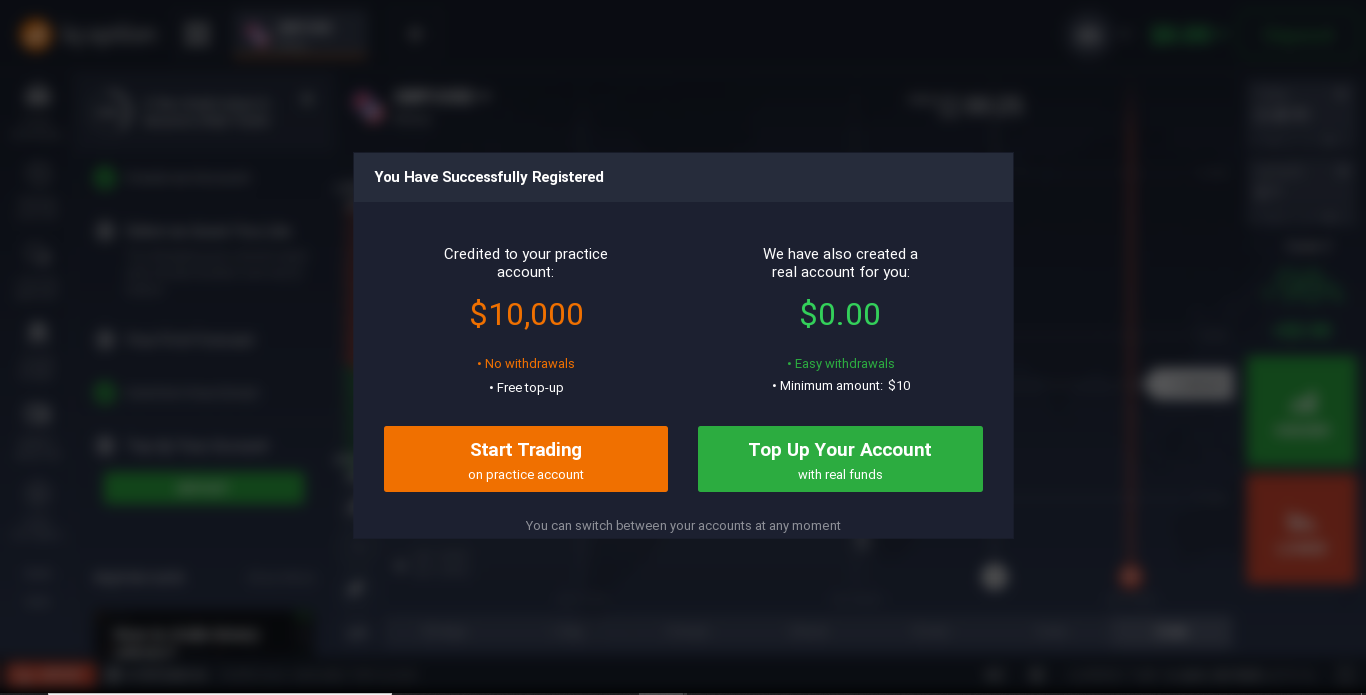 How to start binary options trading in Pakistan?
To start online binary options trading in Pakistan, choose a brokerage company that will provide you with an online trading platform.
Research the brokerage market in Pakistan and give preference to a licensed broker with a good business reputation, experience in the brokerage market and good feedback from traders.
Register with an online trading platform. It is important that the trading platform is comfortable to use, has all the necessary functions, acceptable for you personally, commission and transaction limits, methods of deposit and withdrawal. Preferably, the platform should offer the possibility to open a demo account, which we wrote about above. Advanced trading software also offers you additional features, like an online chat room to communicate with other traders, a news section, a market analysis section, a "tournaments" section and much more. Carefully study the offers of the brokerage companies and choose the suitable platform.
After that, make a simple registration on the platform, fund your account and you can start trading.
Registration
Registration on the platform is very simple, takes a few minutes and requires no special knowledge. Just click on the "register" option on the broker's website, fill in all the fields of the registration form and click "confirm". You will receive a notification to your email about registering on the platform, and a request to confirm the email - do it. After this simple procedure your account is ready.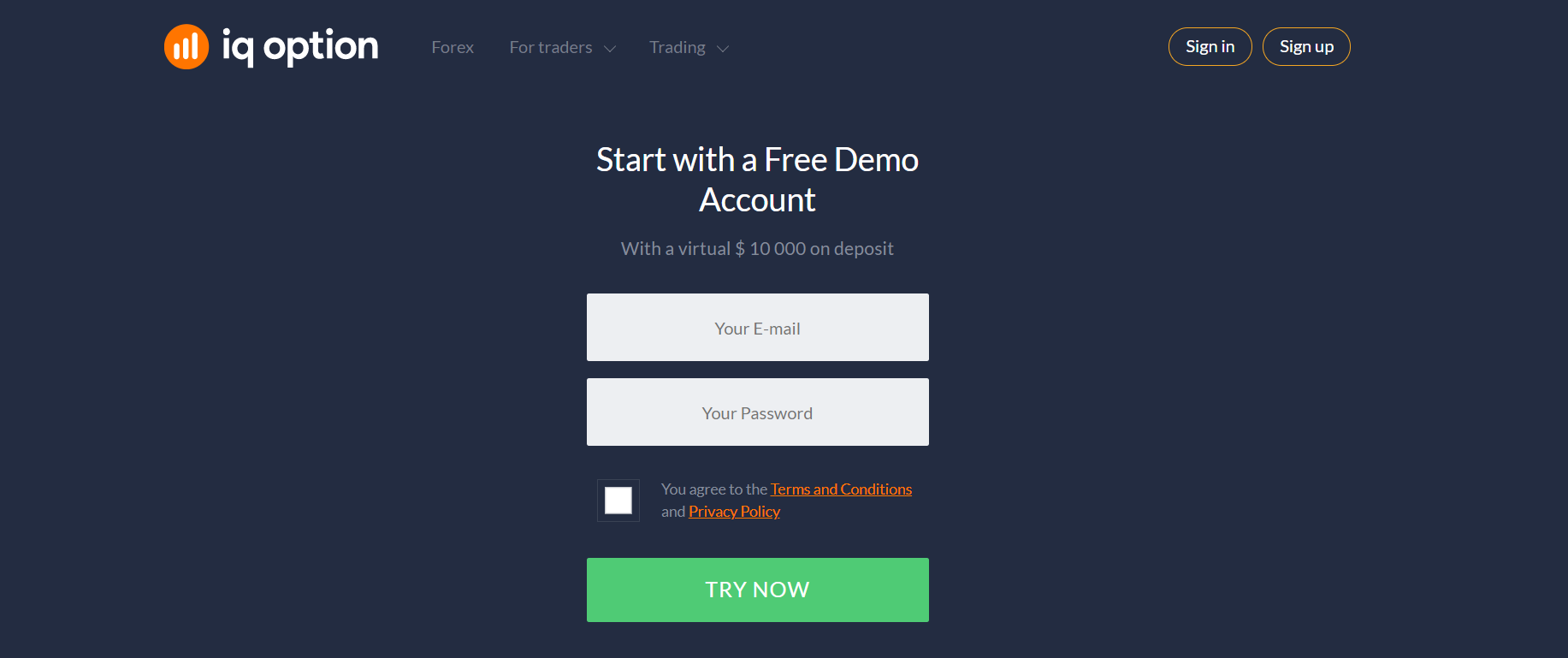 Account replenishment
A live account means real trades and real money. To activate this account, you must deposit a certain amount of money into it. The minimum starting amount on most online investment platforms is low at a few dollars. Deposits can be made online with a bank card or via a payment system.
You will normally withdraw your funds using the same methods as you deposited them.
Remember, if you are less experienced in trading, you better start with a free demo account.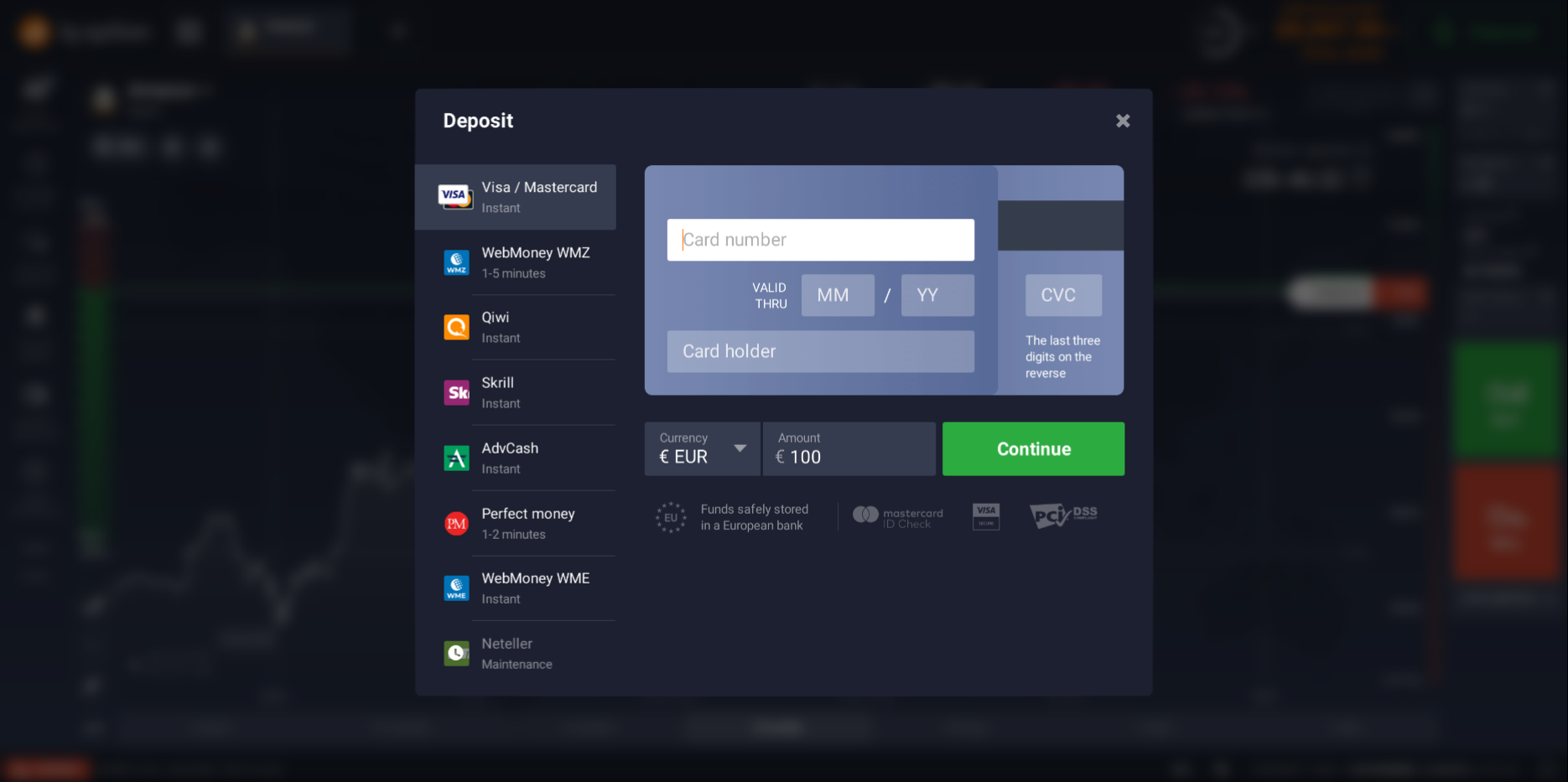 Binary options can become your favorite trading tool, but only on the condition that you learn the investment process thoroughly, act prudently, use the platform features wisely and do not trade at random. Gradual approach, experience and a well thought out strategy will pay off.
Open a Demo Account and practice Binary Options trading today - it's free and safe! And make sure you have a successful trading experience.
SIMPLE AND RELIABLE
MONEY WITHDRAWAL