What is a demo account?
Choosing a broker for a novice investor is an important task, since success in the financial markets, safety of funds and timely conclusion of transactions largely depend on the reliability of this partner. A reliable broker is the basis of successful trading.
Some large brokers provide their clients with such an additional service as a demo account. It is a virtual account where you can trade various instruments using virtual capital. This service allows you to try on the role of a trader without fear of losing real money.
On the IQ Option demo account, you can make trading operations, just like on the real one. The main difference is the lack of real money on it. This means you don't have to pay anyone anything. The IQ Option platform itself needs no introduction - it has established itself at the highest level, having received many different awards during its existence.
A demo account is an exact copy of a real account, but only with virtual money.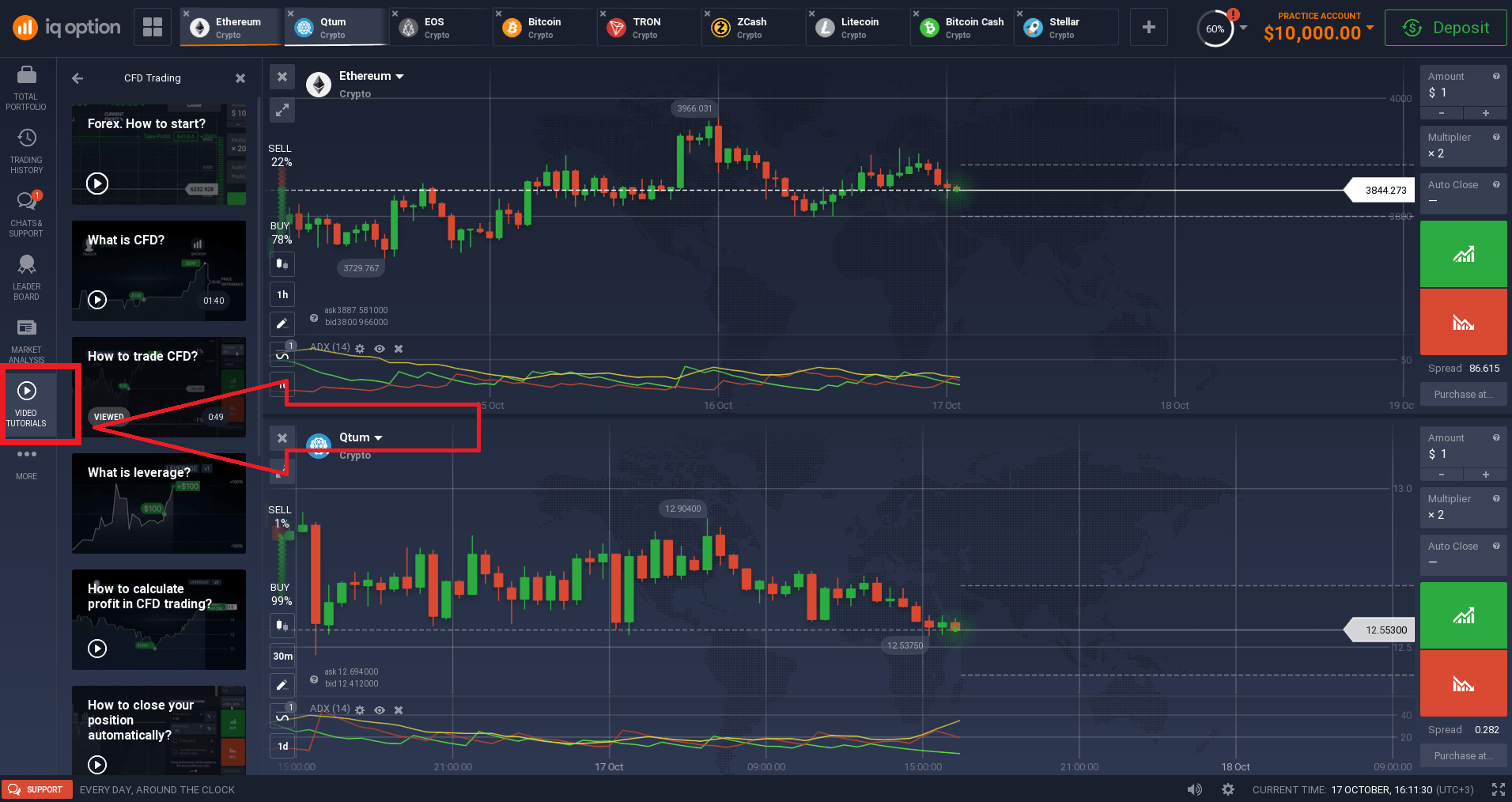 How does demo account work?
What are the advantages of a virtual account for beginners:
The ability to learn the basic concepts of trading - what is an order, charts, ticker, quote, etc.
Familiarize yourself with the mechanism of trading in conditions close to reality. Simply put, to understand where to click, what options are available in the trading terminal, etc.
Train your emotions, because in trading you don't need to worry about the risks of losing money, worry when quotes fall. You can calmly, without panic, try out different approaches to trading and choose the best portfolio for yourself with an acceptable level of risk.
Familiarize yourself with the interface of the application, the trading terminal.
Try free virtual trading, it's easier than you think! Use demo IQ Option!
Demo account features and limitations
IQ Option free demo account has no restrictions on the time of use or trading instruments. These important things for a beginner will be in your full access. You will use the same assets for training as in real trading, the same quotes and orders. For example, Stop Loss and Take Profit. Which is also a big plus, because not everyone will be able to figure out these tools the first time and use them correctly.
At the same time, it is worth noting that some brokers limit the operation of their accounts, for example, provide only a few assets or limit in time.
How to use a demo account?
Real practice will help you prepare for serious work so that you can learn how to make profitable deals in the shortest possible time and not lose your capital. Just use your IQ Option demo account login to quickly enter the terminal and train at any convenient time.

So, you can get acquainted with the platform on which you will later make real transactions. The platform is quite user-friendly and intuitive. The main elements are concentrated at the edges of the graph. On the left side there are icons, by clicking on which you can see the history of your trading, market news, etc.
Below are icons for selecting the type of chart, graphical tools, indicators and time interval. At the bottom there are functions for setting up the graph. The right panel is designed for trading operations.
You will be able to use and try out the following features:
Trading a variety of assets.
Learning in the format of video lessons.
News on the platform portal and economic calendar.
Chat with traders.
Various interface settings.
Technical analysis in the form of charts, indicators and graphical tools, etc.
On such a simulator you will be able to hone your strategy, get a feel for the market, learn how to make informed, and prompt decisions based on the current situation on the stock exchange.
How to register IQ Option demo account?
To start using such an account, go through the IQ Option demo account sign up, it will take a few minutes:
On the main page of the official site, click the "registration" button and go through the standard procedure. Enter IQ Option demo login followed by a strong password. Use the link below to go to the main page.
Confirm your agreement with the terms of use of the platform. Click "register".
The system will offer you 2 accounts: demo account IQ Option and real account. Choose a FREE demo.
The system will automatically credit you with virtual $10,000, use them for the first transaction!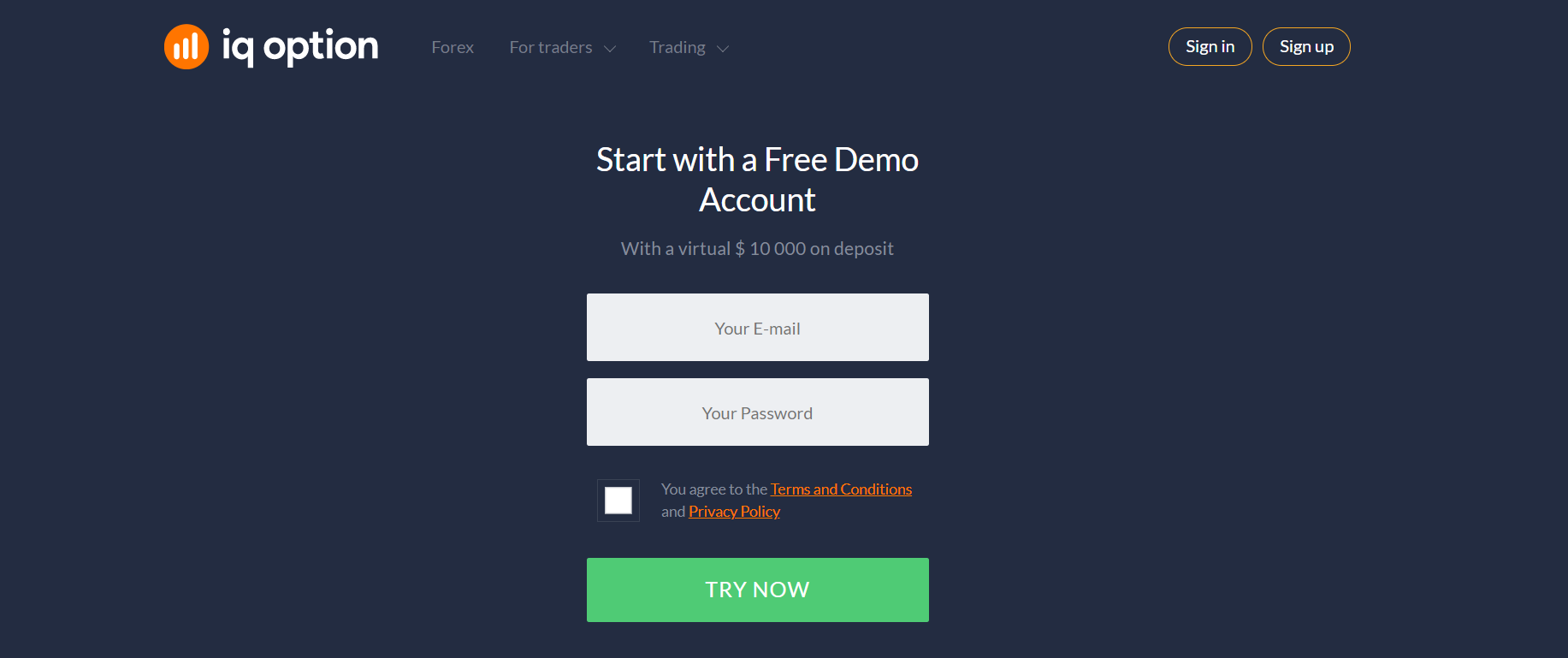 Now you know how to open demo account in IQ Option. Everything is simple! Act now!
After completing the registration and opening an account, download the FREE trading terminal and install it on your computer, it works faster and more functional than the web version. Although you can trade without downloading. Many choose this option early in their career.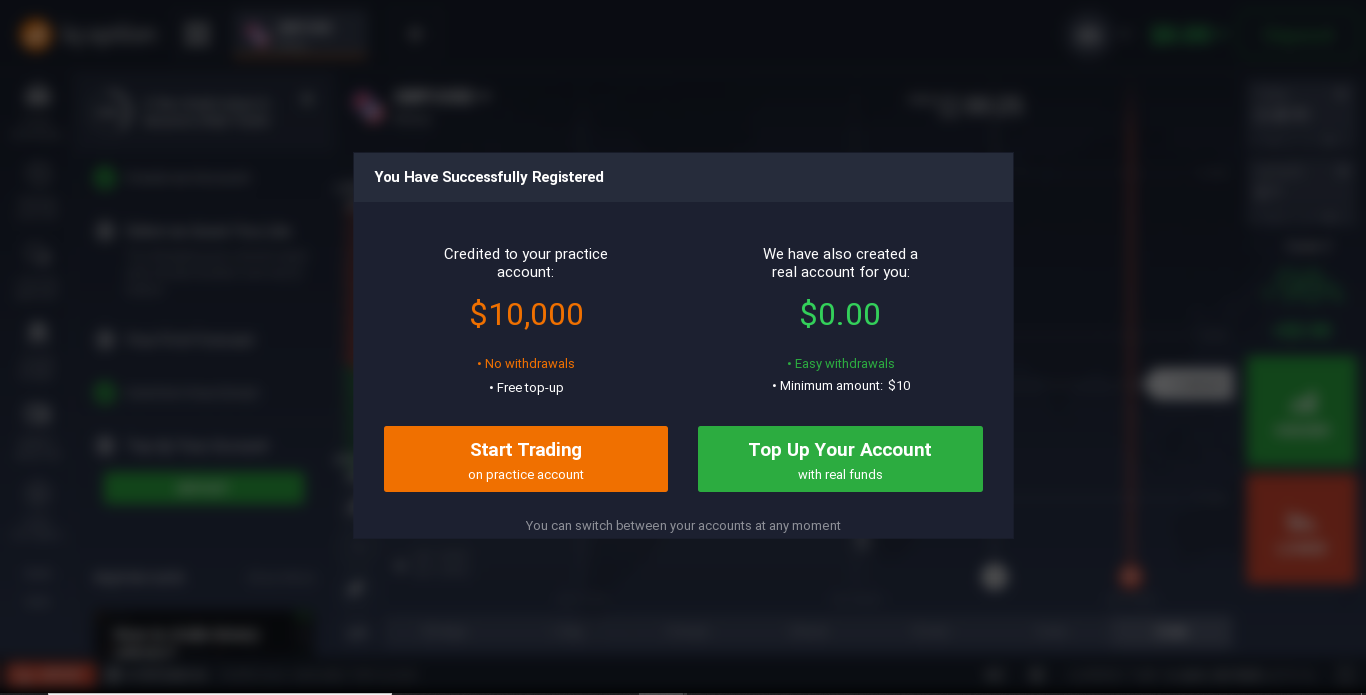 Devices on which you can trade
After successful registration, you will be able to use your IQ Option login demo on any device you are used to. It can be a PC, tablet or smartphone. To do this, you need to download the application you need for your system from the official site. Fortunately, the application is designed for all popular systems.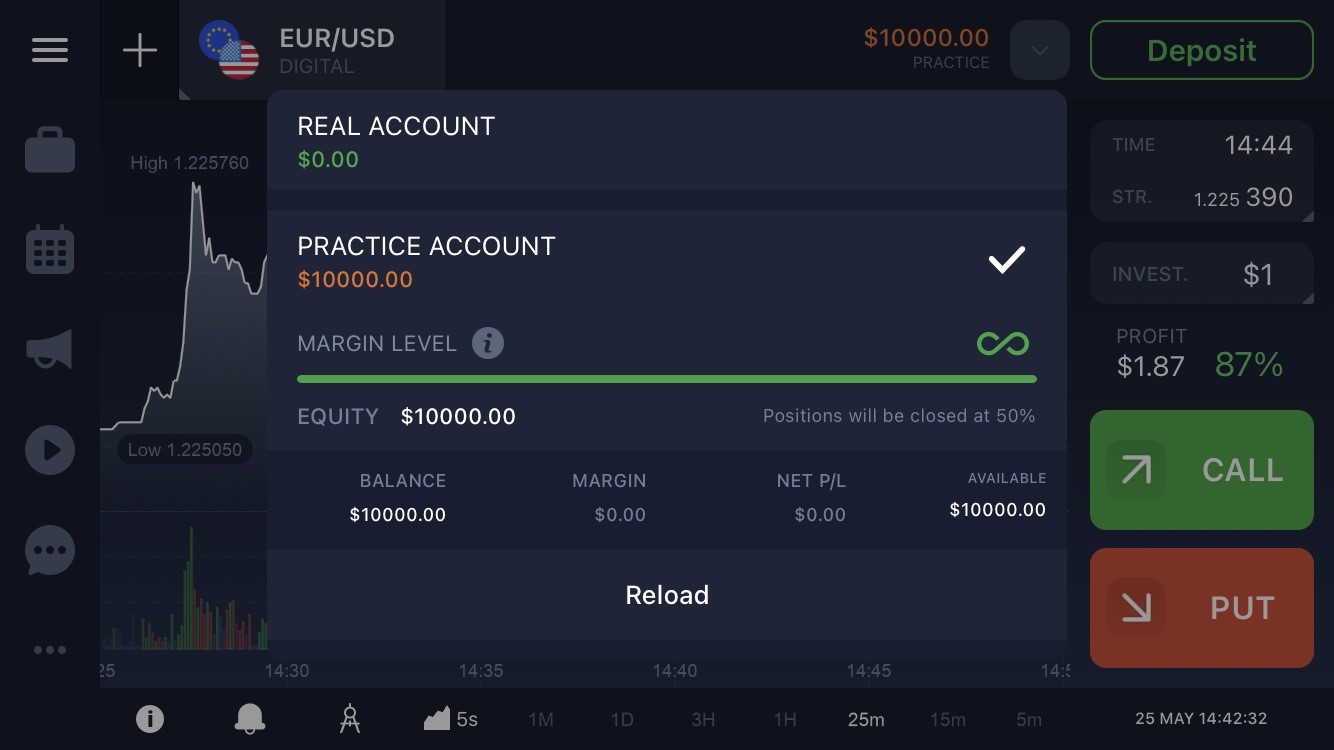 Assets
Trading on practice accounts, most often, is carried out on well-known currency pairs, securities and other popular financial instruments. The demo account allows you to try trading strategies, determine their strengths and weaknesses, and choose those that are suitable for use in real trading. It is worth noting that you can open up to 9 charts of different assets at the same time on one working screen.
By the way, IQ Option has hundreds of assets, so you will definitely choose the desired asset for yourself and be able to diversify your portfolio. IQ Option offers Forex and CFDs on stocks, cryptocurrencies, commodities, indices and ETFs.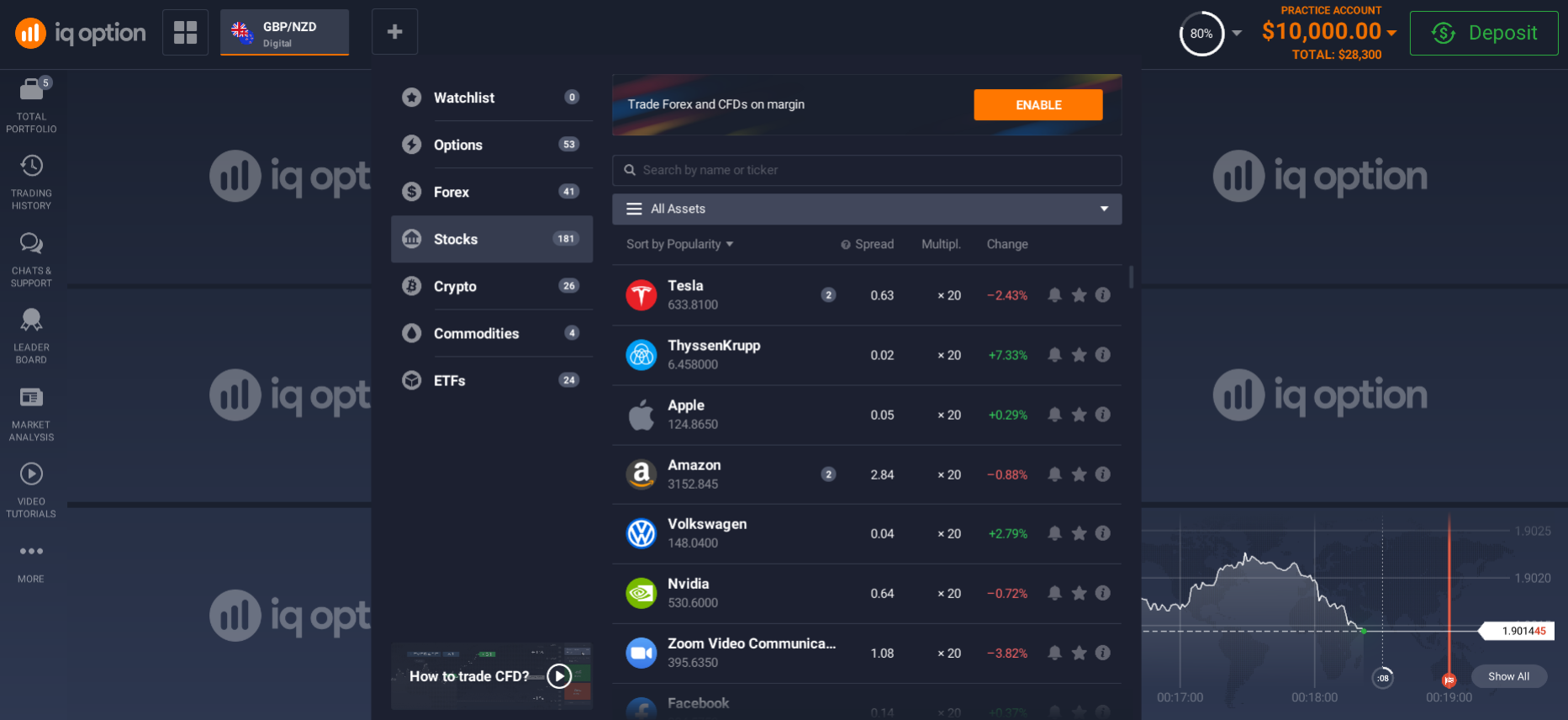 Charting Tools
Using the IQ Option demo account, you will learn how to work with technical analysis and apply various tools. They are all available to you, and for this you do not pay extra money.
Graphics
Consider the types of charts:
Line. The simplest chart ever. It allows you to quickly assess the current trend - whether the asset is going up or down.
Bars. A fairly visual chart, but inferior in terms of convenience to candlesticks. Shows the same information: opening price, closing price and price high and low.
Candles. A popular type of interval chart. Building a Japanese candlestick chart is based on four indicators: opening and closing points, maximum and minimum prices. Each section of the chart reflects the state of these position indicators in a given period (timeframe).
Heiken Ashi. Improved candlestick chart. It is smoother and better suited for long trades rather than short trades.
Indicators
Also learn to use trading indicators. There are dozens of them, start with the most popular. They are allocated to the group of the same name. The task of the graph is to display existing trends and try to predict future ones.
Order types
There are several types of orders on the platform. A market order is an immediate buy or sell order that an investor sends to a broker. But there are other useful features as well.
Limit Orders
A limit order is an order to execute a transaction when the price set by the investor is reached. Market prices are constantly changing. When an investor does not want to follow the quotes, he sends a limit order.
Stop Orders
Another type of orders, the execution of which is delayed until the specified conditions are met. There are two types of stop orders: stop loss and take profit. Stop loss is used to limit possible losses. Take profit will allow you to automatically fix the profit, that is, it will close the deal when a certain profit is received.
How to reset IQ Option demo account?
IQ Option demo account reset is, in other words, a reset of your account. Let's say you are actively trading and have already spent all $10,000 of your virtual account. But you are not yet ready to start real trading. Or you already trade with real money, but you need an IQ Option free demo account in the process. Then you can click on the button to the right of your virtual balance and automatic replenishment will take place. IQ Option reset demo account for free!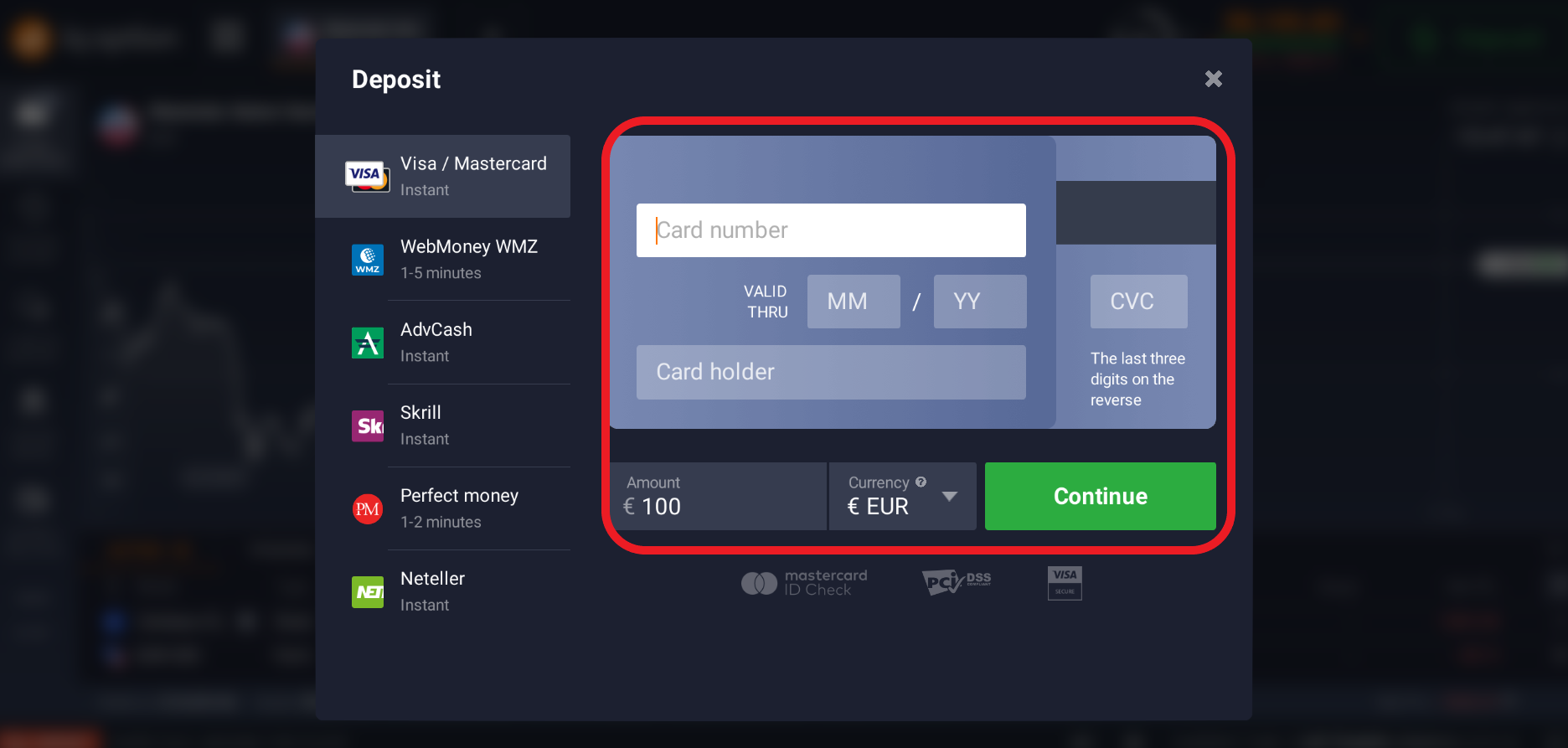 At the same time, you should not delay with such training, because no matter how convenient and close to real conditions a demo account is, nothing can replace the real investment experience. Let it be the smallest amount, but this way you will get much more knowledge and skills.
It is worth noting that with IQ Option, you can make trades from as little as $1! Top up your real account in a way convenient for you.
How to switch from IQ Option demo to a real account?
To switch from a demo account to a real account, you need to click on your account balance. After that, 2 of your accounts will be released to choose from. You click on a real account and go to it. In the same way, you can go back to the demo.
Related pages
SIMPLE AND RELIABLE
MONEY WITHDRAWAL