In today's realities, the topic of investing is gaining more and more attention. With the global pandemic and an unstable economy, everyone is thinking about how to keep their money from depreciating and how they can grow their own capital.
Innovative technology is making online trading on the stock market possible and the availability and ease of use of online investment platforms allows anyone with access to the internet and a desire to learn the ins and outs of the stock market to invest.
When it comes to investing in stocks, most people prefer companies with an excellent financial history and a global reputation, which have been well established in the market for a very long time. One such company is Alcoa, one of the world's leading aluminium producers.
Here is a look at how you can invest in Alcoa stock in Pakistan.
Why are investors interested in Alcoa?
ALCOA, a world leader in the creation, production and technology of light metals, stands out for its performance and strategic ability to address environmental and social issues. This ongoing quest for sustainability has led to Alcoa being named one of the most sustainable companies in the world one by one at the World Economic Forum in Davos, Switzerland. After all, Alcoa is innovating in multi-material solutions that make our world sustainable.
In the mid-1880s, aluminium was a semi-precious metal, rarer than silver. Total production in the USA in 1884 was only 56.75 kg a year. At Oberlin College in Ohio, Professor Frank Jewett showed his chemistry students a small piece of aluminium and told them: anyone who found an economical way to produce this metal would become rich. One of these students, Charles Martin Hall, experimented with minerals from the age of 12, turning a small hut behind his house into a rustic laboratory. After graduation, he continued his experiments. He learned how to make aluminium oxide and made his own carbon crucible with a cryolite bath containing aluminium oxide and ran an electric current through it. The result was a solidified mass, which he let cool and then smashed with a hammer. A few small pellets of pure aluminium then emerged. This was a memorable discovery on February 23, 1886, when he was only 22 years old. A patent application for a process of electrolysis to produce aluminium was filed on 9 July but would not be granted until nearly three years later, on 2 April 1889.
In 1888 Hall co-founded the Pittsburgh Reduction Company with Alfred Hunt, running an experimental aluminium production plant on Smallman Street in Pittsburgh, Pennsylvania. In 1891 the company expanded and opened a new plant in New Kensington, Pennsylvania. In 1895 a third plant opened in Niagara Falls. By 1903, while Hall's patents were still in force, the company had become the only legal supplier of aluminium in the United States.
The company was renamed Aluminum Company of America ("Aluminum Company of America") in 1907.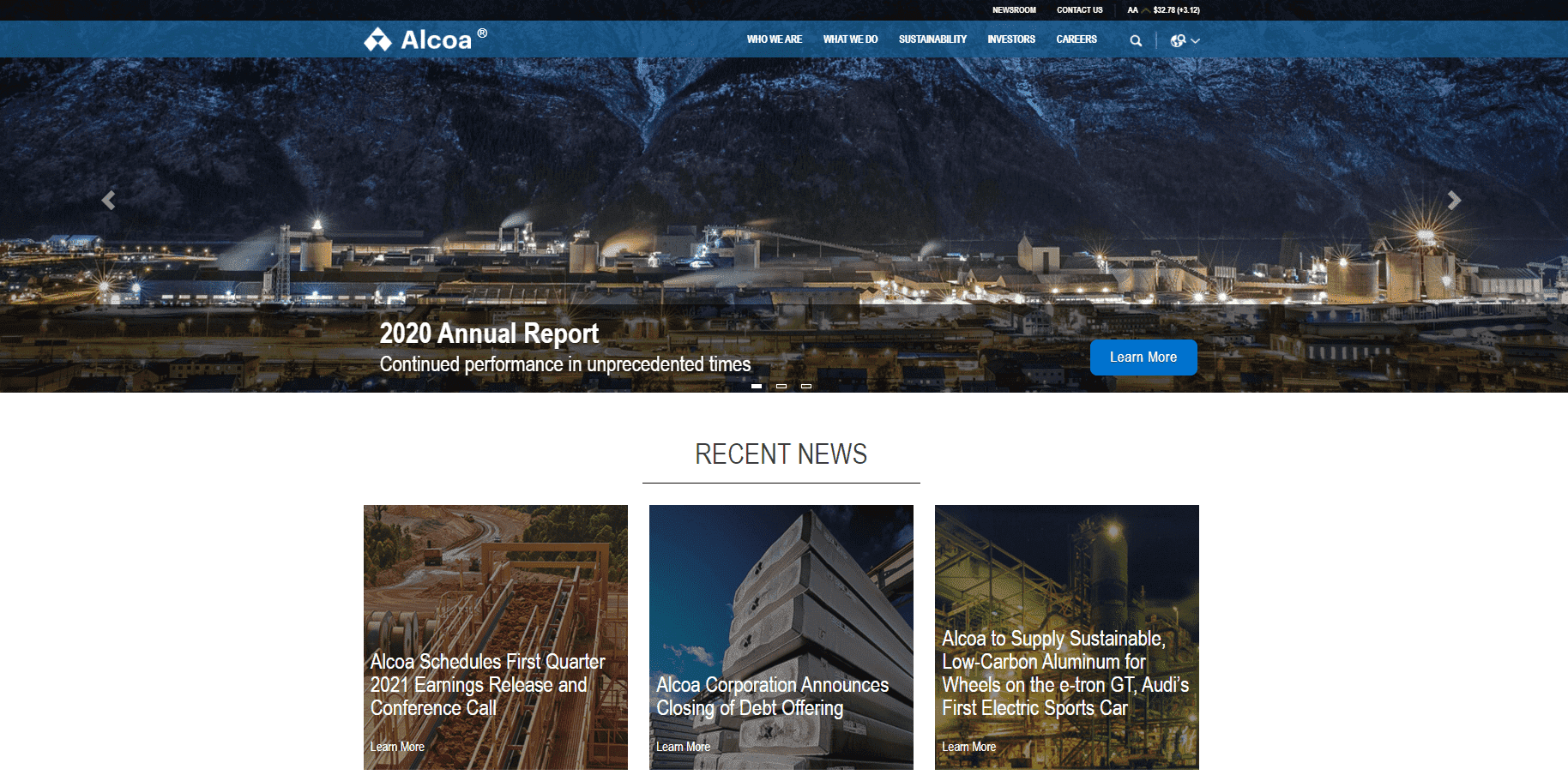 In the beginning, David and Hall worked 12-hour shifts, producing between 15 and 25 kg of aluminium each day at a price of $16 a kilogram.
Over time Hunt managed to reduce the price of aluminium ingot from $4.96 per pound in 1888 to $0.78 in 1893. The business grew and aluminium products quickly included kitchenware, foil, electric wires and cables, car bodies and engine. parts used in the Wright Brothers' first flight aboard the Kitty Hawk aircraft. After establishing its main foundry business, the company expanded into manufacturing, mining and production of raw materials, as well as power generation. In August 1895 it began manufacturing metal at the Niagara Works in New York.
After this alarming start, the entrepreneurs' path began to improve. In just a few years, they reached customers in the automotive, aviation and other fields. During this time, they also expanded into other locations, such as Canada. The owners then decided to change the company's name to something more appropriate: The Aluminium Company of America. Later, when the company entered the world market, the name was changed to Alcoa, which first appeared in 1910. As early as 1910, the company launched a revolutionary product: aluminium foil. After that, Alcoa had more and more space in the world market. In 1928 the company had more than a half of the world primary aluminium production capacity: 90 thousand tons in the USA, 45 thousand in Canada and 15 thousand in Europe. In the late 1930s, a pound of aluminium was worth 20 cents on the dollar, and the company recorded more than 2,000 uses for the product. Then came World War II. The demand for aluminium doubled and so did Alcoa's production.
Within three years it had built more than 20 plants: eight smelters, 11 smelters and four refineries and operated them for the state. Total investment in the industry during the Second World War rose to $672 million, of which $474 million came from Alcoa.
Today Alcoa retains its position as one of the world leaders in aluminium production.
At the World Economic Forum in Davos, Switzerland, Alcoa was recognized as one of the three fastest growing corporations in the world.
Alcoa operations are located in more than 30 countries. The company's products are used in the manufacturing, aircraft, automotive, packaging, construction, oil and gas and defence industries.
At the time of writing, Alcoa stock was $32.78 (+340.46% last year).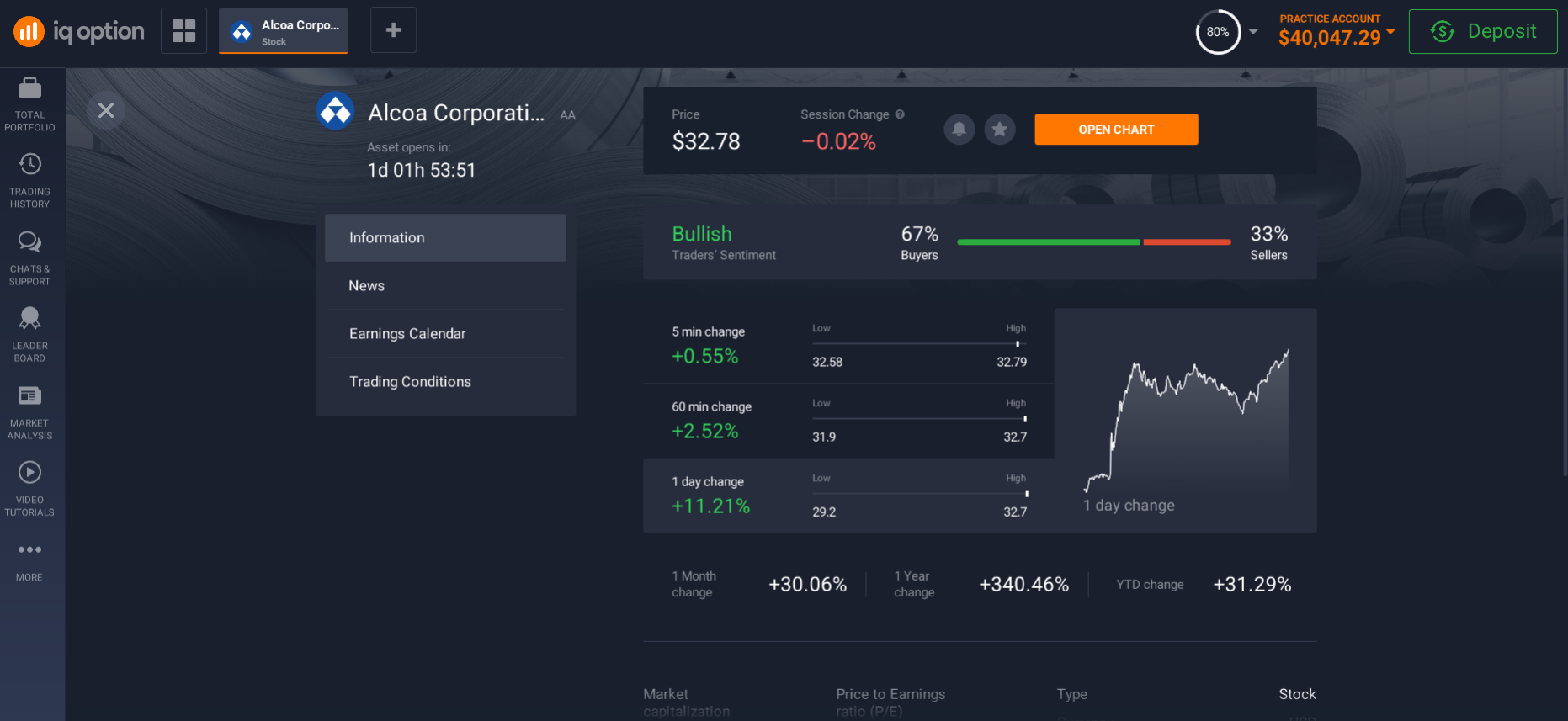 How to invest in Alcoa shares in Pakistan?
Alcoa shares are traded on the New-York Stock Exchange (NYSE), where they have the ticker symbol AA.
In addition to the US floor, Alcoa shares can be found on several other floors: Mexican Stock Exchange (Bolsa Mexicana de Valores, BMV); Frankfurt Stock Exchange (FSE); Berlin Stock Exchange (Berlin Stock Exchange); Stuttgart Stock Exchange (SWB); The Swiss, Austrian and London stock exchanges.
However, the volume of trading on them does not reach even 1% of the usual volume on the NYSE.
Alcoa's initial public offering was in 1978.
To invest in Alcoa shares in Pakistan, you have to find a broker that works with the above-mentioned exchanges and also consider which investment method suits you best.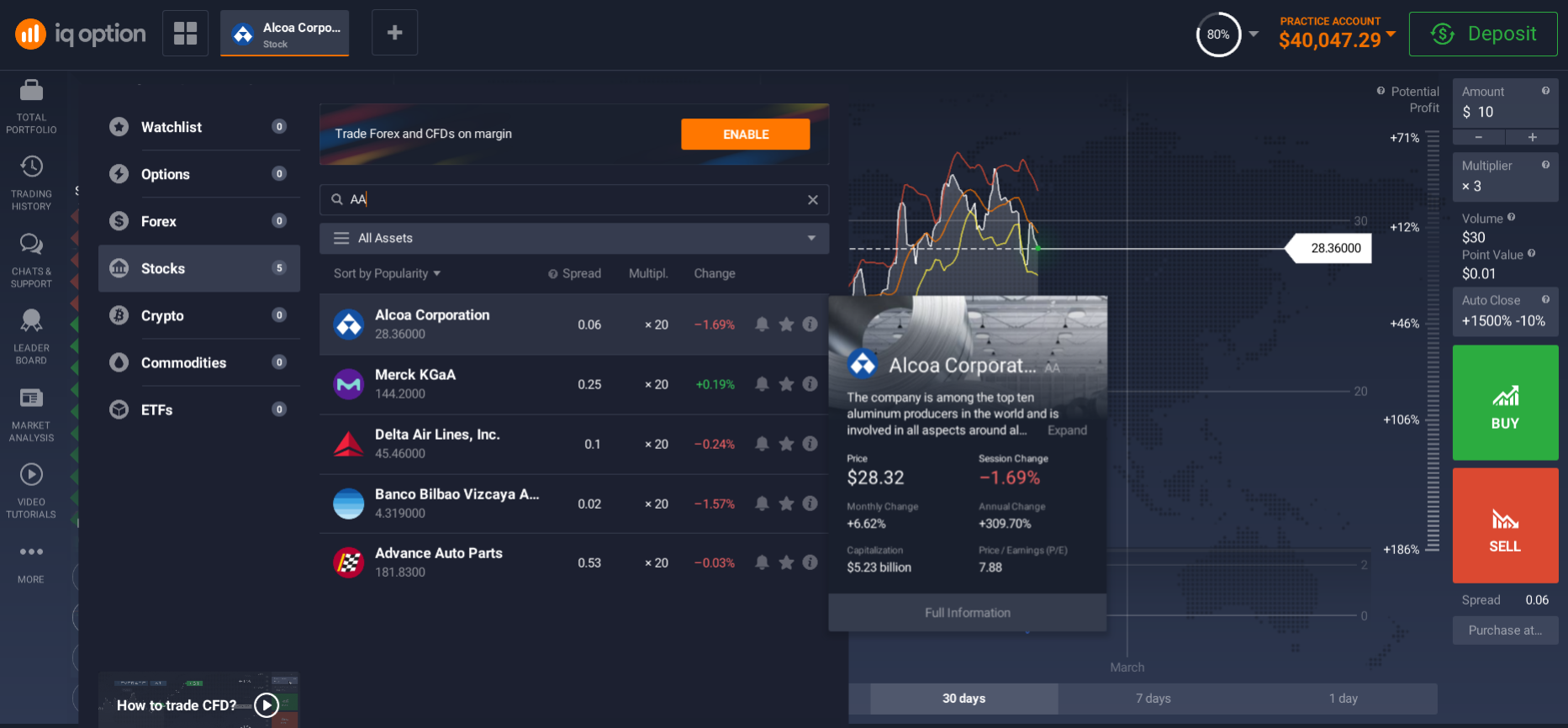 Choosing a broker
You can only buy Alcoa shares in Pakistan through a licensed broker.
A stockbroker is a company or firm that provides traders with access to a trading platform to enable them to make investment transactions. Your first task is to find out whether the brokers have a reputation for expertise and whether they can meet your needs. The things you should know are whether the broker has a license to conduct brokerage activities, what kind of commission the broker charges and all the things related to registering for and operating on a trading platform.
The vast majority of large brokers will allow prospective clients to try out their services through a practical demo account, so that they can try out the online trading platform. Before deciding which agent to use, it is wise to test as many platforms as possible.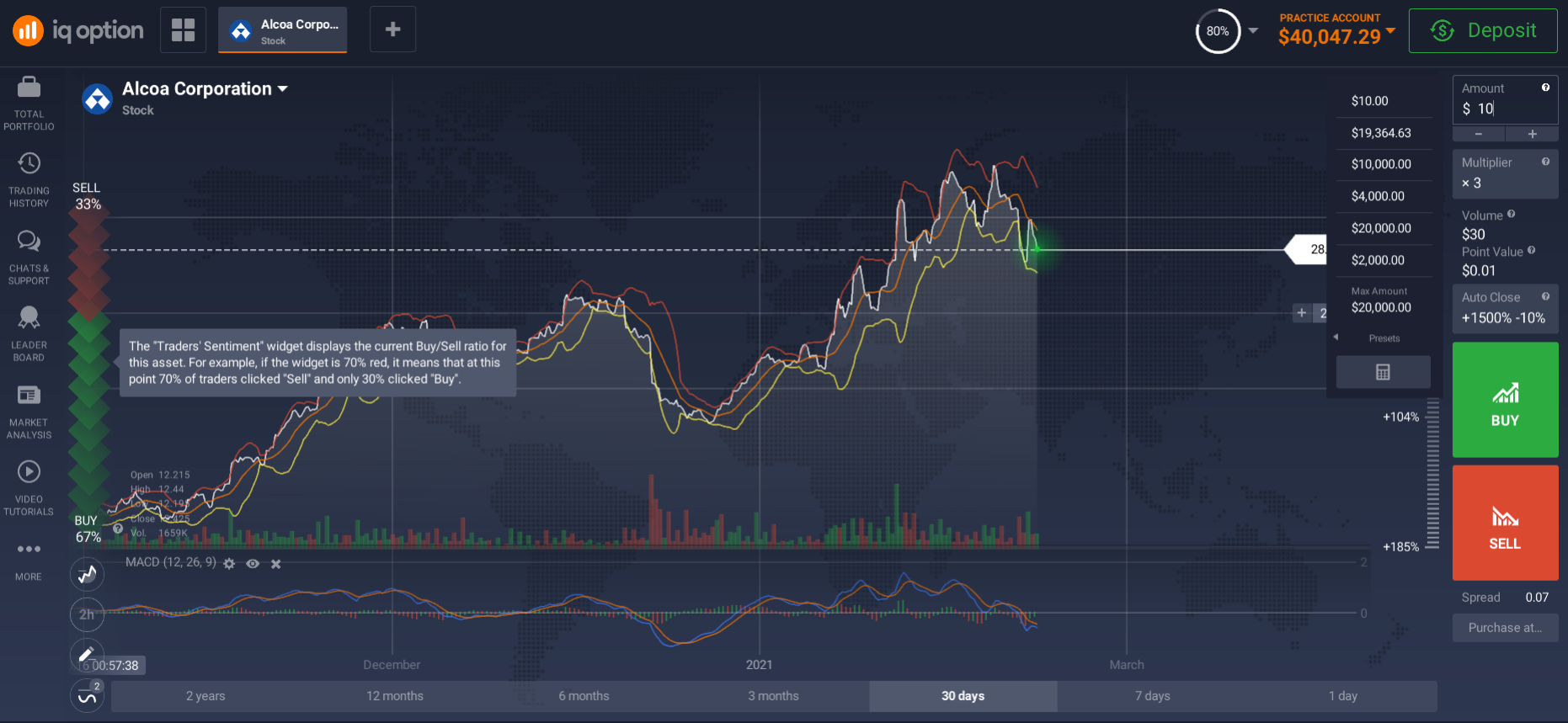 Investment methods
If your primary goal is to safeguard your funds and you want to make some sort of long-term passive income, and also your start-up capital allows, you can consider the dividend method of investing.
Dividends are part of the income of a business. Accordingly, the amount will fluctuate slightly, as it is directly related to profit trends. How much of the net profit the organisation pays out to shareholders and how often (annually, semi-annually or quarterly) is stated in the dividend policy. In some cases, the number of distributions is calculated based on net cash flow rather than net profit. Sometimes companies may pay dividends out of undistributed profits from previous years.
However, it is worth remembering that sometimes companies stop paying dividends for a while, channeling profits into company development.
Alcoa last paid a dividend in 2016, with an annual dividend yield of 1.57%. The next dividend payment on Alcoa Corporation shares is expected in February 2022.
A good alternative to dividend investing is CFD trading. This type of trading is chosen by traders who do not have a large initial capital.
CFD stands for Contracts for Difference and refers to a derivative instrument that reflects the price of the underlying instrument. It is a contract between two parties whereby they, the buyer and the seller, agree to exchange the difference, i.e. the difference in the price of the underlying instrument over a certain period of time.
It is therefore a direct contract between the buyer and the broker, rather than an open position in the market.
Many people feel that they are not advised to trade CFDs because they can be very risky, especially if you trade with so-called "leverage". CFDs can be either positive or negative, so you have the opportunity to make money in the market whether it is going up or down.
Trading CFDs means that you buy and sell CFD products. CFDs are often criticised, but they can be a very profitable way of investing.
It allows you to speculate in the market without owning the underlying asset. CFDs give you the choice of investing in whether the price of a stock rises or falls.
Before investing, it is important to understand the risks of investing in leveraged products. There is a high risk involved and it is not advisable to use a loan without experience in trading.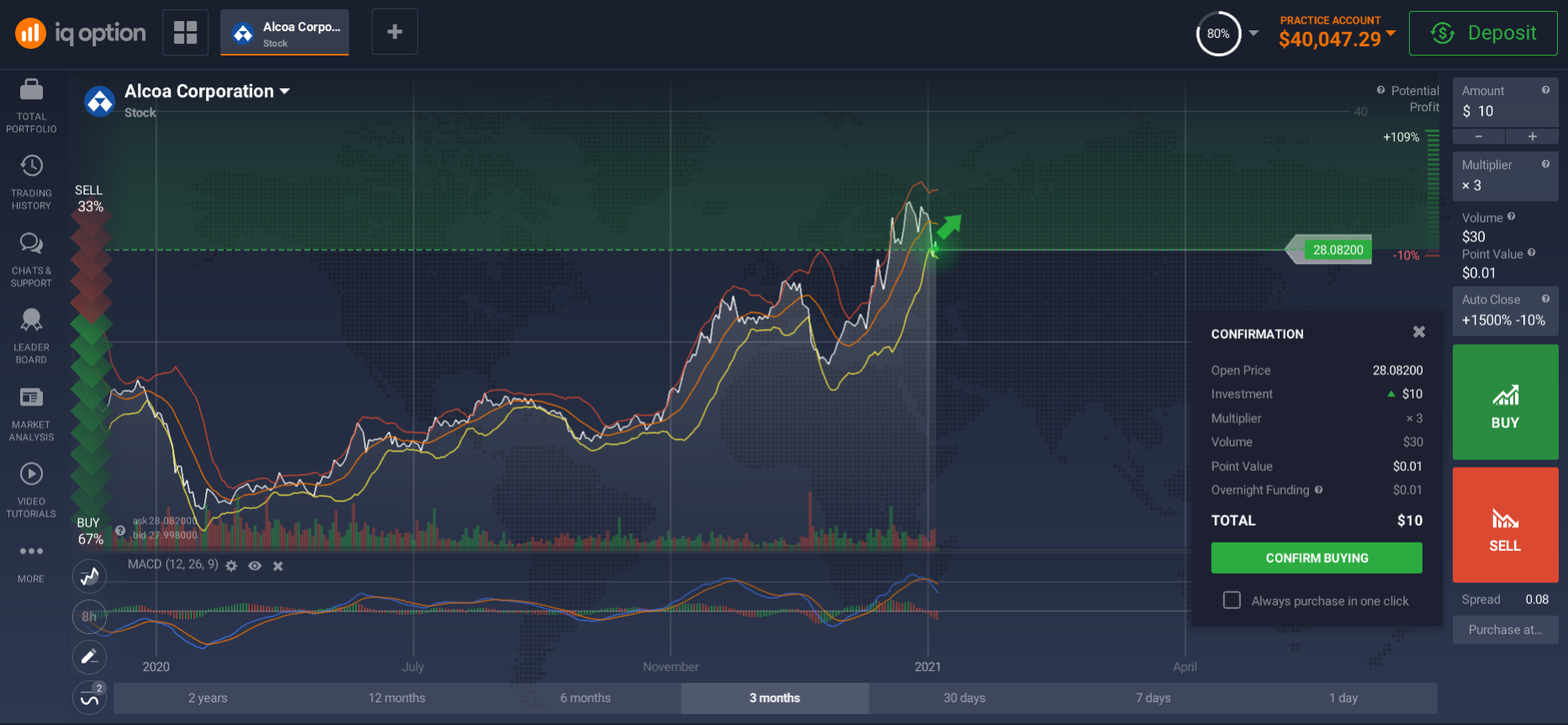 How do I buy Alcoa shares in Pakistan?
You can buy Alcoa shares through an online trading platform provided by a broker.
A trading platform is a computer software that allows you to manage financial instruments in real time and with real market prices from any computer and/or mobile device (mobile phone or tablet). In short, a trading platform is a tool that allows investors like you and me to invest in financial markets.
Signing up is relatively easy. Whichever Pakistan trading platform you choose, the procedure is pretty much the same: you will be asked for a valid email address and password, which only you will know.
You will then be asked to tick the box provided for this purpose if you accept the site's Terms of Use and Privacy Policy. If you have not already done so, please take the time to read them before completing your registration.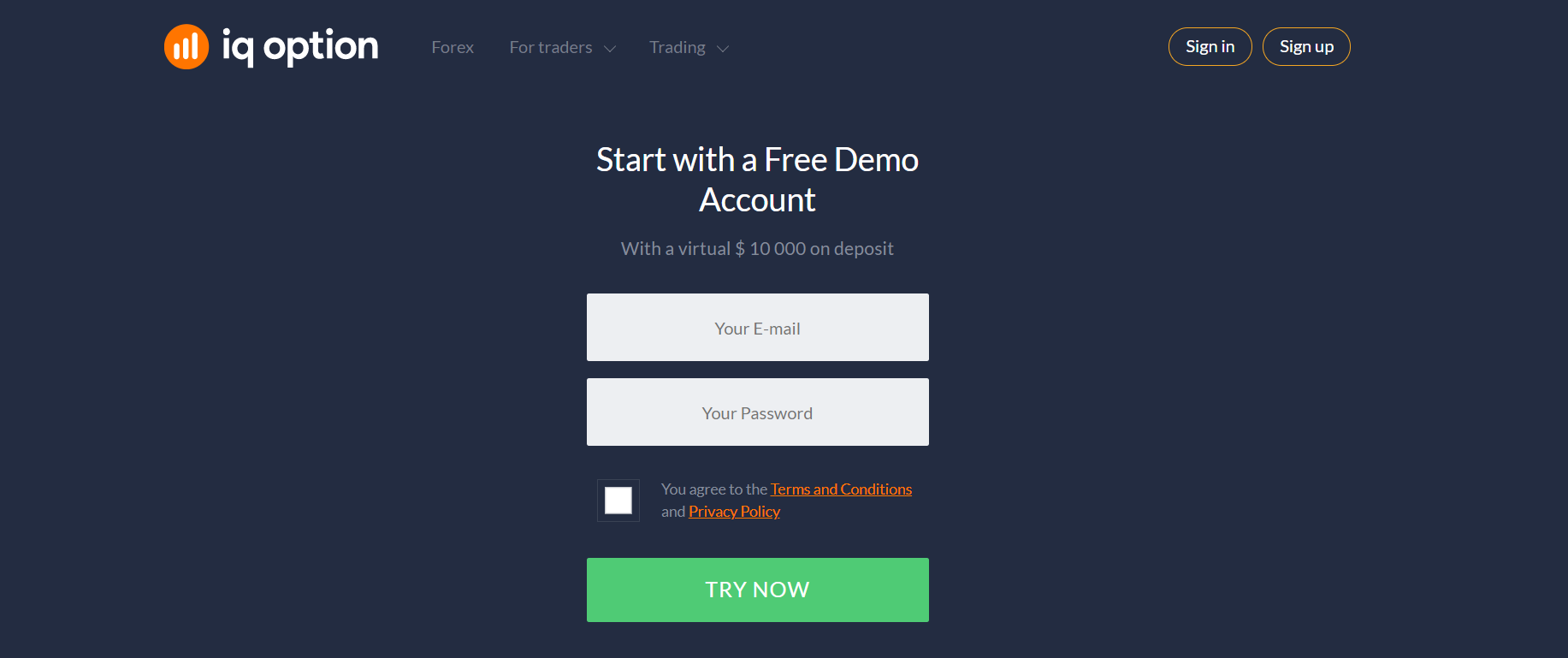 Before you open a full-fledged trading account, you have the option of opening a demo account to get a better understanding of the trading world. The robust trading platform will provide you with both a demo and a live trading account, and you can start with a demo account automatically.
Once you log in to the platform, you will automatically get access to a demo account, to which the system will credit a virtual amount of $10,000 to practice online trading.
Be sure to use the demo account so you can practice your trading on the platform without risking any real money.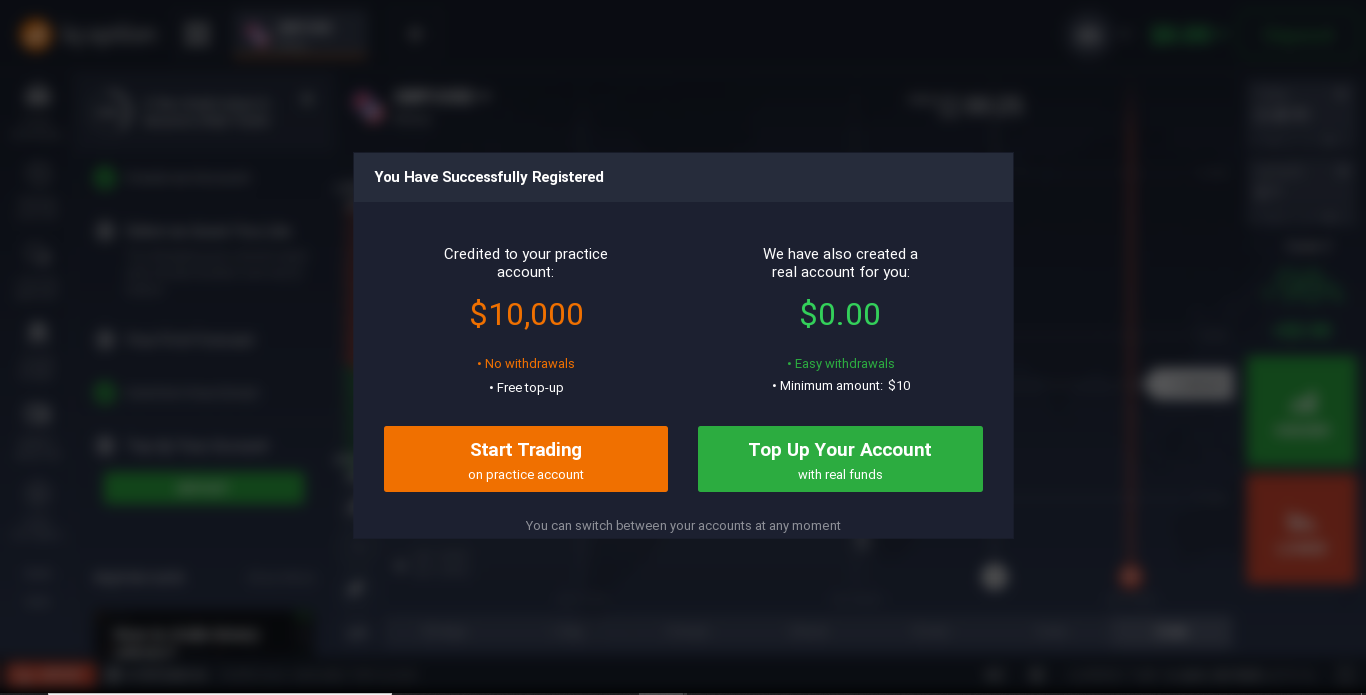 You can activate a real account by making a deposit. The deposit options on the platform are not very varied, but they are sufficient. After all, customers here can make payments using MasterCard, Visa and Maestro bank credit cards. Deposit also works via Neteller, Webmoney, Perfect Money Skrill and AdvCash. Deposits are almost always instant and the minimum deposit amount is only $10.
Payouts are also user friendly. The currencies and methods available for payments are the same as those for topping up. In addition, the minimum payout is only $2.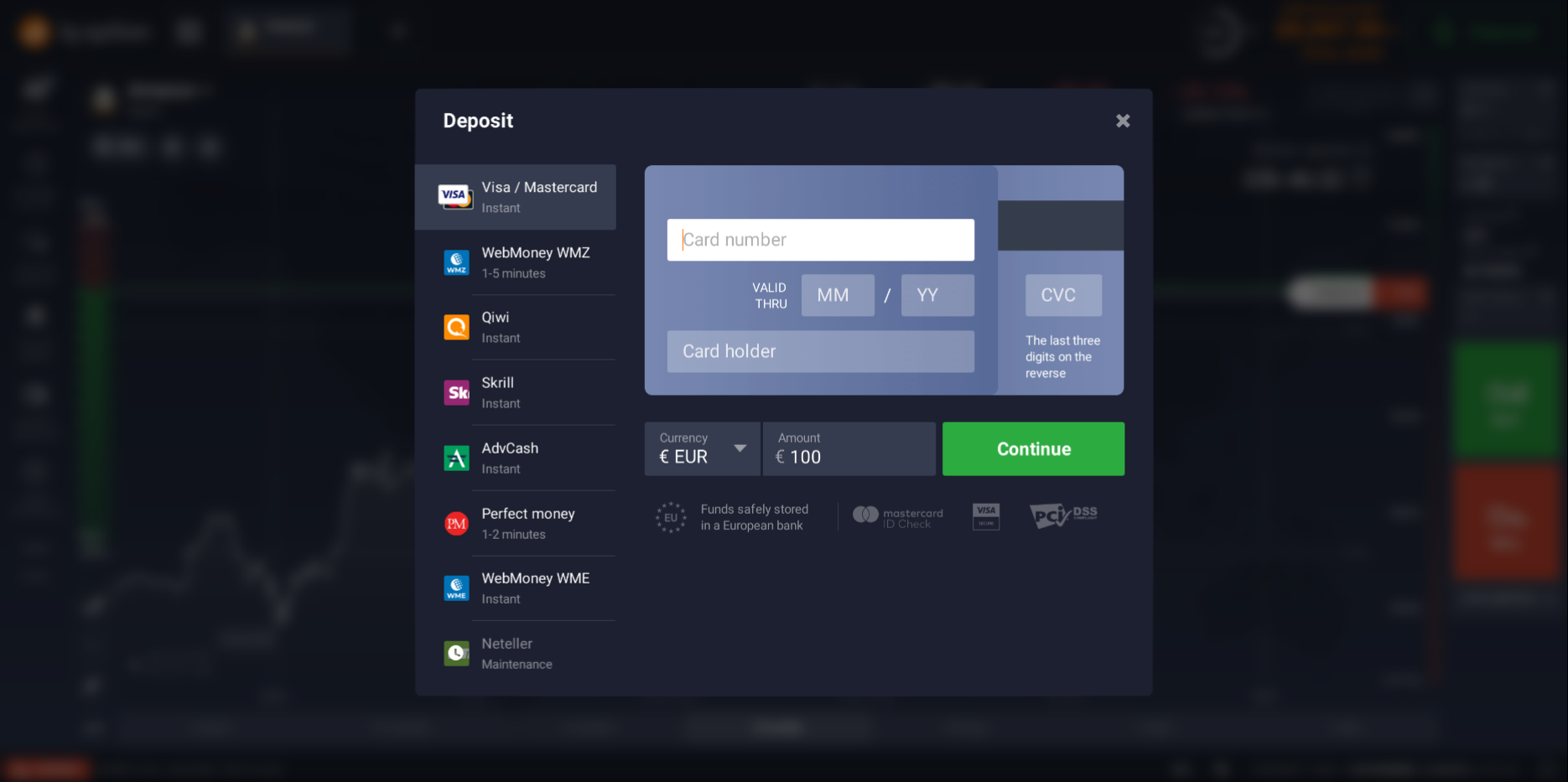 How to invest successfully?
Despite all the accessibility afforded by today's online investment platform, one should not forget that investing is a complex and risky process. This is one area where you should not act blindly as you could incur heavy financial losses. Learning how the stock market works is not enough if you want to invest effectively, making a profit instead of a loss. It is worth remembering that the price of a company's shares is influenced by a number of external factors that should be taken into account when investing, such as the political situation in the country, foreign economic relations and economic laws in the country, the global economic situation in the world, global political trends, and the like. It is also worth paying attention to what kind of product or service is the company launching and whether it intends to expand further, or to withdraw. It makes sense to follow the news about the companies in which you intend to invest. Only trusted sources of information should be used.
For an investment in Alcoa shares, global analysts' forecasts are positive.
Today technologies developed by Alcoa are improving transportation, from the automotive and commercial sectors to aerospace, as well as electronic products, both industrial and those sold to consumers. The company enables intelligent construction, eco-friendly packaging for food and beverages, high-performance land, air and sea defence vehicles, deeper drilling for oil and gas and more efficient energy production.
The company's products remain in demand, suggesting a successful investment in Alcoa.
SIMPLE AND RELIABLE
MONEY WITHDRAWAL