If you're finally ready to start your own cryptocurrency business, then trading digital coins is exactly what you need. It's profitable, because you can make a substantial profit in a short time or just make a monetary investment. When we hear news about cryptocurrencies, the first thing we hear about is Bitcoin. But there are other coins, which are actively quoted on online exchanges and bring considerable profit every day. One of them is Litecoin(LTC).
Before we buy LTC in Pakistan, let's take a closer look at it.
What is Litecoin(LTC)?
Litecoin was created by former Google employee Charles Lee (better known as Charlie Lee in the cryptocurrency community) in October 2011. Litecoin peaked in popularity in 2013, which is when it became known as "digital silver". The coin began to skyrocket and made it into the top 10 coins in terms of capitalization.
In fact, Litecoin was formed as a spin-off from the Bitcoin network, a phenomenon called a fork. This means that the Bitcoin network was used as the code base for Litecoin, so the cryptocurrencies themselves are very similar.
Litecoin is one of the oldest and most established cryptocurrencies.
This coin is designed for fast, low-cost and secure payments by taking advantage of blockchain technology.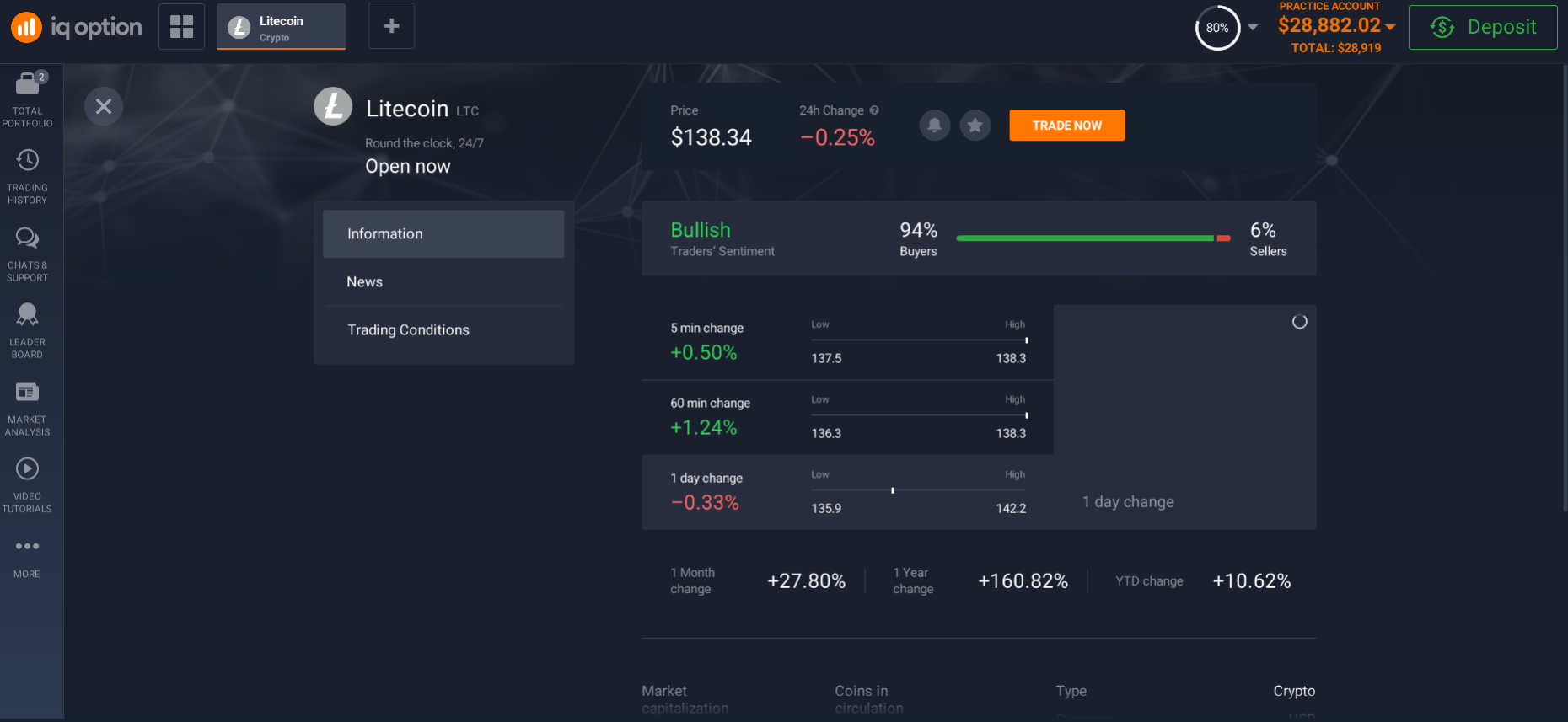 Technically, this digital coin is almost identical to Bitcoin, using the same encryption methods to transfer funds and confirm transactions.
Litecoin, being a low-cost alternative to Bitcoin, is great for payment transactions of all kinds.
For that reason, the coin is accepted by many merchants around the world. Litecoin can be used to buy all kinds of goods, from cars and electronics to homes, as well as to pay for various services.
The main advantages of the LTC coin are:
The maximum number of Bitcoins that can be issued is 21 billion. Litecoin, on the other hand, will have 84 billion coins to be issued.
The speed at which new blocks can be created. A block in the Litecoin network is created every 2.5 minutes, while in the Bitcoin network it is created every 10 minutes. That is, the Litecoin network is 4 times faster.

Litecoin's mining process is several times simpler than Bitcoin and some other cryptocurrencies, so it does not require much investment to mine.

LTC is more flexible when compared to Bitcoin, which means it is more amenable to adjustments and changes.

How to buy Litecoin in Pakistan?
These coins have quickly gained popularity, so buying them is not a problem. The best option is to use an online trading platform. There are plenty of such platforms in Pakistan, you just need to choose the best one.
The emergence of online platforms has increased the popularity of exchange trading by making it available to anyone. Working on such platforms, traders have a professional environment for market analysis, building strategies, automation and most importantly, implementation of these strategies.
Professional trading platform is the software that provides interactive access to the market and gives the opportunity to make transactions online.
Trading platforms are gaining popularity due to their speed and flexibility. Orders are placed online, which means traders can buy or sell orders faster and more conveniently than doing so over the phone or by physically contacting a broker.
Trading terminals provide traders with advanced charts, price alerts and trade studies. So, with an online trading terminal, you get a user-friendly interface and some useful information to execute your trades. The terminal allows you to work flexibly with the price chart and supports a wide range of technical analysis tools. Traders have the ability to track executed orders and set protective stop-loss and take-profit orders.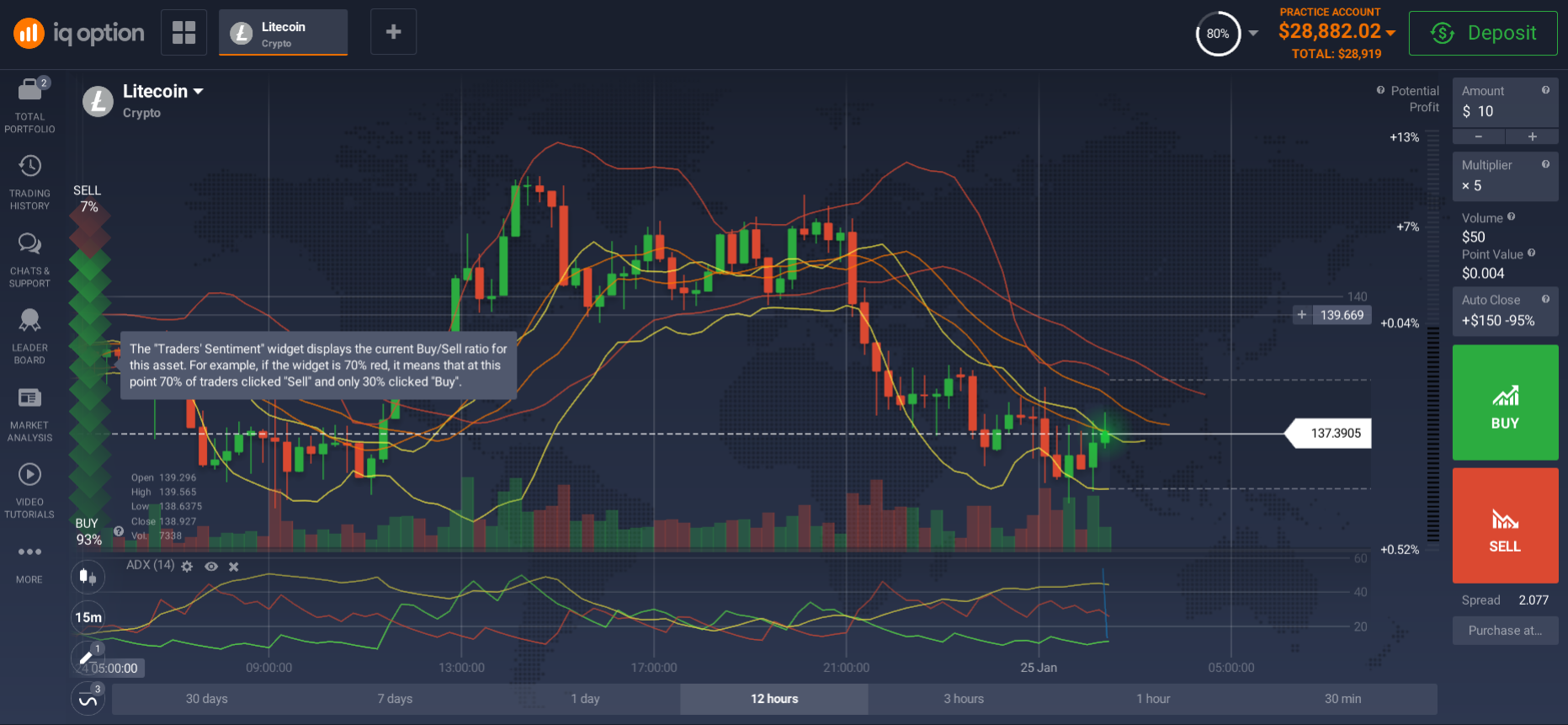 Pros of buying Litecoin on the terminal:
Profitable rate.
Large selection of cryptocurrencies.
Low fees.
A variety of deposit and withdrawal methods.
To buy Litecoin in Pakistan anytime and no matter where you are, it's worth using a mobile app. It has all the same functions that you would find on your computer, and they are all located in a very convenient way.
You will be able to buy LTC, as well as control security settings, deposit and withdraw funds.
Basically, this is a personal account functionality with one-click replenishment option and analytical tools - current quotes, expert forecasts, economic calendar, cryptocurrency rates and much more.
The mobile app also allows you to quickly contact support if you need help.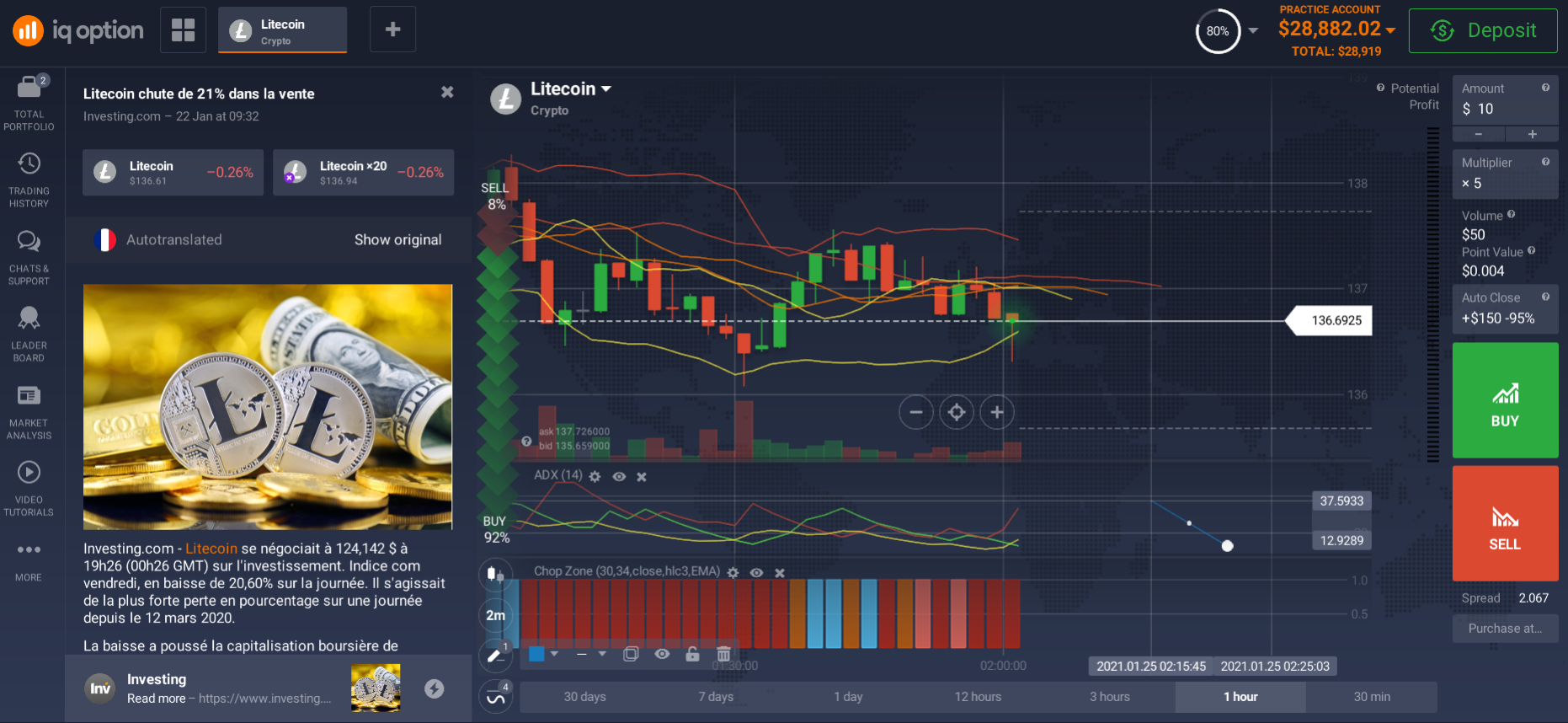 Another way to buy Litecoin is to open a cryptocurrency wallet. It will take a little of your time, but you should take into account that transactions from a cryptocurrency wallet are more complex and more time- consuming.
How to invest in Litecoin in Pakistan?
Newcomers to the world of digital money choose one of the following investment strategies:
Applied for a period of more than 3 years. These investments allow you to earn an impressive amount of money because they require the investment of a large amount of capital. It is a conservative type of investment not promising fast payback but the most reliable.
Long-term investments are not affected by short-term fluctuations of the market and do not require constant monitoring of changes in the market.
They have a duration of 1 to 3 years. The most common type. Among its advantages are liquidity, stability. It is the golden mean when risks are not excessive and profitability is sufficient.
These are investments made for a period of up to one year. Mainly they are speculations. It must be taken into account that there is no unambiguous opinion whether speculation is an investment or not. Investors pursue the goal of investing money and systematically making a profit. Speculation involves investing money in order to make a one-off profit from the resale of a single asset. A speculator's strategy is to buy cheaper and sell higher. The faster, the better.
By investing in short-term projects, the investor expects to make large profits. And the potential of such transactions is really great. But it must be kept in mind that short-term investments require thorough market analysis and immediate reaction to changes.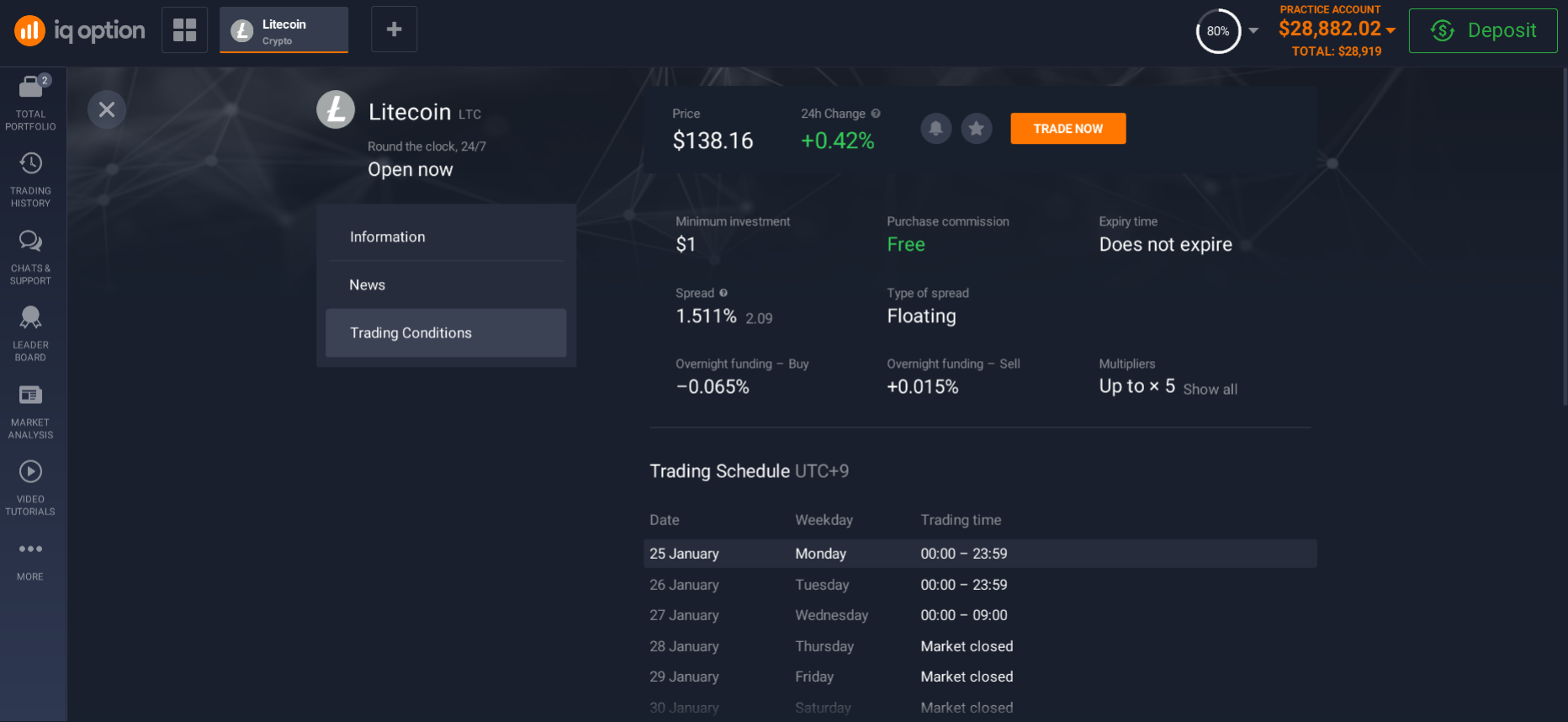 Traders now prefer and like to trade CFDs on cryptocurrencies, because with minimal capital they can make quite serious profits.
It should be noted that such contracts are currently one of the easiest and most profitable ways to try cryptocurrency trading.
A CFD (Contract for Difference) is an agreement between two parties that obliges one party to compensate the other in the event of a fall or rise in the value of digital coins. The asset itself does not come into the possession of either party. Typically, all Litecoin CFDs are sold with a broker's leverage. Accordingly, you can make large profits with minimal financial risks.
When you perform a CFD transaction, you do not receive or transfer your own funds to another owner, but only pay or receive the difference in price that has occurred between the opening and closing of the transaction. By trading CFDs, you can make a profit when the price falls as well as when it rises. All you have to do is to choose a suitable buy or sell contract.
When deciding to invest in Litecoin in Pakistan, do not forget about diversification. This involves buying several types of assets. Each of them has a different return and risk. If the return on one of them falls, the situation evens out with the others. The sum remains in the income.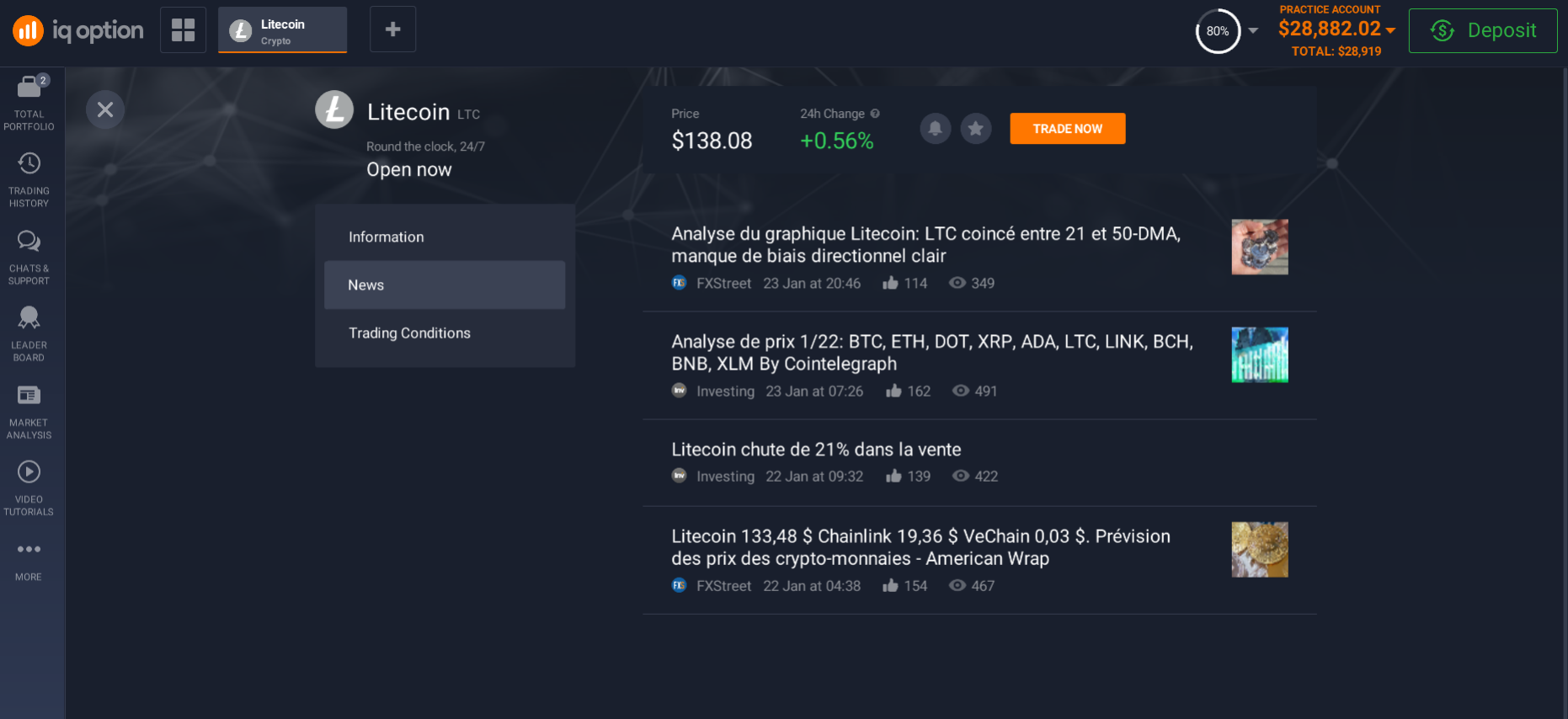 How to start to invest in Litecoin in Pakistan?
A large number of newcomers in Pakistan want to try their hand at crypto trading. And the first question that arises is where to start? We are going to give you some tips, following which you will be able to invest in Litecoin without any problems:
The first thing every beginning investor who decides to buy LTC needs to do is to make a plan and choose a strategy.
Start with small amounts. The main mistake of novice investors is to invest large amounts in cryptocurrency at once, which the user cannot simply afford. Once you understand a lot of things about cryptocurrencies, study market behaviour and the impact of various factors on digital coin rates, then you can think about large investments.

Join cryptocurrency trader chat rooms. Chats are designed to ask questions, consult with like-minded traders, see in real-time what other traders are deciding, and stay up-to-date on important news.

Sign up with reliable and time-tested platforms. You need to study the trading conditions of each online broker, read reviews, make sure withdrawals are smooth and so on.

Is it safe to invest in Litecoin (LTC)?
Litecoin has stood the test of time and has managed to gain an army of fans, who are leaving positive feedback about the coin wherever possible. LTC comes a bit later than Bitcoin, but its capabilities far surpass those of the latter. Quite a number of investors support this project, which has both a strong team and good prospects for development in the future.
Is it safe to invest in Litecoin online?
Never make any transactions or even log into your wallet via public Wi-Fi, it creates high risks of losing money.
Look for online marketplaces that support two-factor authentication, login notifications and that involve thorough KYC procedures to verify the user. A bundle of email and phone number for authentication is considered secure. By registering with a regulated marketplace, you will be able to buy LTC coins in a direct and secure way.
We hope that our review has been useful and helped you understand about buying Litecoin (LTC) in Pakistan. Register on the platform and start earning today!
SIMPLE AND RELIABLE
MONEY WITHDRAWAL