What is PancakeSwap (CAKE)?
The surge in cryptocurrency popularity in 2017, as well as the subsequent fall of bitcoin in spring 2018, came as a surprise to the world and triggered an unprecedented frenzy on cryptocurrency exchanges.
While authorities in major countries have been trying to legally define the nature of cryptocurrency and regulate how it is traded, currency traders have already entered an active game on numerous exchanges, trying to capitalise on the volatility of the exchange rate. One exchange where you can earn digital currency is PancakeSwap and its own CAKE token.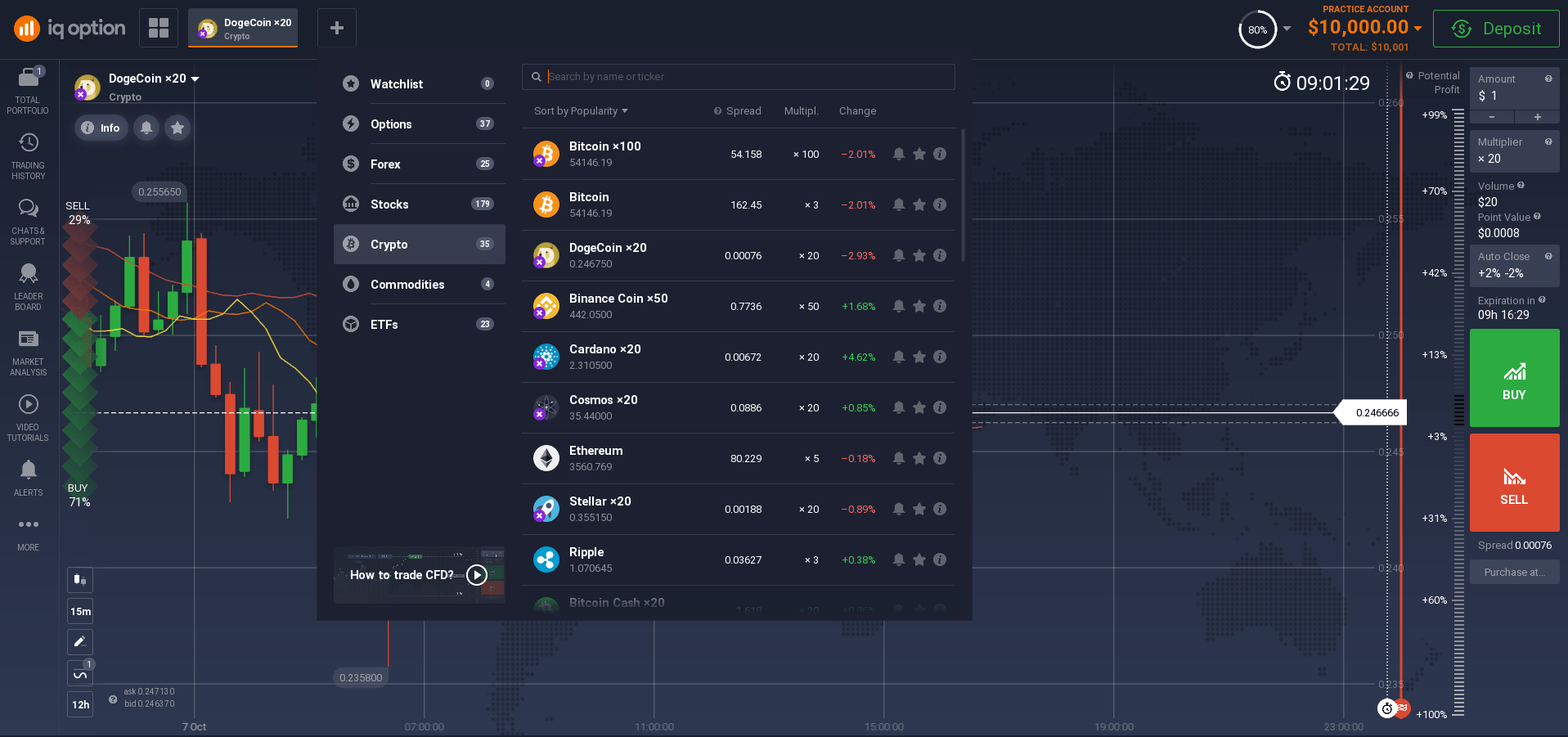 Where do PancakeSwap come from?
PancakeSwap is a decentralized exchange that allows you to trade cryptocurrencies and tokens without a centralized intermediary, keeping your tokens in storage at all times.
It is built on automated smart contracts deployed on Binance Smart Chain, a blockchain platform operated by cryptocurrency exchange Binance. While Binance operates a centralized exchange, it does not control or manage PancakeSwap - it was created by individual developers.
But PancakeSwap is not just another DeFi application. PancakeSwap is built on Binance Smart Chain and is currently the No. 1 decentralized app on that network in terms of volume and number of users.
To date, the platform supports the following transactions:
Selling and buying tokens.
Depositing funds into liquidity pools.
Farming of tokens.
Prediction card trading.
Lottery.
From time to time, PancakeSwap holds contests and traders' contests.
Importantly, almost 3 million users have made over forty million trades in the last thirty days on this decentralized platform.
What makes CAKE unique?
The CAKE token is issued by the decentralized exchange PancakeSwap and is used by it for transactions and its products, such as exchanges, pharming, predictions and lotteries, etc.
The CAKE token has an inflationary model and has no maximum circulation limit; new tokens are "printed" in each new block, some of which are subsequently burned. The developers separately explain the issue of new tokens by the need to encourage users to provide liquidity, which is reasonable, as the availability of liquidity is the key to the performance of any exchange.
Despite high token inflation the project itself has good prospects, first of all it is the leading DEX project using Binance Smart Chain, and thanks to low transaction fees the total amount of blockchain is constantly growing. This is why many investors find it necessary to buy PancakeSwap for their portfolio.
PancakeSwap is a project with great potential. The popularity of this decentralized platform is growing worldwide, while more and more exchanges are offering CAKE cryptocurrency. The liquidity of this coin has risen sharply, analysts say.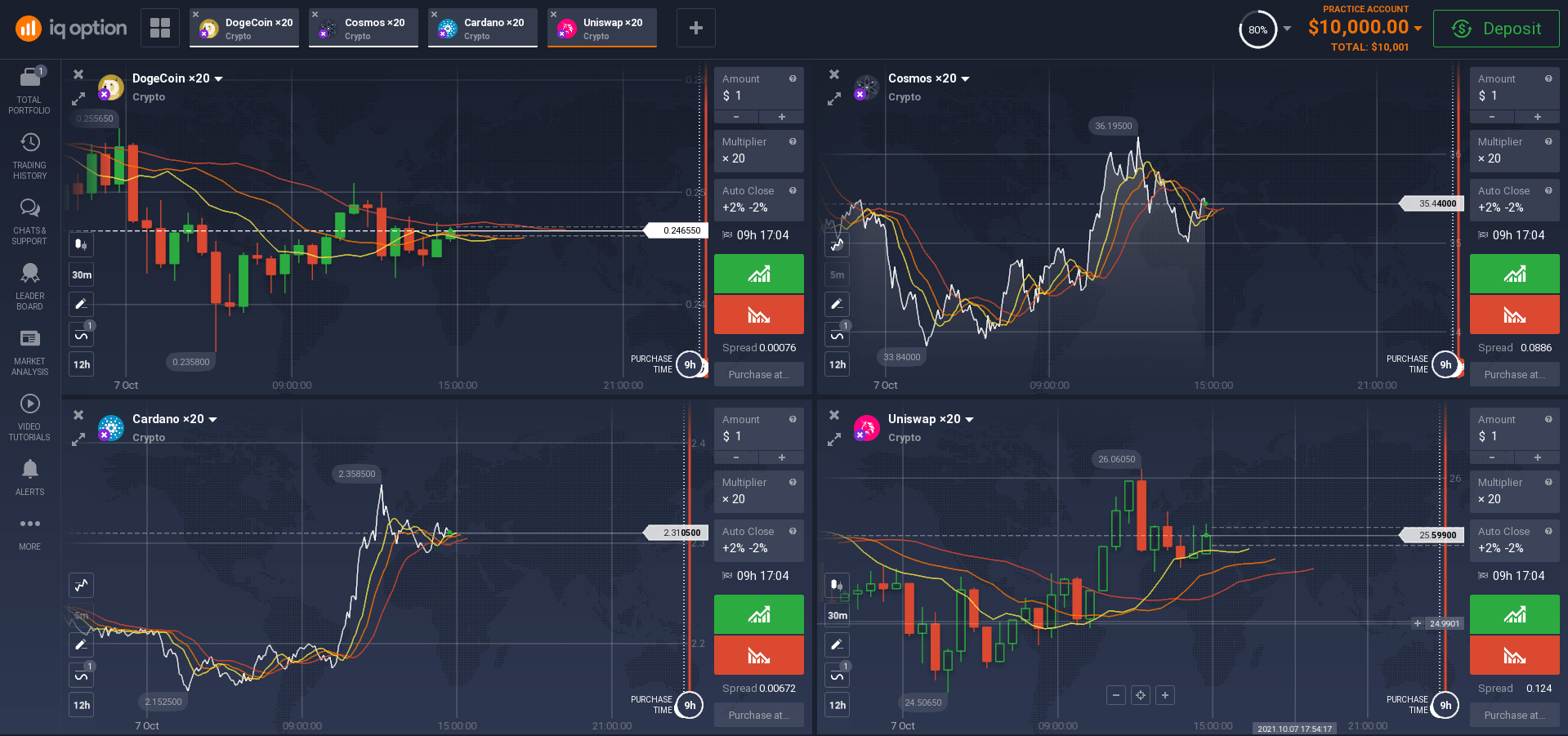 How to Buy PancakeSwap (CAKE)
It is common knowledge that investing in cryptocurrency has become increasingly popular over time. The reason for this is that the global economic crisis has increased people's concerns about money and its financial stability. This has led to increased interest in how to invest in PancakeSwap and other digital currencies.
There are several ways to start making money from cryptocurrency. The choice depends on one's ability, skills and the amount available for investment. Traders can earn high returns even with a small deposit.
For example, try trading PancakeSwap on the broker's platform for free, using a demo account! You will get to know the live chart and see how currency prices change online!
Investing for the long term
One can invest in PancakeSwap in Pakistan for a long time or the "buy and forget" (Hold) method. In this case, an investor buys a cryptocurrency and expects its price to rise over the following years.
For long-term investing, it is better to invest funds that the investor does not need for life in the near future. Otherwise, if there is an urgent need to withdraw into fiat, the cryptocurrency assets may be sold at a low price and the strategy of such investment will fail.
You can buy CAKE this way on the Binance exchange or any exchanger, the difference is security and ease of use. Then, experts advise keeping the savings in your personal cryptocurrency wallet.
Tips for Investing in Cryptocurrency for beginners:
Perform prudently when choosing assets to invest in. For example, buy proven digital currencies or opt for new and promising cryptocurrencies.
Choose low-cost cryptocurrencies to start your investment journey.
Clearly decide on an investment strategy.
Choose a convenient, reliable and affordable way to buy, sell and hold coins.
Analyse the cryptocurrency market, paying attention to any changes.
Trading
Trading is the trading of cryptocurrencies, the main purpose of which is a classic resale scheme: buy low, sell high. This way, a trader spends more time to keep track of the cryptocurrency exchange rate, the market situation as well as the economy and IT in general.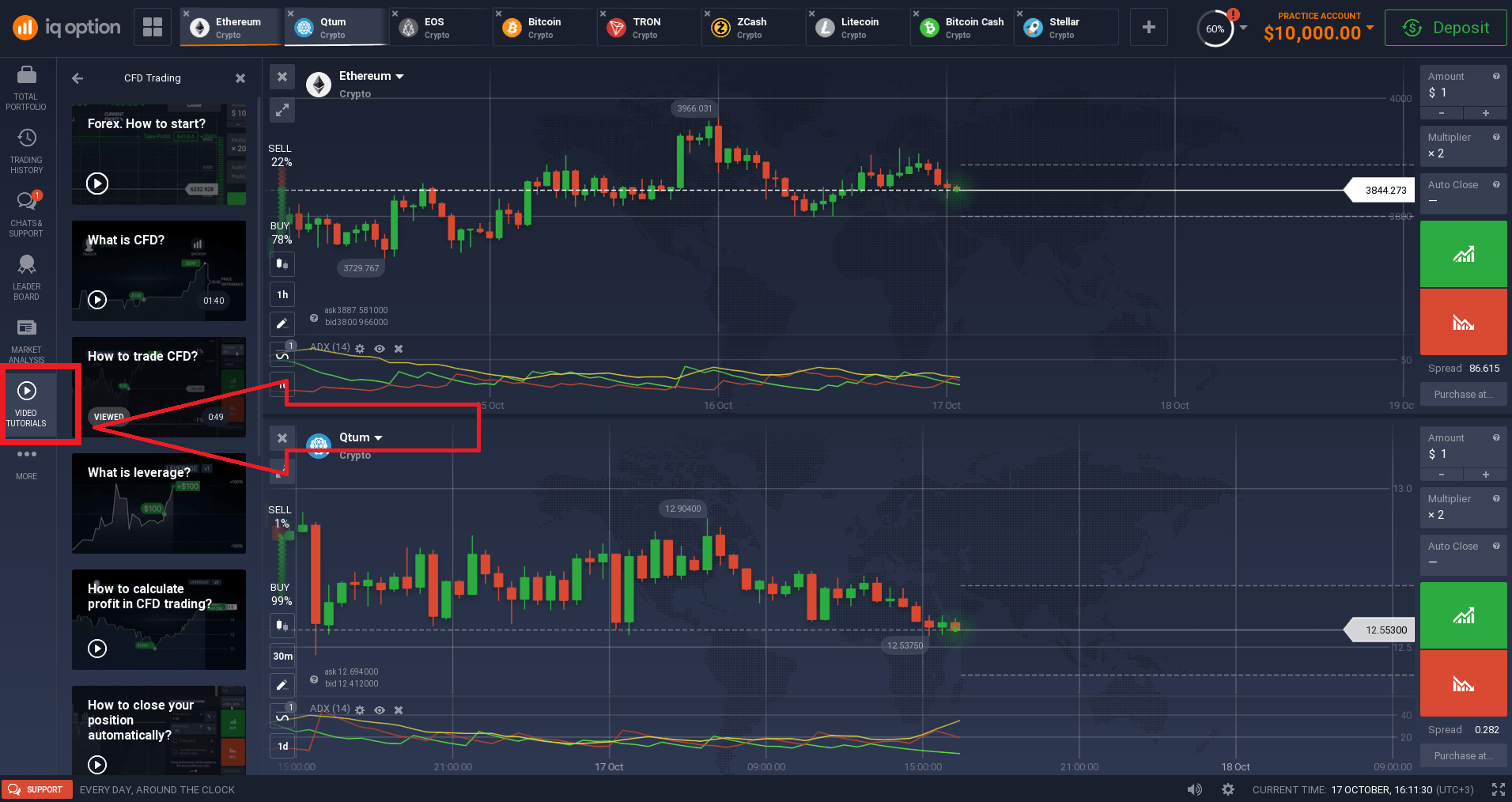 But there is a way, in which you do not have to buy the asset itself and worry about its falling in value. This method is called a CFD contract. You can use it on a brokerage platform. You can find more details on this and other topics in the instructional videos on the same brokerage site, it's free.
CFD (Contract For Difference) on cryptocurrencies is a contract for the price difference of a digital asset. They are provided by online brokers, and regardless of the movement of the price of the asset, up or down, you can earn without owning the cryptocurrency itself.
You can profit from both falling in value and rising in value. Very convenient, try it! You can start with only $1 per transaction!
Another advantage of this system is that it provides investors with a platform which is easy to use for beginners and professionals alike. If used correctly, the platform can allow you to profit from your investments even when you are not using a computer. To do so, set up pending stop loss and take profit orders.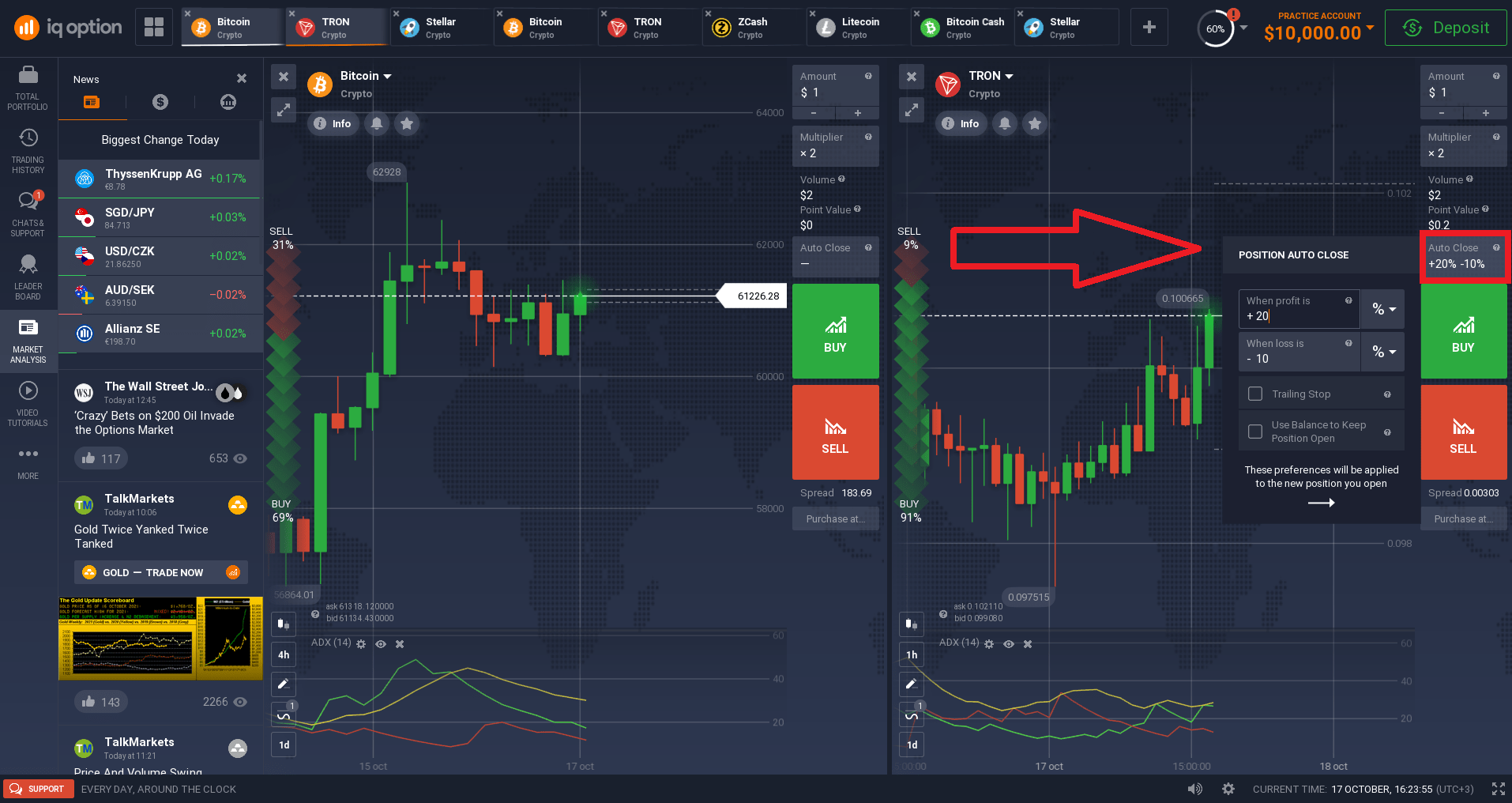 The platform gives traders the option to use so-called pending orders. These have two important features:
The position is not opened (or closed) manually, but automatically;
The actual opening/closing of a trade is not immediate, but occurs after a certain period of time.
Thus, a position can be opened/closed without a trader's participation, and at this moment the trader can be out of the market. Stop Loss and Take Profit are the main types of pending orders.
Is it safe to invest in PancakeSwap online?
Since all transactions on an exchange or brokerage platform are secured with the strongest encryption algorithms known to man, you can rest assured that your privacy is protected. In fact, because of the security inherent in this technology, it is considered significantly less risky than investing in other types of assets on the market today. However, like any other investment, investing in anything in the cryptosphere comes with a certain amount of risk, so proceed with extreme caution.
How to start investing in PancakeSwap (CAKE) in Pakistan?
So, to make money on cryptocurrency with a minimal investment, you can use a brokerage platform. You will be able to buy PancakeSwap in Pakistan and you will also find over a hundred different assets, and you can choose as you wish. You will always find different volatility assets, and you will always be able to find the right asset, such as stocks, commodities, currencies and others. Furthermore, you will only use one account, and you won't have to leave the platform in search of more profitable assets.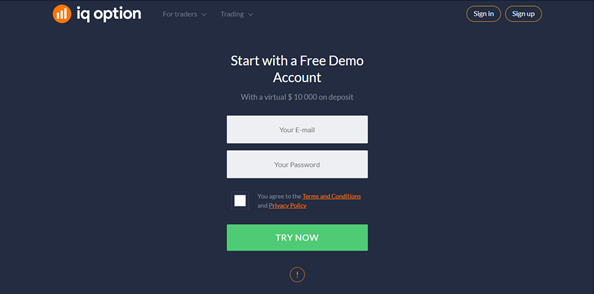 To start trading on the platform and to invest in PancakeSwap in Pakistan-you have to register. It's free and takes a couple of minutes. Simply enter your details in the registration fields. It's also worth downloading the free PC trading application on the homepage. This will allow you to make the most of all the functions of the platform.
Most brokerage platforms are very useful tools for a variety of people. Having a ton of features from video tutorials to analytical tools.
Also use the mobile app for your convenience! Download it to your smartphone and stay up-to-date wherever you are!
Demo Account
To help make trading clearer to you, you might want to try out a demo account first. This will allow you to have a virtual amount of money in your account, which will be enough to show you how the platform works and what you need to pay attention to when trading.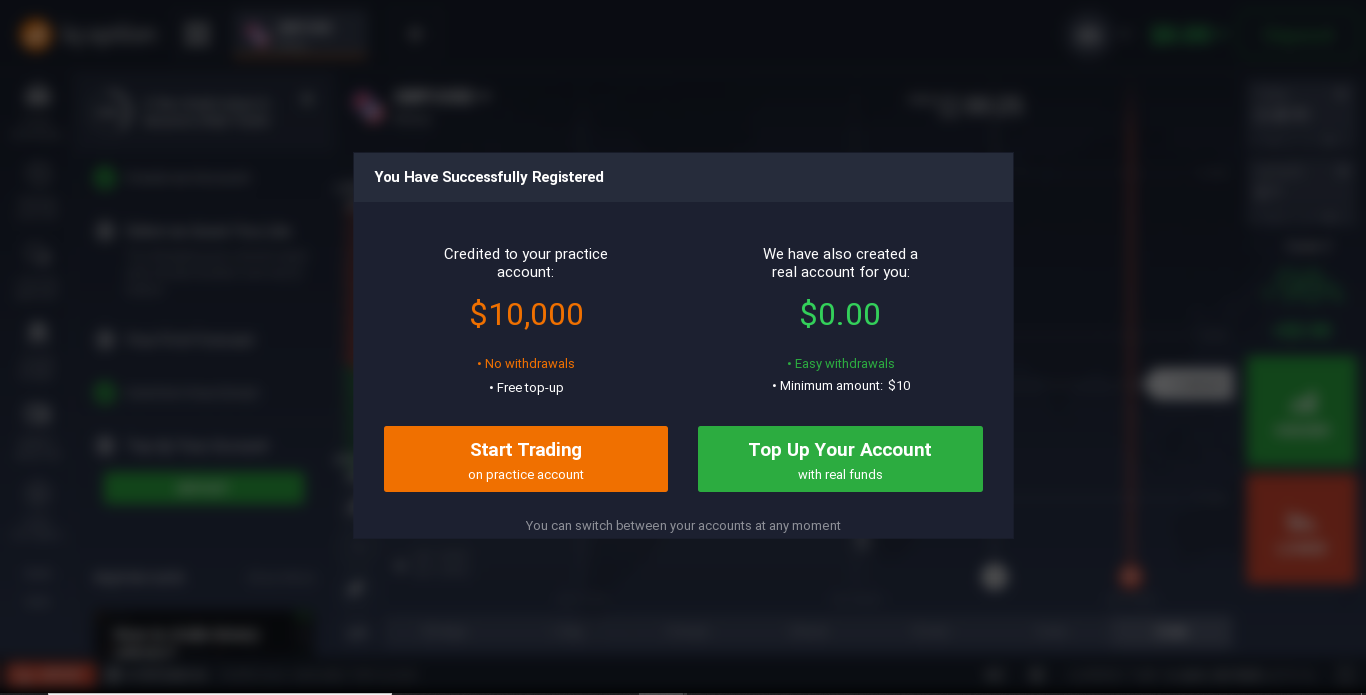 The only difference is that you won't be able to withdraw any profits, but you won't be able to lose any as everything is virtual, and you won't have to contribute anything.
Live Account
When you are ready to make your first deposit and transaction, log into your Secure Client Area and click the top-up button. Then choose a convenient way to fund your account. Typically, traders choose the card. Then fill in the card details and wait for the funds to be credited to your account.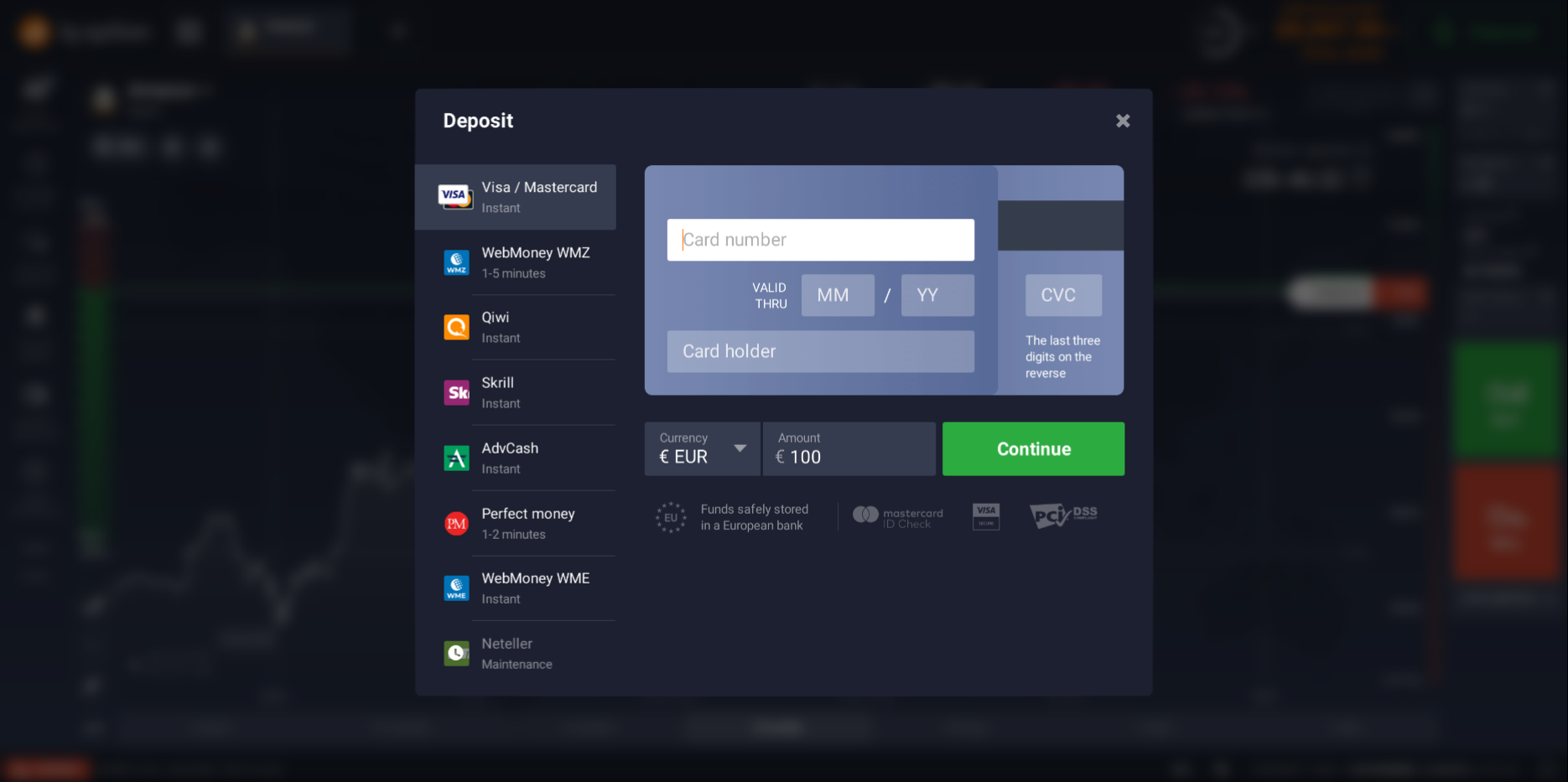 The deposit you make should be equal or larger than the minimum deposit, which is set by the rules of the site. As a rule, this is affordable for most of the amount, about $10. The exact amount you can specify after registration.
A live account will allow you to trade with leverage. Leverage is a multiplier (1-100x) that increases a user's available deposit for a trade by using leverage. Due to this possibility, the user can make a profit many times higher than the one that would be present when speculating only with his own funds.
SIMPLE AND RELIABLE
MONEY WITHDRAWAL