In normal trading, whenever a trader wants to invest his money, he must call his brokerage firm and place a request to buy a particular security for the desired amount. The broker places the order on the market and then transmits the confirmation to the trader. Once the trading account is confirmed, a brokerage fee is charged and the order is placed for a predetermined period.Online trading eliminates the need for a broker. Instead, these days investors can execute their trades on an as-needed basis.
Online trading in Pakistan is now technically as simple as it sounds. Securities are bought and sold online and the funds required for these transactions are also transferred online.Depending on the trading platform you choose, different investment instruments are available.
Today we will look at trading an interesting financial instrument - ETFs and the features of an online platform for trading ETFs in Pakistan.
Investing ETF funds
ETFs (Exchange Traded Funds) are exchange traded investment funds, or in other words, a set or a kind of "basket" of stocks, by purchasing which you can buy "the whole market", i.e. invest in all of the securities included in the relevant index through a brokerage account.
By investing in securities using an ETF, you get the same result as if you owned the same assets that make up the fund. Assets go up in value - ETF shares go up in value, assets go down in value - your ETF goes down in value.
Why are ETFs interesting for an investor? Firstly, investing in ETF allows diversification of income, as money invested in ETF is dispersed among many investments. Because investment funds invest in a large number of different securities at once, this reduces the overall level of risk for the investor.
The composition of a fund's portfolio is available to its holders at any time and changes in the price of a purchased asset can be seen immediately - they occur online along with the price of the fund's entire portfolio. Investing in ETFs saves time, because you can choose a fund that has a concentration of companies in your area of interest and thus invest in a sector in which you believe in success, without wasting time buying individual stocks. There are no volume requirements for investments on trading platforms - you can even start with just a few dollars! You can buy and sell ETF units quickly, deciding for yourself what volumes to trade and what price is acceptable to you.
Also, funds are convenient in that they allow you to save on brokerage fees. For example, an investor can invest in the global equity market by purchasing "one share" of an ETF specialising in such securities - and not have to pay a separate transaction fee for each security.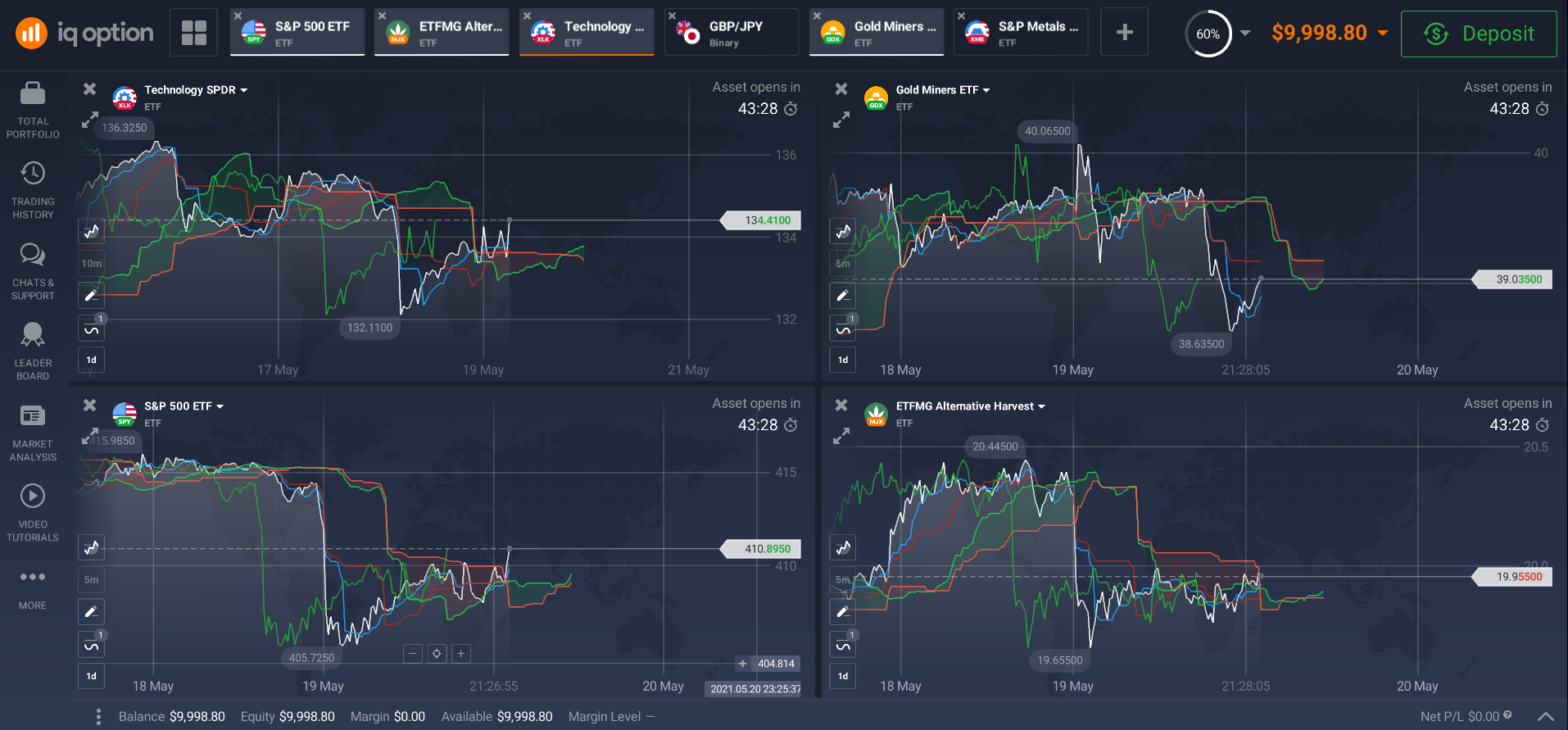 How to invest in ETFs in Pakistan?
To invest in ETFs in Pakistan, you need a licensed intermediary - a broker who deals in these stocks. To choose a good broker, pay attention to the following:
whether the broker is licensed by reputed regulatory authorities to carry out brokerage activities;
whether a professional website with all the necessary information is available;
availability of feedback for consultation;
accessible trading conditions with a wide range of trading instruments; - availability of technical indicators for analyzing stock price fluctuations;
access to free training materials;
speed of responding to requests;
low service fees;
availability of different withdrawal options.
Fortunately, the brokerage market in Pakistan offers a wide range of such brokers. We have compared different trading platforms and selected what we believe to be the best online platform for trading ETFs in Pakistan.
Best ETF trading platform in Pakistan
An online platform replaces a physical stock exchange. It is therefore an important tool for trading financial assets online.
That is why it is so important to take the time to choose it well. Because investments can be made on a virtual level, but they are very real. And the risks, especially if you don't have much experience, can be high.
To minimise the risk of loss as a result, focus first on trading platforms that are known for their reliability. Also give preference to those that have a policy of transparency and offer beginners the opportunity to test, discover and learn before you really get started. Let's focus on the main points, the presence of which led us to choose the best platform.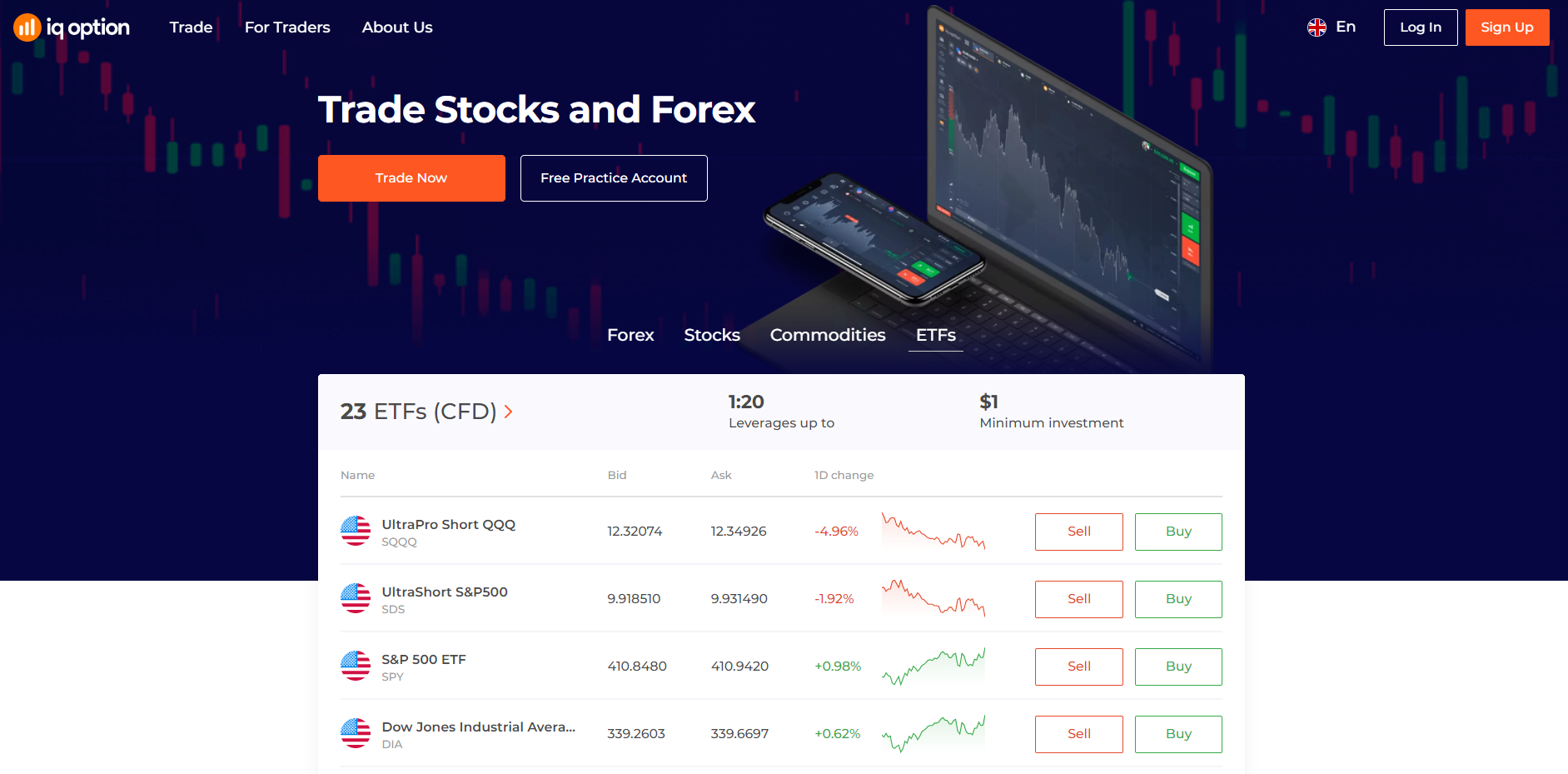 Easy registration on the platform
Ease of registration is one of the important points when starting a business. Choose platforms that do not require any complex technical knowledge, otherwise the technical complexity of the system will add to the difficulty of investing. The platform we have chosen offers a simple and easy way to register, which does not take much time. Go to the brokerage company's website, click on the "register" button. The system will ask you for your username and email address, after which you will receive an email to confirm your registration. Follow the simple instructions in the email and confirm your registration. You can then start getting to know the platform.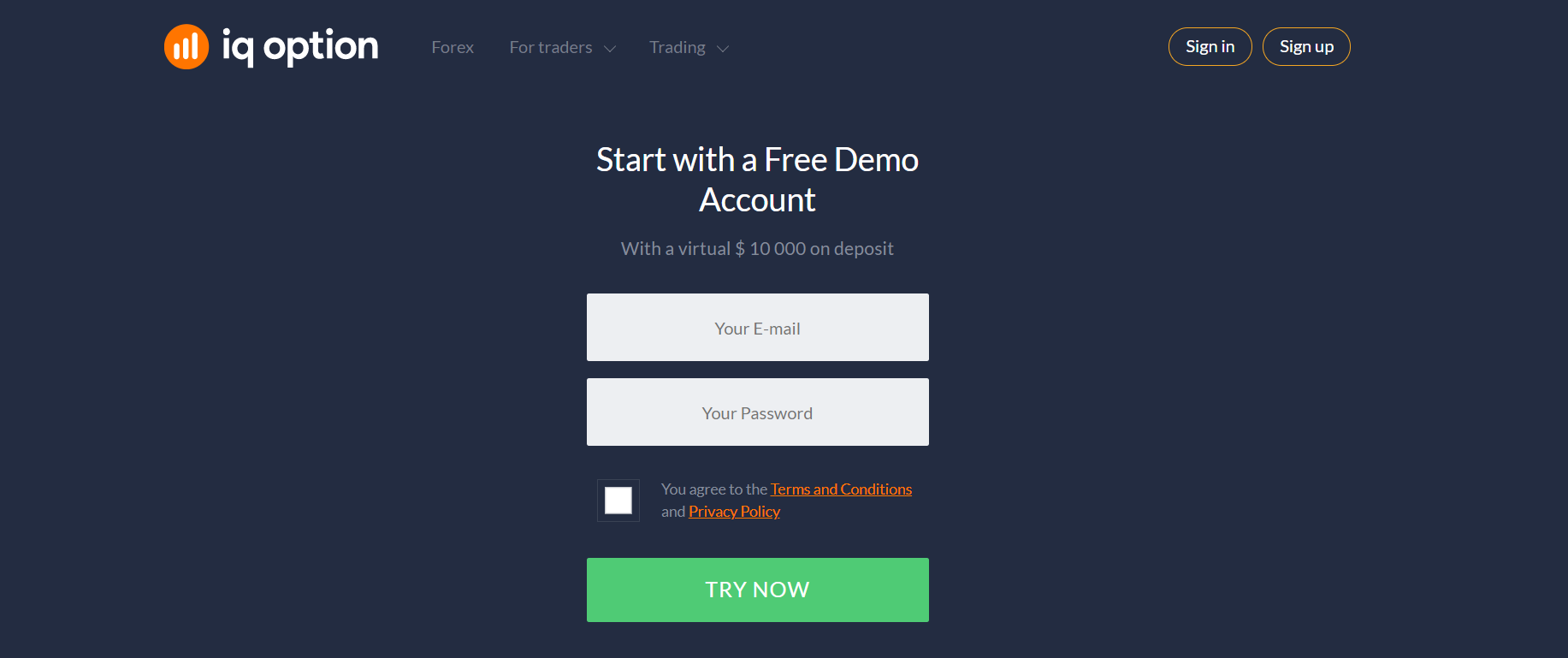 Possibility to open a demo account
A demo account is a sign of a good and reliable platform. A demo account is opened automatically and free of charge, the system credits the account with a dummy amount of $10,000 (this amount may vary from platform to platform), and these funds can be used for test operations. This dummy amount can be renewed if the trial operation proves to be conditionally unprofitable. You can use this account as long as you like until you are ready to trade with real money. A demo account has obvious advantages - you will practice trading without risking your own capital.
Of course, you cannot withdraw money from the account.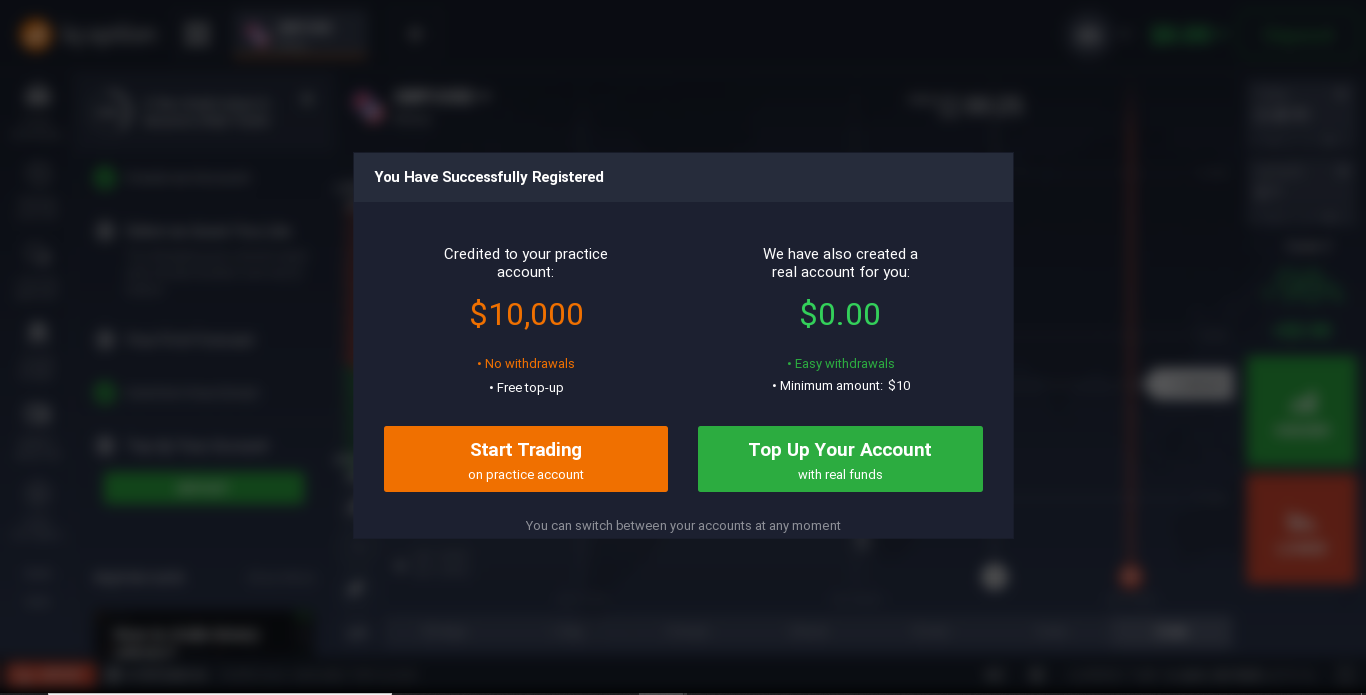 Easy ways to fund your account
If you feel that you are ready to spend real money on real trading, then you will have to fund your real account on the platform using any of those payment instruments that can be found on the website. The minimum initial deposit is only $ 10. The platform offers different methods of replenishing an account, just click on the "replenish the deposit" option and you will see a menu with a list of available services for replenishment. You can use a bank payment card or an online payment system, whichever suits you best. The same options can be used to withdraw money from your account. The minimum withdrawal amount is only $2!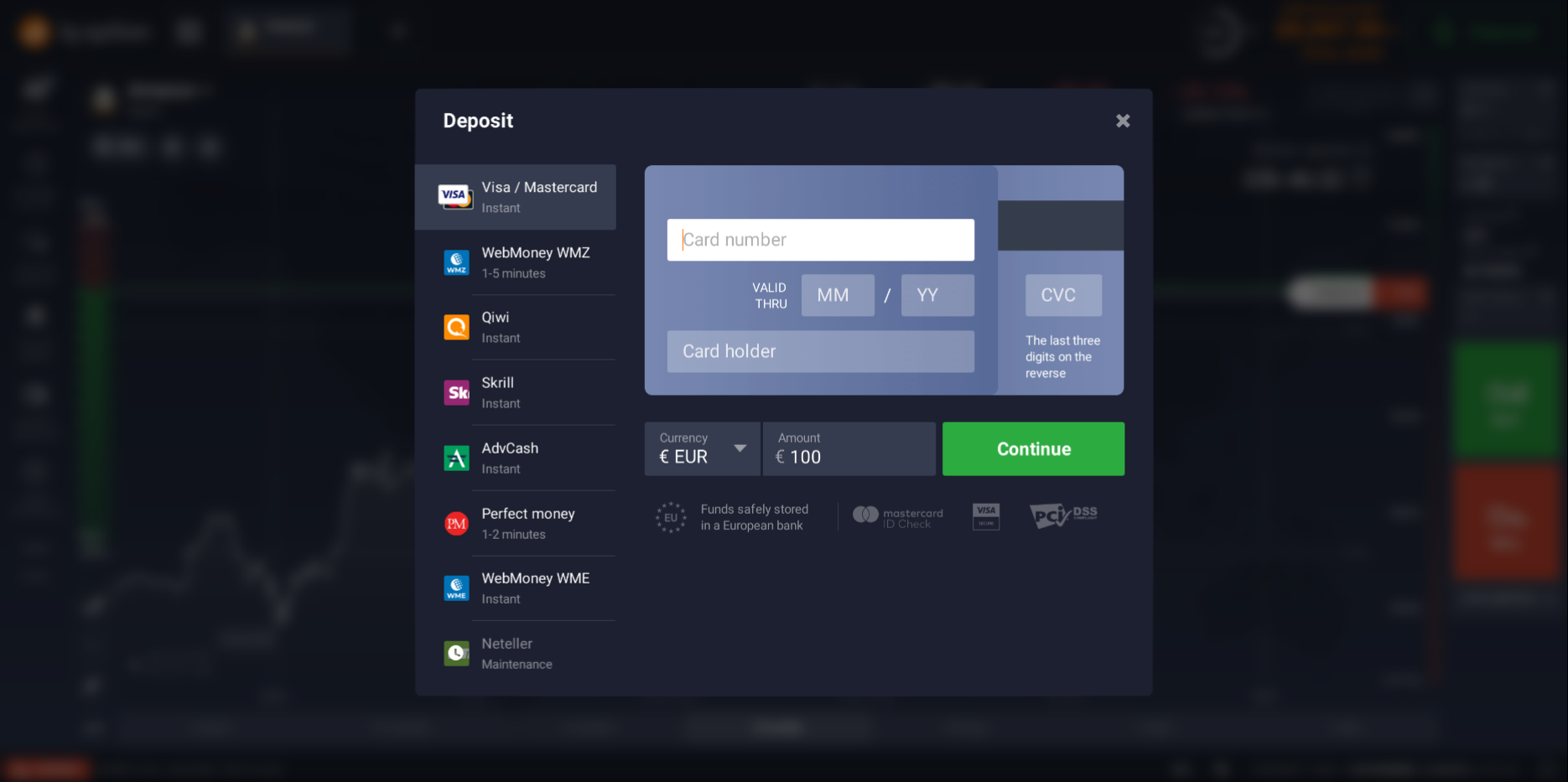 Platform tools for successful ETF trading
The trading platform we have chosen is practical and functional. On the platform you will find handy trading tools that will help you in your work. Stop orders are especially popular among traders.
Stop Loss and Take Profit orders enable you to set the limits of transactions and automatically close the order when the limit is reached.
Take Profit, or literally "lock profit", is a stop order, when set, the system will automatically close the transaction when the exchange price of the asset in which you have invested reaches a profitable level for you.
A stop loss, or literally "stop loss", is an order that you set so that the system will automatically close a trade when the price of your assets starts to change drastically in your favour and you wish to minimise your loss.
The platform makes it easy to set appropriate limits and thus partially secure your transactions.
Indicators
Thanks to the technical analysis indicators built into the platform, you can easily track market trends. The indicators are easy to use, all you have to do is select one from the toolbar. You can use one indicator or several indicators at the same time, overlaying the indicator charts on the price chart one by one or open separate windows to compare the results.
The platform we are considering has a lot of indicators, which is very convenient and a great advantage when choosing a trading platform.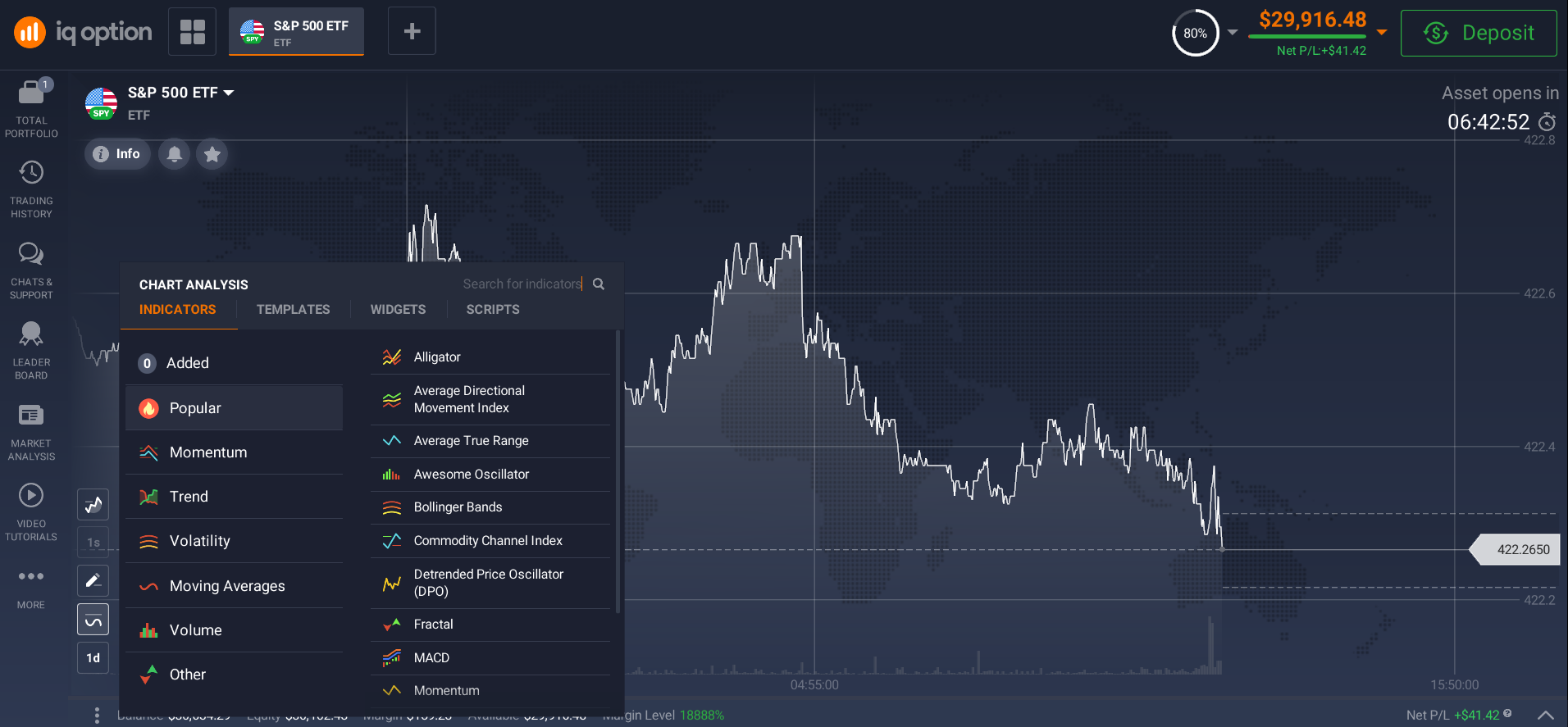 What ETFs does our chosen platform offer?
When choosing a platform to trade ETFs, a logical question to ask is what funds the platform offers. The platform we selected offers 23 ETF options for trading. Let's take a look at some of them:
Dow Jones Industrial Average ETF (ticker DIA) - US-listed. The ETF follows the Dow Jones Industrial Average Index. Specifically, the ETF contains 30 large-cap US stocks that represent the Index. In addition, the ETF is registered as a mutual fund and pays a monthly dividend representing the dividends paid by the underlying stocks. The fund invests in 30 large-cap stocks that are part of the Dow Jones Industrial Average Index. Although it offers similar performance to the Dow Jones Industrial Average Index, the fund's composition gives a slightly lower beta performance. The fund's investment performance is influenced by the same factors that influence the performance of companies, namely their fundamentals and important news about their performance.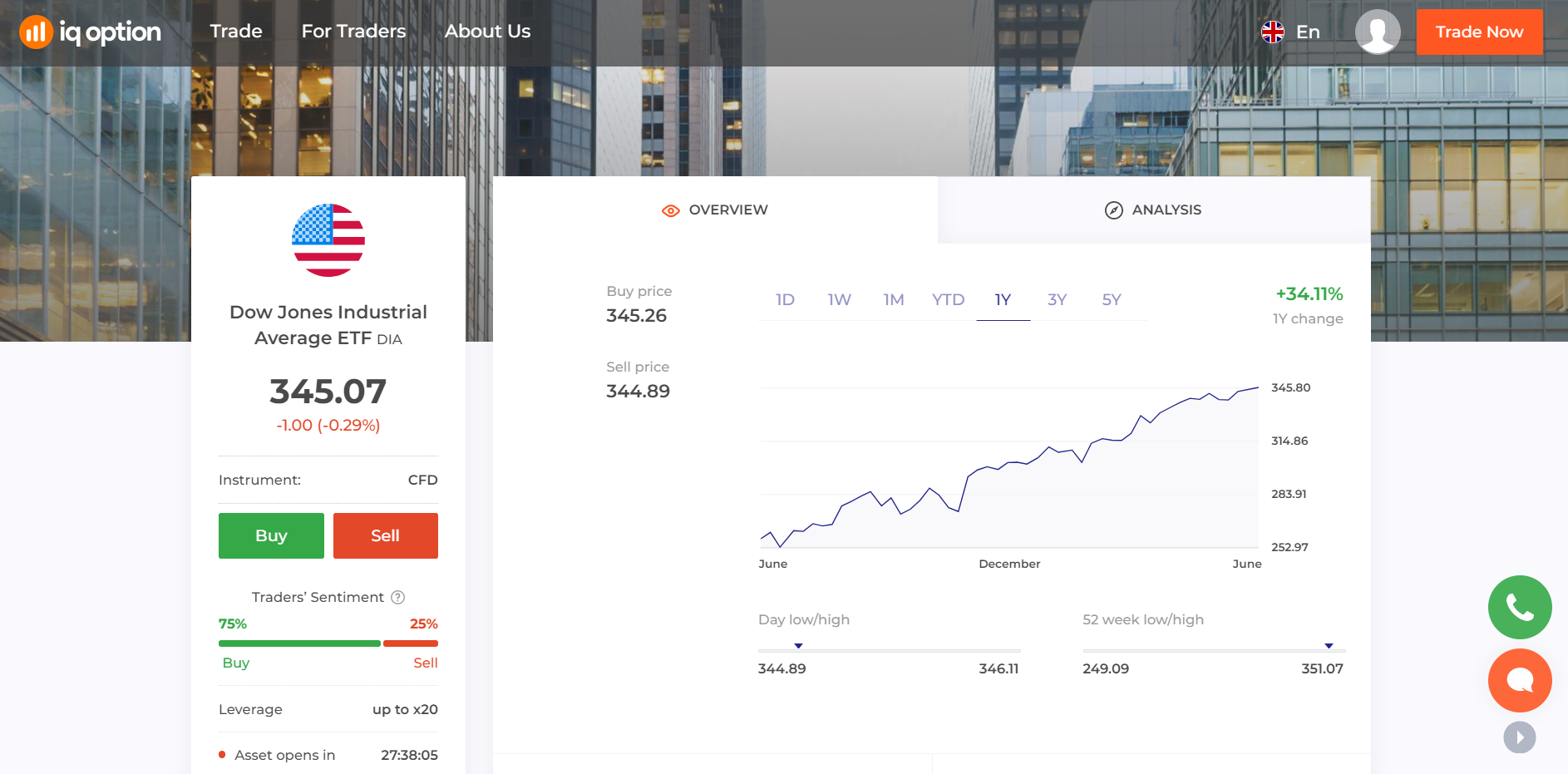 MSCI Emerging Markets ETF (ticker: EEM) is an ETF whose shares are traded in the US. This ETF tracks the performance of the MSCI TR Emerging Markets Index. Specifically, the ETF holds emerging market equities, which are mainly classified as large- and mid-cap companies. EEM weighs holdings using the market capitalisation methodology and rebalances on a quarterly basis. The fund, which has positions primarily in large emerging market companies such as Baidu, Alibaba, Samsung and others, results in its results being strongly influenced by factors affecting the financial performance of these firms. Other factors include general economic conditions in their markets (e.g. China), inflation expectations, interest rates, investor sentiment and consumer spending.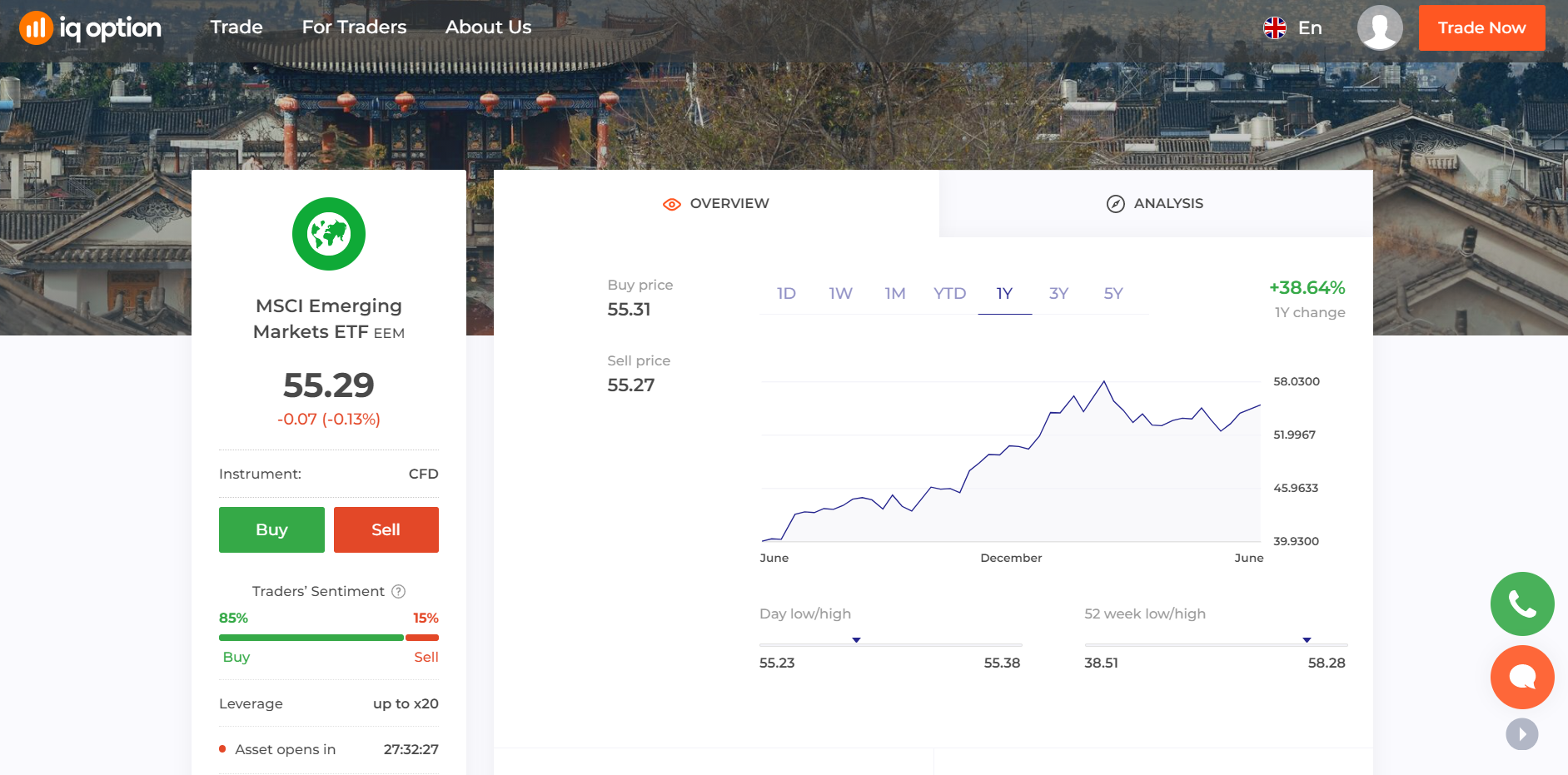 MSCI Japan ETF (ticker symbol EWJ) - The ETF is registered in the United States. The ETF's objective is to provide investment performance that is consistent with the dynamics of the Japanese market as measured by the MSCI Japan Index. The ETF invests in a representative sample of index stocks using the market capitalization weighted method. The fund invests in approximately 85% of the Japanese securities that can be invested, making it a solid investment vehicle for investors seeking access to the Japanese market. The main factors affecting the fund's performance are similar to those affecting the Japanese stock market. Fundamental events such as interest rate expectations and inflation expectations in the Japanese economy are factors that could affect the fund's future performance.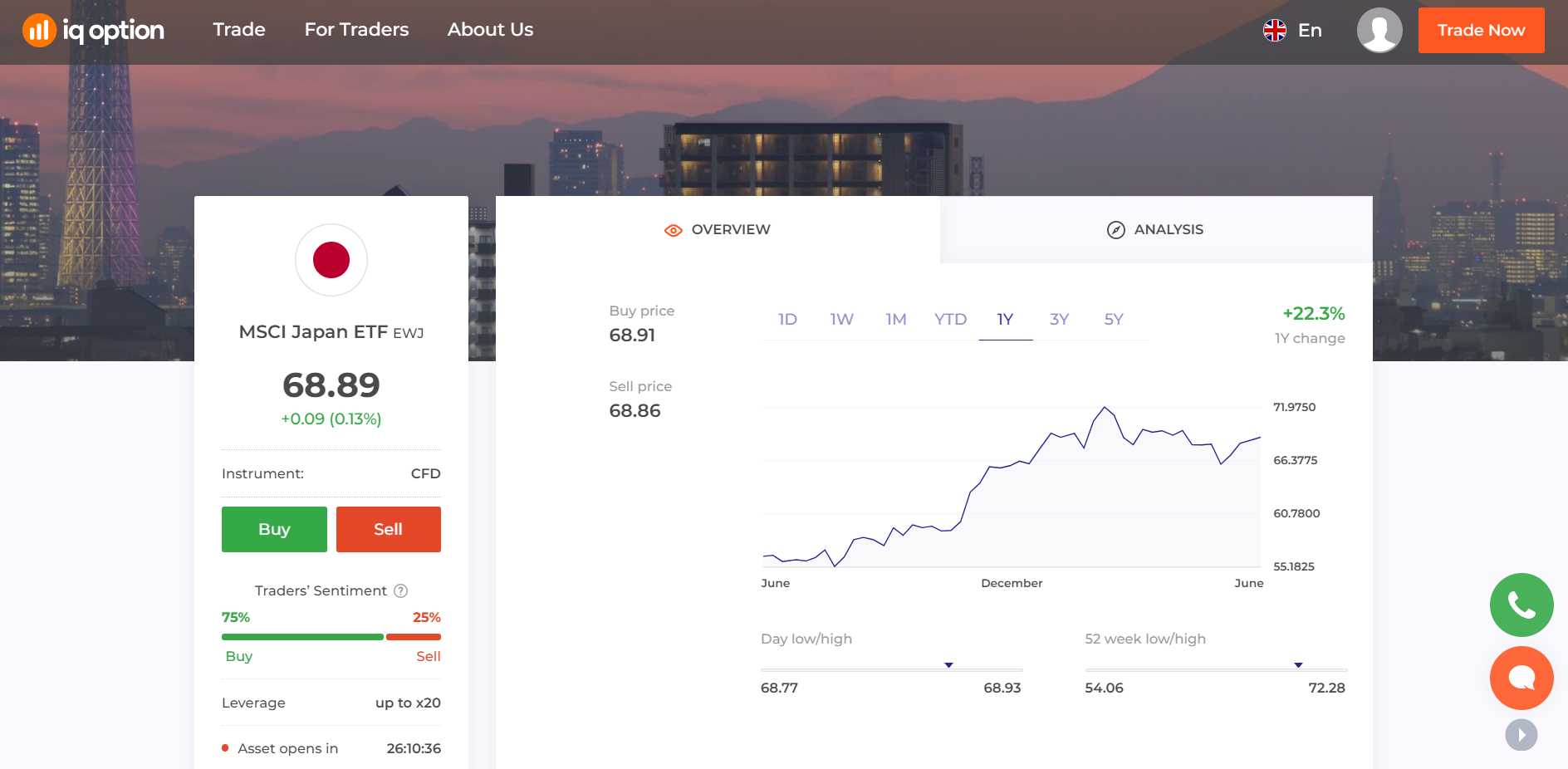 On the platform you will also find many other ETF options. You can choose a fund by sector of activity, selecting the one you like and which is close to your line of business.
Other important functions of the platform
In addition to the advantages of the platform described above, you will also find many other advantages of the trading software you choose. You will have access to a tutorial section with many video tutorials that describe the principles of trading in detail. You will also be able to communicate through the live chat feature that is built into the platform. The flexible settings allow you to customize the platform according to your personal preferences, by selecting the colour of the background, the charts and the number of windows displayed. The news feed allows you to keep up with the news without having to take your eyes off your work.
In our opinion, this is the best platform for ETF trading in Pakistan.
Open a demo account today and see for yourself!
SIMPLE AND RELIABLE
MONEY WITHDRAWAL