Today, although there are many e-brokers with a wide variety of attractive features that make them appealing, how do you know if that broker is right for you? Do they have trading advantages that will make your experience as comfortable as possible? In this review, we offer a look at the modern IQ Option software platform. What is IQ Option and how it works? Read about all this below.
A little about IQ Option
IQ Option was established in 2013 and during its existence has become an advanced platform that specializes in trading CFDs on stocks, cryptocurrencies, exchange-traded funds (ETF), Forex.
The user-friendly platform is unique and in demand, which makes IQ Option a leader among many brokers. After 9 years, it's safe to say that IQ Option are at the top with their impressive website and mobile app that can be used anywhere!
IQ Option positions itself as a broker offering exceptionally high-quality service to traders with different levels of experience. There is no doubt about this, because the broker has excellent recommendations in the financial market, thanks to partnerships with other reliable companies. Among them are liquidity providers - those who provide data on changes in the price category of assets.
Among other things, IQ Option is also known for offering users asset price data set by the company's own analysts. In other words, the broker receives market quotes from suppliers and then, after additional calculations, publishes the final price for a particular asset.
If you are new to this area, there is no need to panic: the broker will not only guide you through the site, but also educate each user so that they have all the information they need to help them make an informed decision on each trade.
GET TO KNOW THE PLATFORM BETTER AND APPRECIATE ALL ITS ADVANTAGES NOW!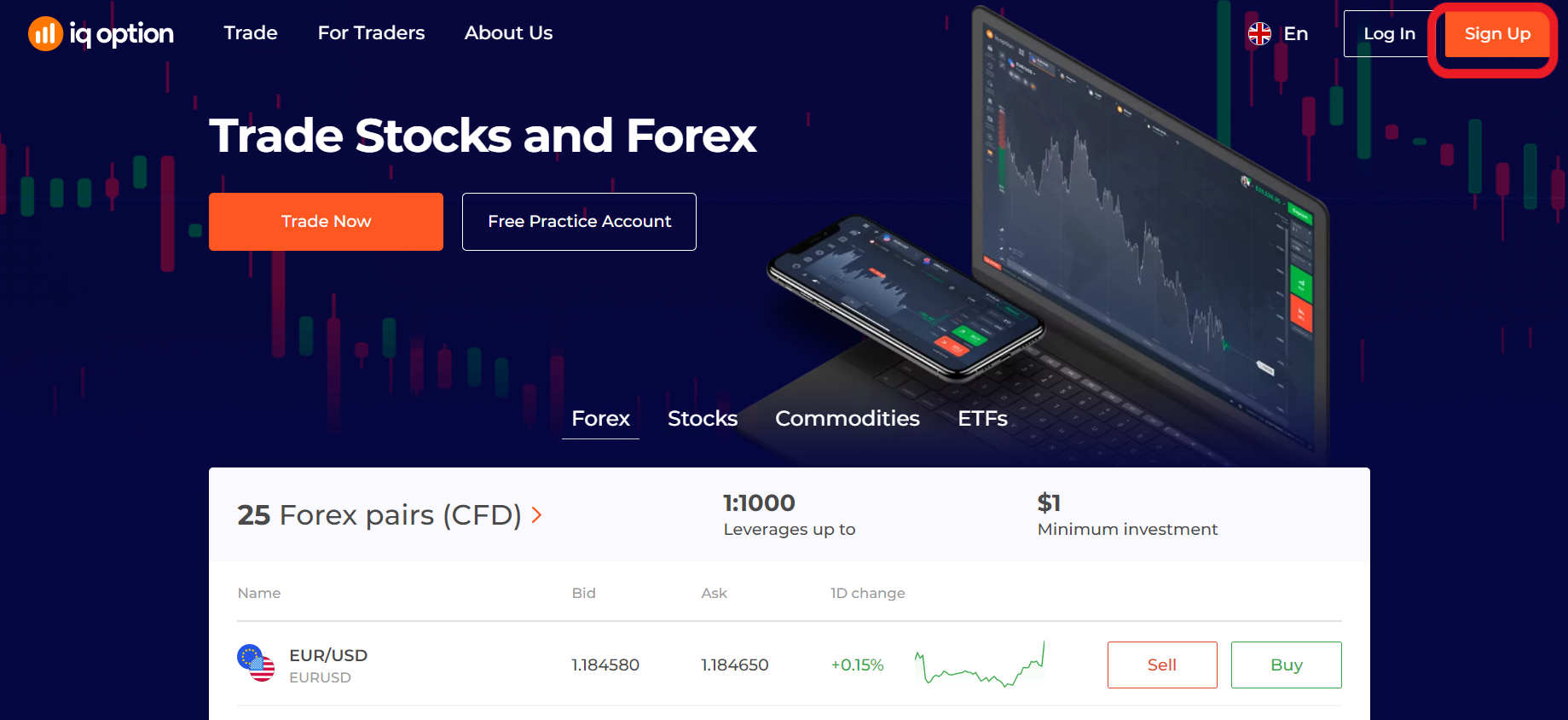 Personal profile
In your personal profile are available:
market analysis;
tools for interacting with the site;
transaction information;
list of trading assets.
Other useful sections:
charts;
current tournaments;
technical analysis tools;
transaction history;
educational materials;
replenishment/withdrawal of funds;
rating of the best traders;
tech support and forum.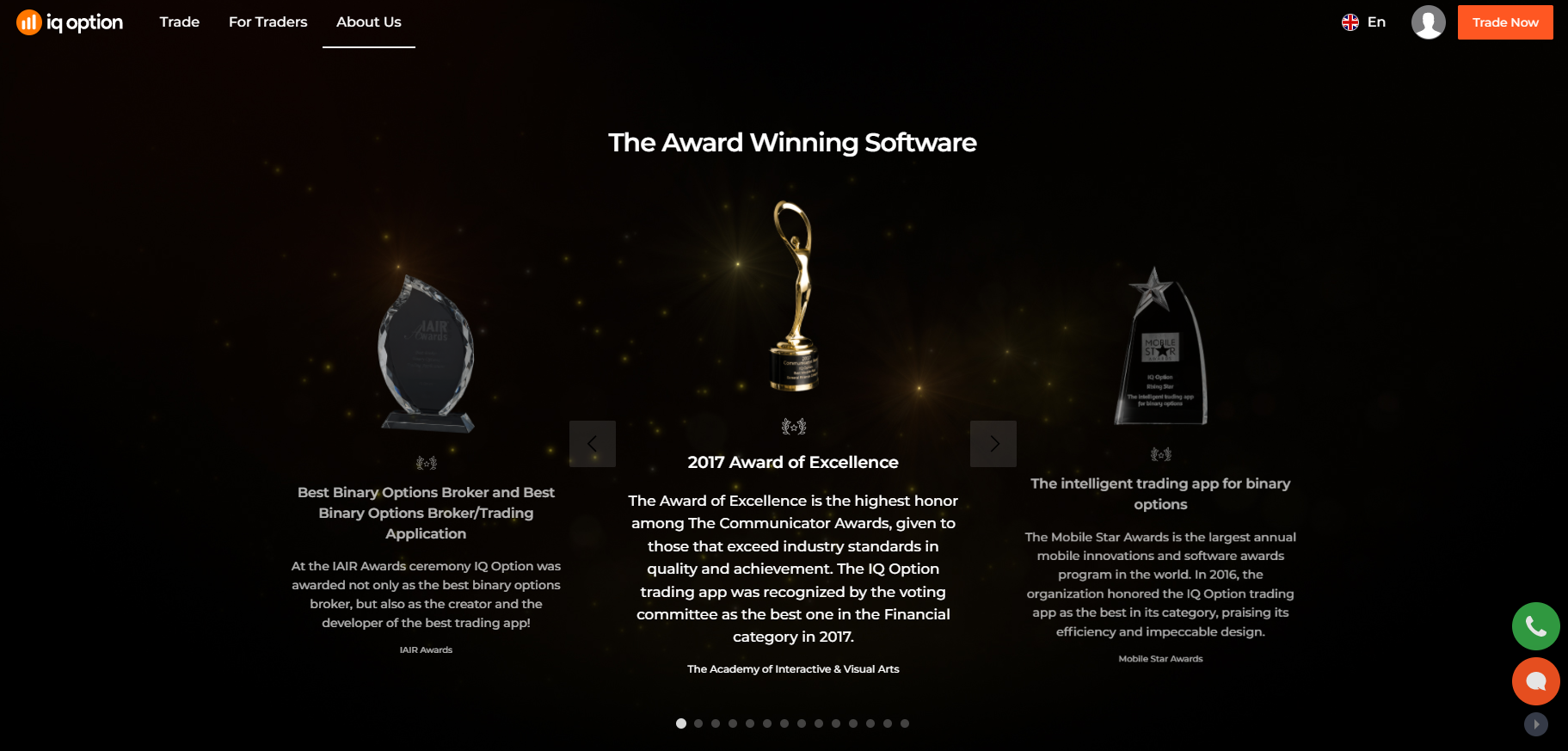 Multifunctionality of IQ Option
Regular users note that the platform reveals its potential more and more every year. You can also note the easy and fast work not only on a computer, but also in a web browser or on mobile software. Now the platform can offer its customers:
the ability to create a personal trade portfolio;
access to information on the profitability of companies;
comfortable interface;
a set of popular financial assets;
stop loss and take profit to control losses and fix profits;
the presence of built-in graphical tools and technical indicators;
setting up charts;
full screen mode, suitable for any extension parameters;
expiration up to a month.
Traded Assets
Let's take a closer look at IQ Option how it works and what assets it has.
IQ Option is a comprehensive trading platform that provides its users with many alternatives:
Stock. IQ Option allows users to trade CFDs on shares of over 170 different companies.
Cryptocurrencies. Users can also trade the most popular cryptocurrencies including Bitcoin, Ethereum, Litecoin, Ripple, Monero, Zcash, Dash.
ETFs. ETF trading is a relatively new product. They work by tracking commodities, indices, and baskets of assets. They can be traded just like common stocks and investors can choose from different ETFs.
Forex trading is extremely popular and IQ Option gives you access to over 180 currency trading pairs. This allows users to trade their favorite foreign currencies with ease.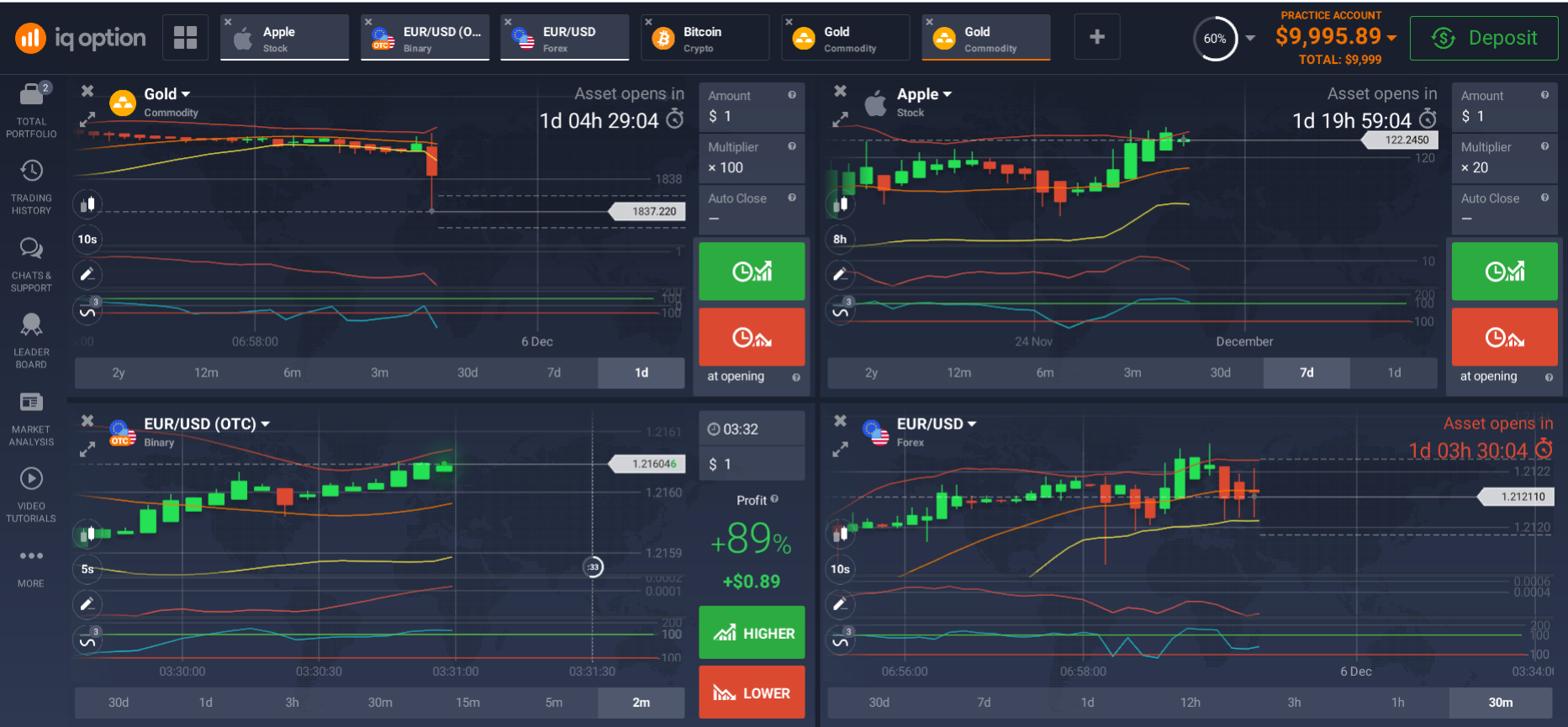 Mobile trading
The mobile app is currently one of the top apps available on both the Apple App Store and the Google Play Store. Available on iOS (iPhone and iPad) and Android. One of the main reasons for its success is providing all the necessary functions to users and the ability to trade wherever there is an Internet connection. Even though this is a mobile app, don't be afraid to miss out on important information that you might otherwise see on your desktop.
The functionality of the application practically does not differ from the standard version in a web browser. Here you can carry out the same operations, among which:
analysis of asset dynamics;
withdrawal of funds;
account verification;
development of strategies;
trade, etc.
The app has all the necessary mobile-friendly details to avoid mistakes when you press the wrong button. Trading on the go is getting more and more popular! Try downloading the app! This is not difficult.
The functions of the mobile application reflect the capabilities of the web platform. Nothing has been cut in the mobile version and the overall impression of the application will definitely remain positive!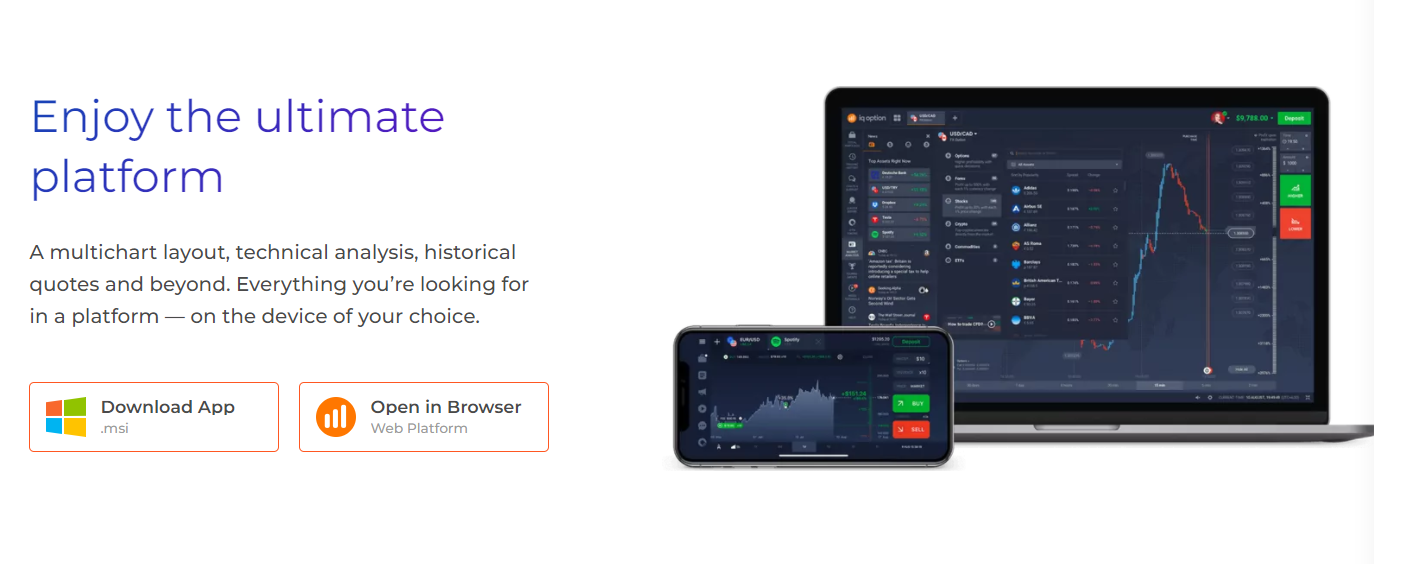 Charts, tools and indicators
The platform provides charts and you can choose the one that suits your trading needs. These include candles, bars, lines, and Heikin Ashi. Each of these options has its own characteristics and advantages. For example, if you are into technical analysis and following trends, you can use various drawing tools such as a trend line to help you in setting the level of support and resistance in price movement.
What else? IQ Option offers you a set of indicators that allows you to choose the best one depending on your style and preferences. You can access all of these elements by checking the bottom left corner of the trading interface.
Trade Order Types and Stop Loss Tools
As expected from modern trading platforms, IQ Option provides investors with a range of order types to reduce risk and customize the trading experience. The variety of order selection allows investors to create strategies that are short, medium or long term and have variable returns:
Multipliers allow investors to increase the rate of return and trade money "borrowed". For example, if you invest $100 in a trade, you can apply the X50 multiplier and invest $5,000. If your trade is successful, you will earn 50 times more than when trading without a multiplier.
Stop loss orders allow investors to set the maximum loss they will accept, automatically closing the trade if it works out.
Take Profit does the same thing, but when the trade hits the profit you specify.
A trailing stop will result in a dynamic auto-close operation at a loss, moving with the price in the direction indicated by the investor.
Pre-order buying allows investors to set the price at which they enter the market.

IQ Option offers a range of tools for setting stops and take profits. While most brokers allow you to simply choose the price of an asset, IQ Option allows you to set a take profit or stop loss either as a percentage, as a percentage of multiple losses, or at a specific asset price. There is also the option to apply a dynamic stop loss or trailing stop, as well as the option to use balance to hold a position open if it exceeds the stop loss.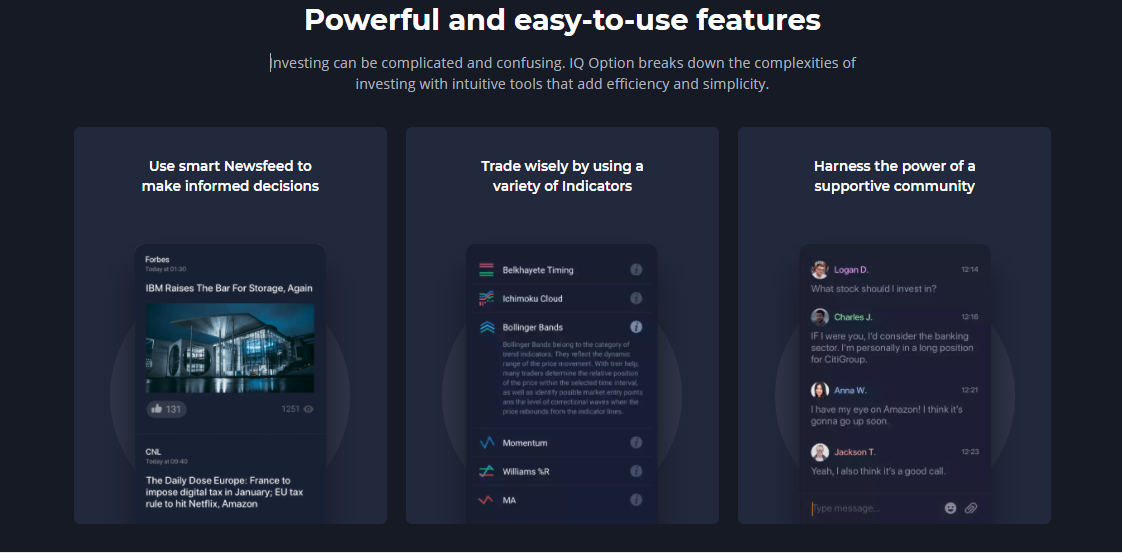 Demo account
Initially, after a simple registration, a demo or training account with a virtual amount 10000$ becomes available to each user, which can be updated if it is completely spent. A demo account is required to practice trading on this site. And it remains available even if you open a real account with real money.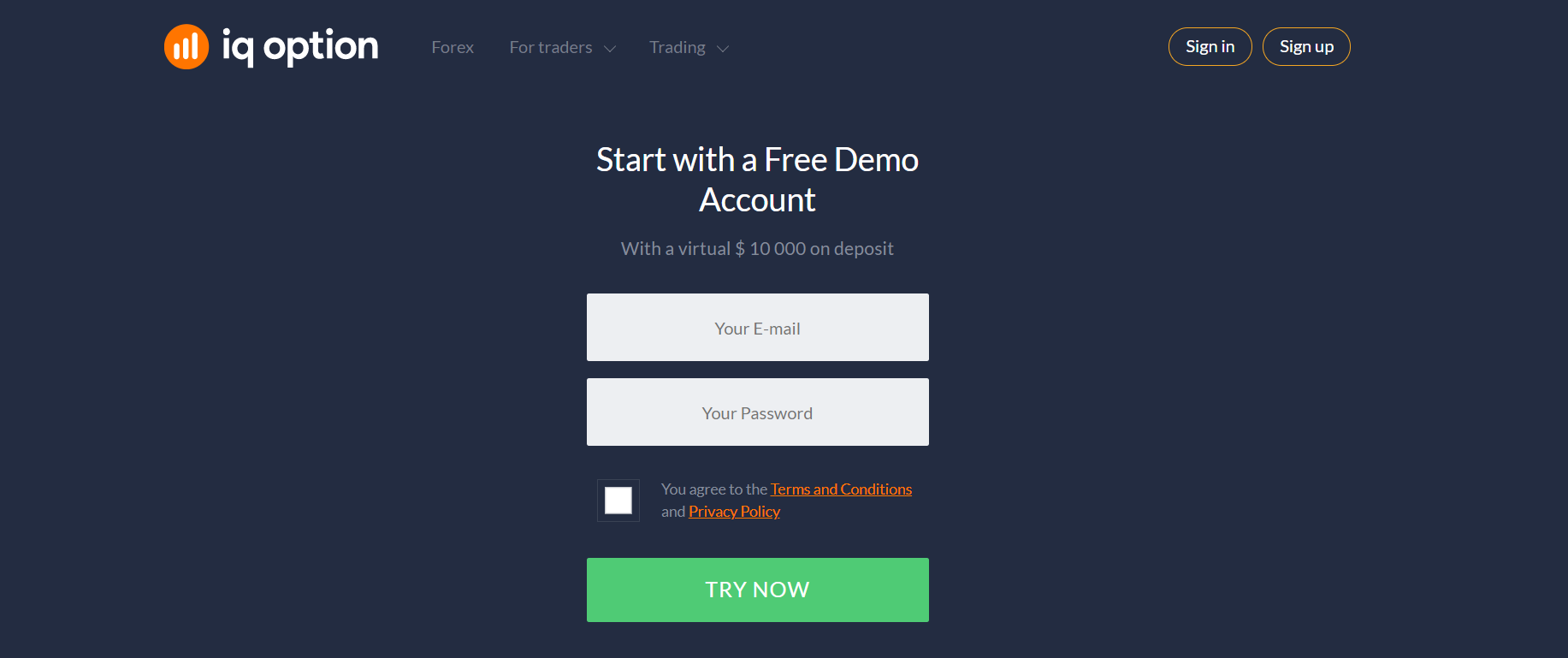 Thanks to a demo account, each trader has the opportunity to work out strategies that they have already used, or create their own new ones. And also get used to the interface of the new platform without risking your money.
If you want to test your abilities with a real account, experts recommend using small amounts - within $ 5. This will allow both to test the real market, and, in which case, not to seriously take risks.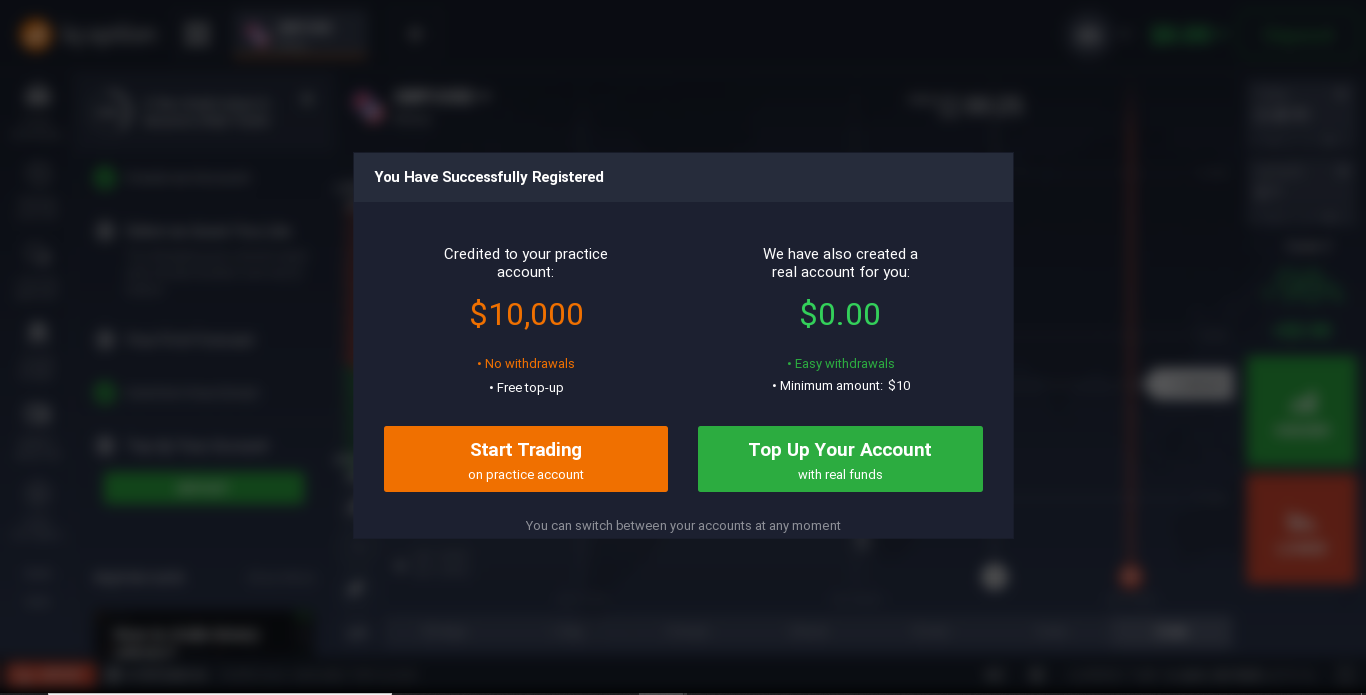 Real account
To start trading for real money, you need to press the green button in your personal profile in the upper corner of the main page of the site. The procedure consists of two steps:
Creating a profile (not required if a demo account is already active).
Refill.
Deposits and withdrawals
When it comes to extensive deposit and withdrawal options, IQ Option stands out from all other brokers. You can deposit or withdraw funds with all major debit and credit cards, and you can also deposit money via wire transfer.
IQ Option prides itself on its high level of security, making every transaction as easy as possible for the user. The site follows strict financial regulations and always follows the safety rules.
Withdrawals are simple and can be done on both the desktop and mobile app. It usually takes up to 3 days to process a withdrawal. If you ever have questions about deposits or withdrawals, you can contact the 24/7 customer support team who will help you very quickly and efficiently.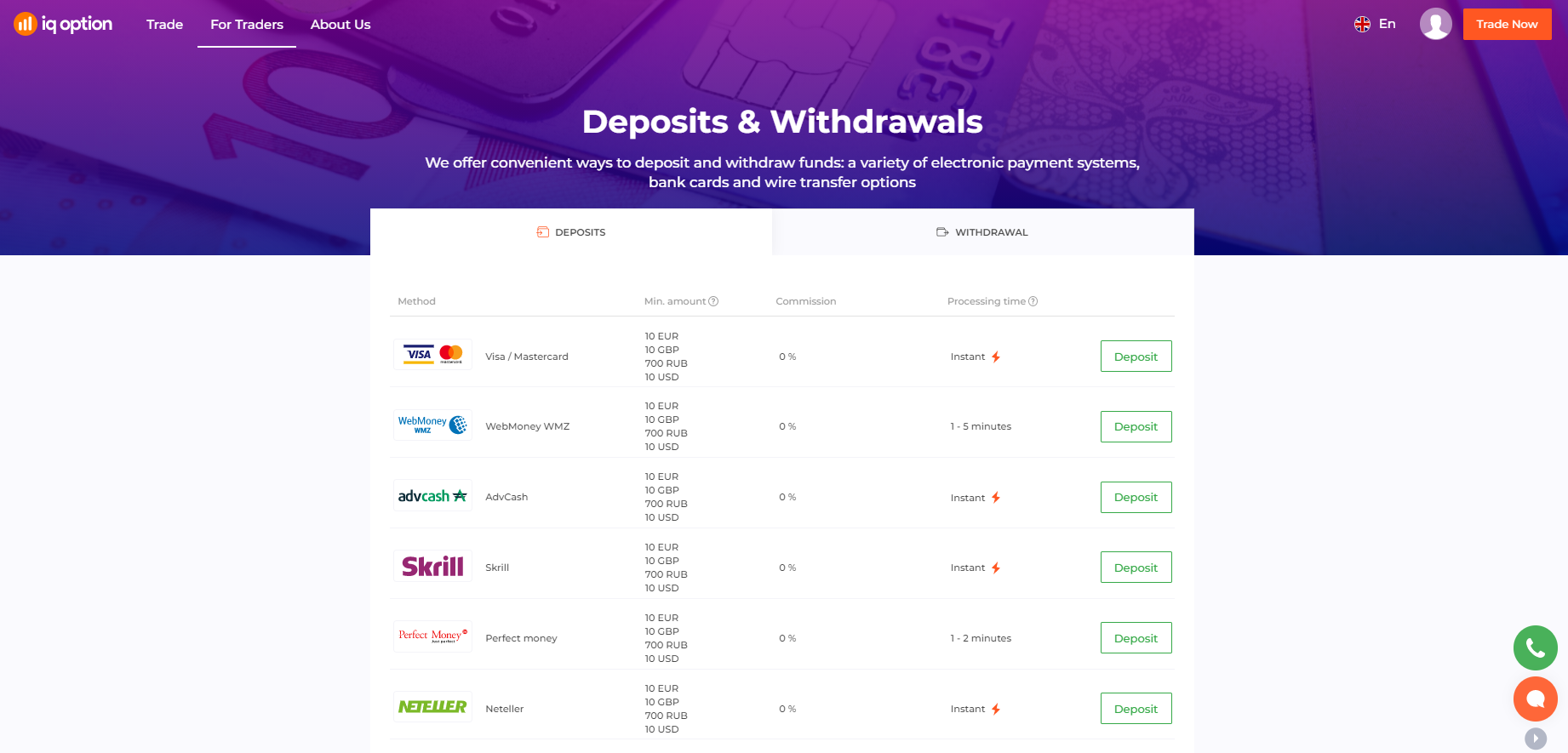 Helpdesk
There are two main methods of contacting the support team. You can contact them by phone - the service is available 24/7, or send them an email. They also use leading social networks to promote their website and offer users helpful tips on topics such as risk management and how not to make a mistake on the first trade. The support service will quickly answer your questions and offer you all the necessary assistance.
While IQ Option has free demos and tutorial videos on their website, they also have a YouTube account where they upload videos all the time to help users and show newbies how easy it is to trade.
With the many different communication options available to clients, it is easy to see what makes this company stand out from other brokers. IQ Option wants users to know that they are never alone during their trading and that they are always available for help through their many social media accounts.
Now you know what is IQ Option and how it works. In conclusion, I would like to say that according to experts, IQ Option is currently the best platform on the market. Their trading conditions are very attractive, which puts them in the lead among all other brokers. All the research and numerous testimonials show that they value their customers. All this is noticeable thanks to convenient methods of communication, as well as thanks to the presence in social networks. Equally impressive are their low minimum deposit requirements and a MINIMUM TRADE AMOUNT OF JUST $1!
With a technically advanced trading platform and an excellent mobile trading offering, as well as a wide range of assets, IQ Option is committed to providing its clients with a high level of service and support when they need it. Evaluate all the advantages of a broker right now! You will be pleasantly surprised! We wish you successful transactions!
SIMPLE AND RELIABLE
MONEY WITHDRAWAL