Nike, Inc. - is an American multinational company specialising in sportswear and footwear. It is headquartered in Beaverton, Oregon. Almost all Nike products are made by third-party contractors outside the U.S. (mainly in Asia), the company itself is the copyright holder of trade marks, develops product design and owns a network of shops (about 1150 worldwide) and shopping centres NikeTown.
Nike's largest subsidiaries are:
Cole Haan, which specialises in the design and marketing of shoes, coats, bags and accessories related to luxury goods;
Converse Inc. which designs and markets footwear, apparel and accessories essential for sports;
Hurley International LLC, which specialises in the design and marketing of footwear, clothing and accessories for extreme sports. This subsidiary also produces products aimed at a younger audience;
Umbro International Limited specialises in the design, licensing and marketing of footwear for both everyday use and sports activities as well as clothing and special equipment for professional football teams.
American manufacturer Nike Inc. produces products under the following brands: Nike, NikeGolf, AirJordan, TeamStarter, Total 90. In addition, subsidiaries of the company produce goods under the brand names: Hurley, Cole Haan, Converse and Umbro.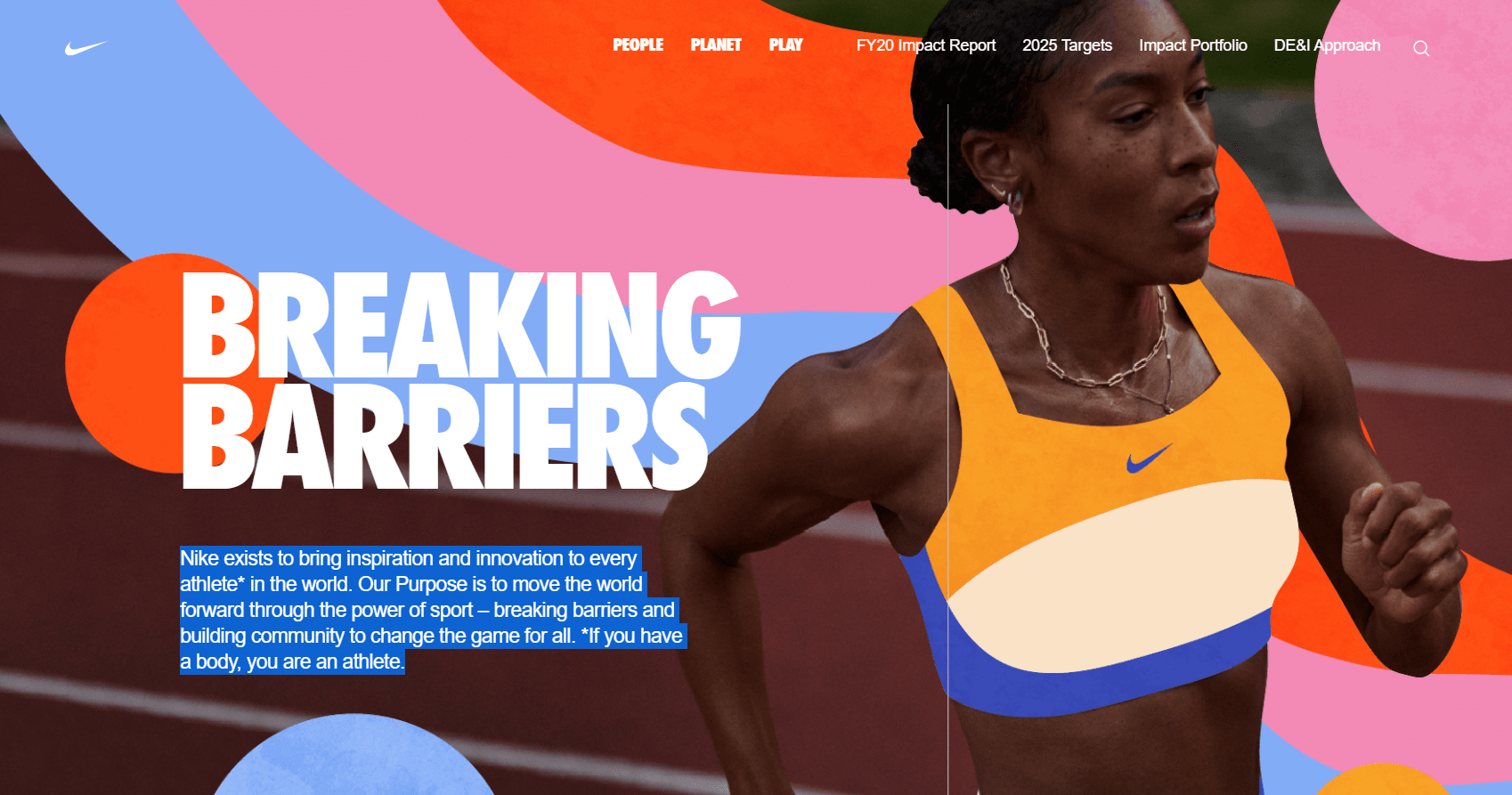 The company was founded in 1964 by student Phil Knight, a middle-distance runner for the University of Oregon team, and his coach Bill Bowerman in Eugene. The company was initially called Blue Ribbon Sports and specialised in ordering trainers in Asian countries and then selling them in the US market.
In 1966, the company opened its first retail shop. 1971 saw the launch of Nike, the first brand name for football boots. In 1978, Blue Ribbon Sports was officially renamed Nike, Inc.
Today the company employs around 70,000 people and is valued at $211.21B (billion).
As of the date of this writing, Nike's share price is $133.46 (+56.52% over the last year).
The company's continued success and continuous development attracts potential investors. In today's world we have an exceptional opportunity to invest in a world-leading company through an online trading platform, from any corner of the globe, with just internet access and a few dollars of start-up capital.
Let's take a look at how to invest in Nike stock in Pakistan.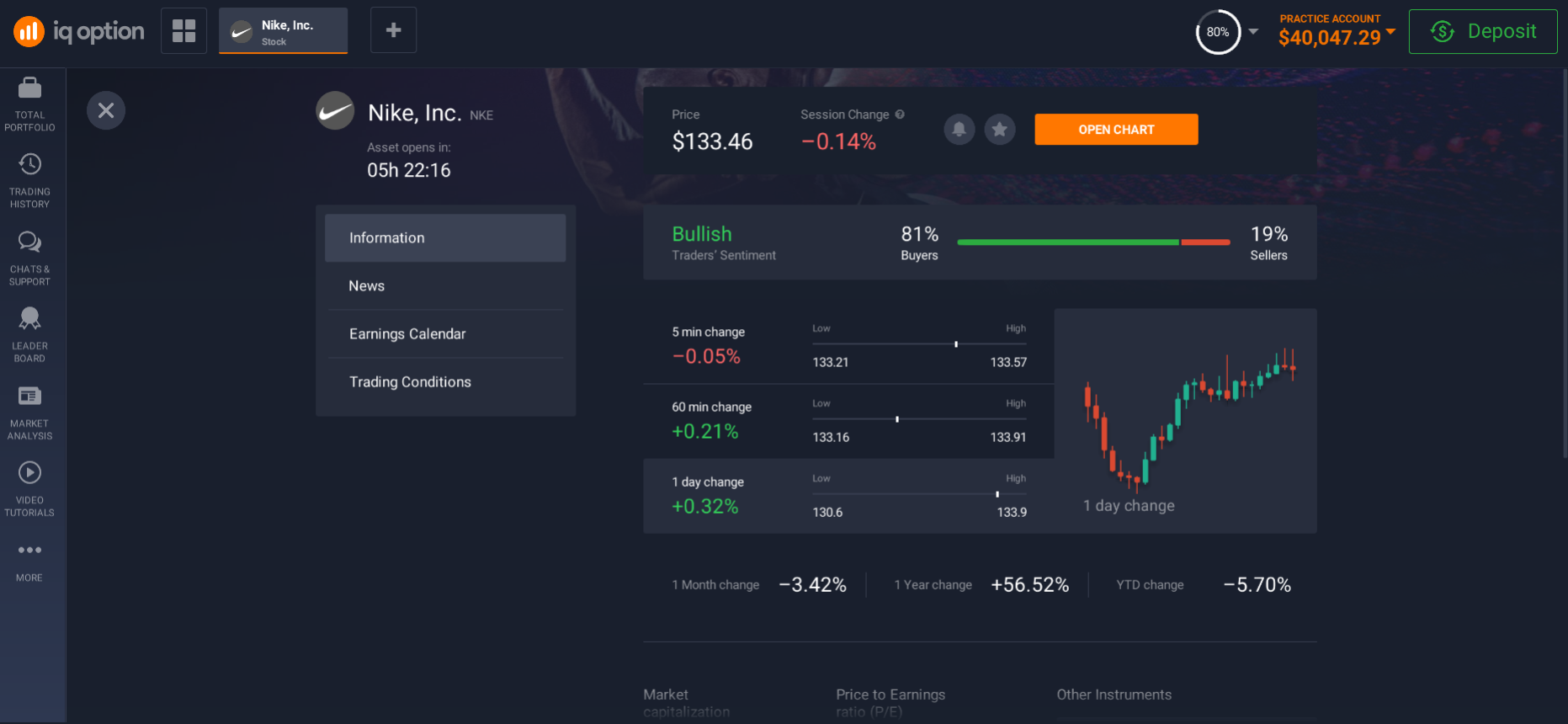 How to invest in Nike shares in Pakistan?
Nike shares trade on the New York Stock Exchange (NYSE) under the ticker symbol NKE. Nike shares were listed on the New York Stock Exchange in 1990. Prior to that, since the early 1980s, the securities could be bought or sold on the over-the-counter market.
The papers are included in the calculation of stock indexes such as Dow Jones, S&P 500, S&P 100 and many other lesser-known indices. The presence of shares of the company as part of the stock indices allows for demand for securities from a large number of investment funds operating on the U.S. stock market.
You can only invest in Nike stock through a licensed broker that works with the company's stock. To buy Nike stock in Pakistan, look for such a broker.
When choosing a brokerage company, pay attention to the following points:
Availability of a licence to carry out brokerage activities;
Reviews by experienced investors and stock market experts;
The functionality of the online trading platform that this broker will offer you for making transactions;
The commission payable to the broker.
The success of your market transactions and the safety of your funds will largely depend on choosing the right broker.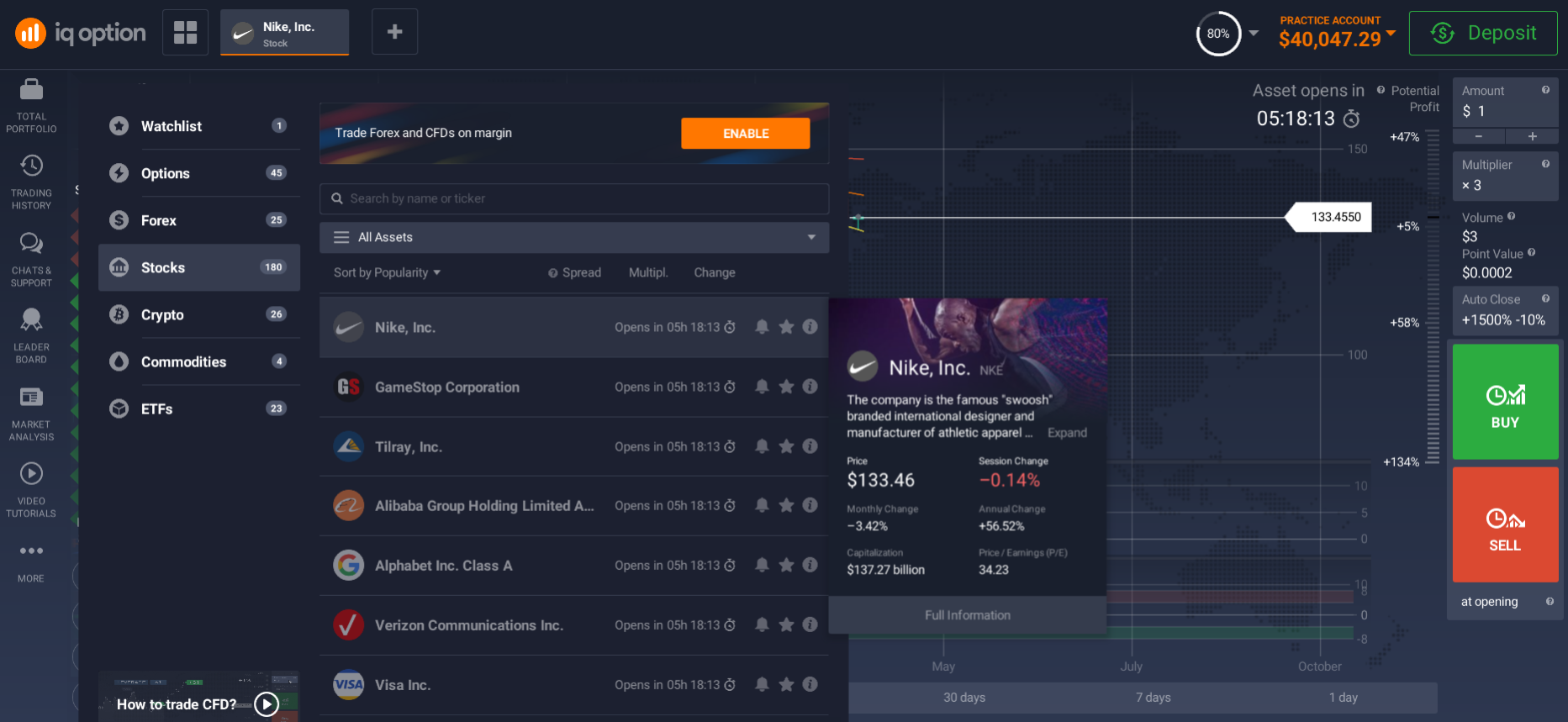 Depending on your goals in investing in Nike stock, the type of investment may vary.
The dividend income option is not a bad choice, but it won't yield significant and quick returns, especially if your starting capital is small.
Dividend payments on Nike stock are made quarterly (4 times a year) with a yield of about one percent. Nike's dividend yield over the past 10 years has been shown to be fixed at 1 -1.7% of the share price.
Another method of investing in Nike is CFD (Contracts for Difference) trading, where the difference in share price is traded between the opening and closing of the transaction. That is, it must be able to predict a possible rise or fall in the value of the stock in the market. You can make a profit in this case only if you correctly predict the behaviour of the share price.
Most online platforms allow you to use a "multiplier" option when you select the CFD trading type, through which you can increase the amount you invest according to the multiplier you select.
Stock CFDs are a convenient tool that allows traders to profit from changes in stock prices. An important feature and advantage of such contracts is that the trader does not receive an ownership interest, so he does not have to qualify as a qualified investor and has a large deposit.
The main disadvantage of CFDs is the absence of dividends and relatively high spreads. However, this becomes irrelevant in the context of the opportunity to become a stock market participant and make a profit.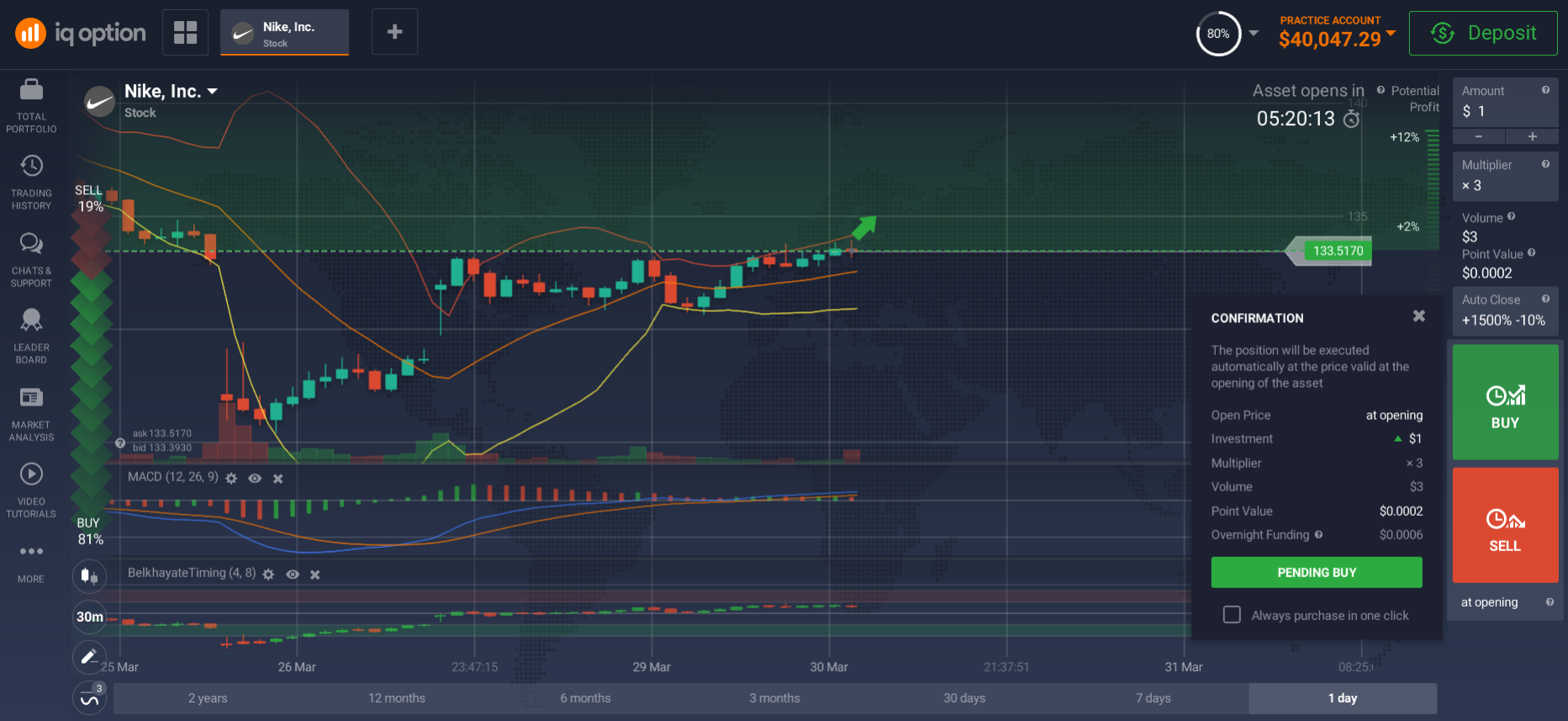 How to buy Nike shares?
The online investment process is quite different from the classic model. There is no need to visit banks, stock exchanges, company offices, etc. etc., and you don't have to arrange an appointment time with a broker to fit in with your work schedule. Innovative systems allow you to study investment activities from the comfort of your home, as well as perform all necessary operations, such as buying or selling stocks, withdrawing funds or simply viewing information for analysis.
All online investment platforms use the latest technological advances to facilitate transactions. You will be able to see graphical stock price movements, access various indicators, choose a time frame from a few years to a few hours and monitor the market in real time. The multiplier function allows you to increase your initial capital by using so-called leverage, while the stop-loss function helps you to avoid significant losses in trading operations.
The platform also features a chat room, where you can interact with other market players. You can write a message in the chat room with your name or use a nickname, which the system will automatically assign you when you click on the "don't show your real name" option.
Another advantage of the platform is the availability of free tutorials in the form of articles or videos. We highly recommend checking them out.
There is also a "News" tab where you can read the latest important news about listed companies.
With such a powerful arsenal at your fingertips, every novice trader can achieve heights in the investment business.
How to register on the platform?
Registering is really easy, you have to fill in the registration form on the website. At first it is simple basic information such as your username and email address. Later on, when you need to withdraw funds from your account, you will need to go through a more detailed and complex security check.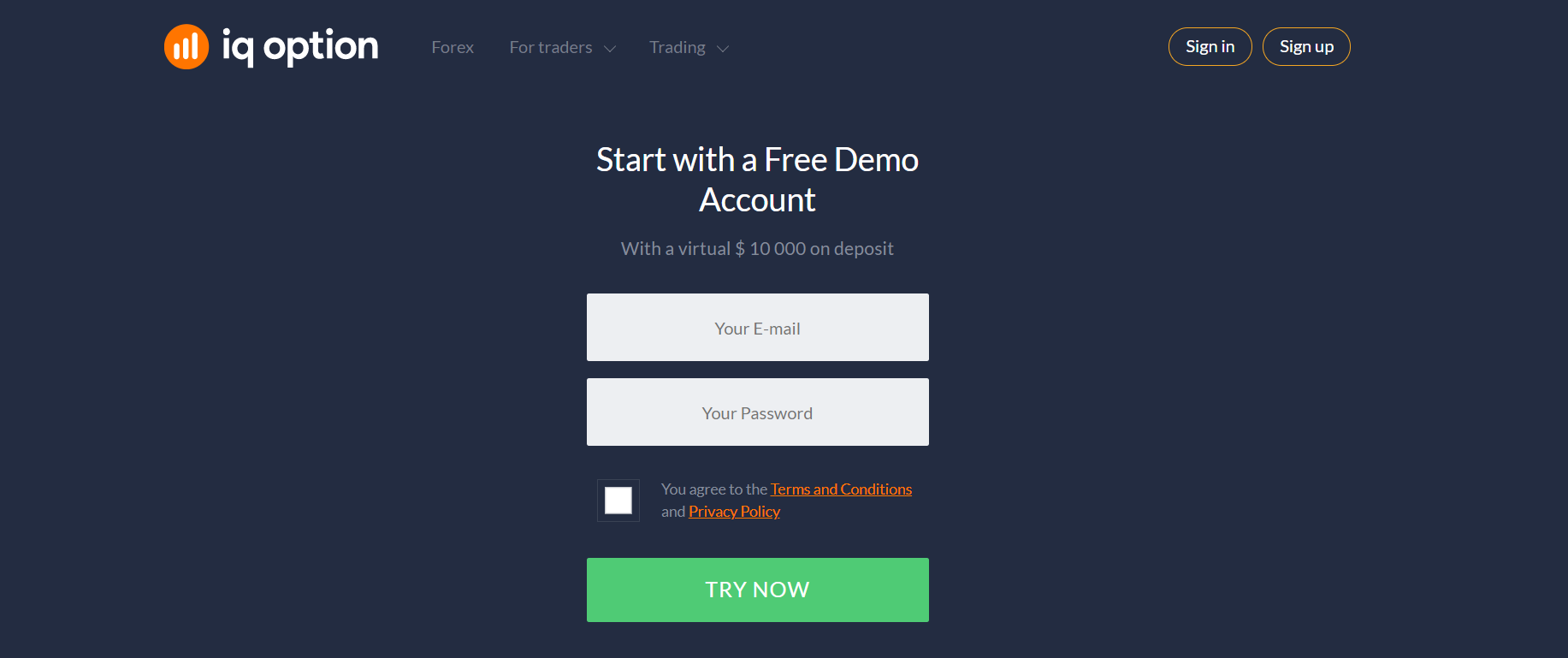 How to open a demo account?
Once you login to the platform you will have access to a demo account and a real account. Here it is as simple as that. A demo account is a practice account, into which the system credits dummy funds for training. This account is completely free. Try out a demo account first, to make sure you really understand how the platform works. A demo account is the exact replica of a real (live) account, but you don't risk your money with it. It is a good learning opportunity, and should not be neglected.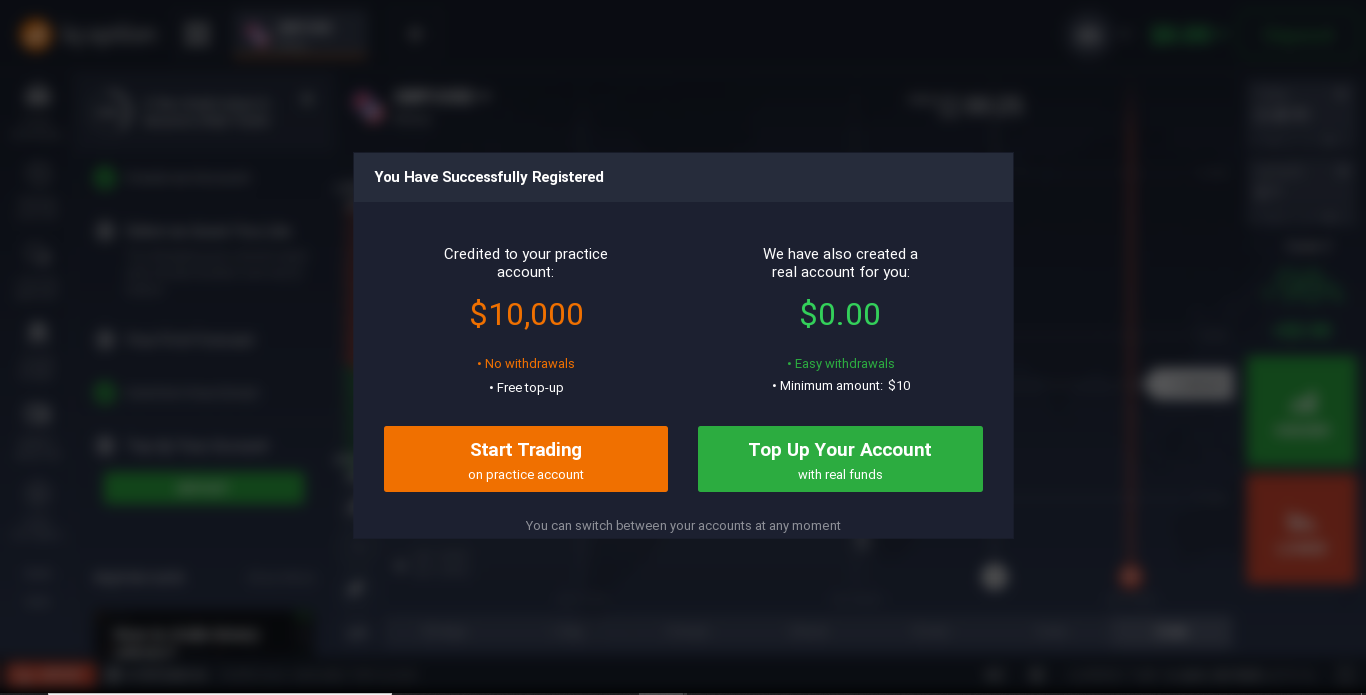 How to deposit and withdraw from a real account?
A real account means real transactions and real money. You must deposit a certain amount into your account to activate it. The minimum starting amount on most online investment platforms is low, around $10. The account is also funded online. On the platform you will find a list of options for funding your account: bank cards, payment systems, and so on.
As a rule, withdrawals are made in the same way as deposits.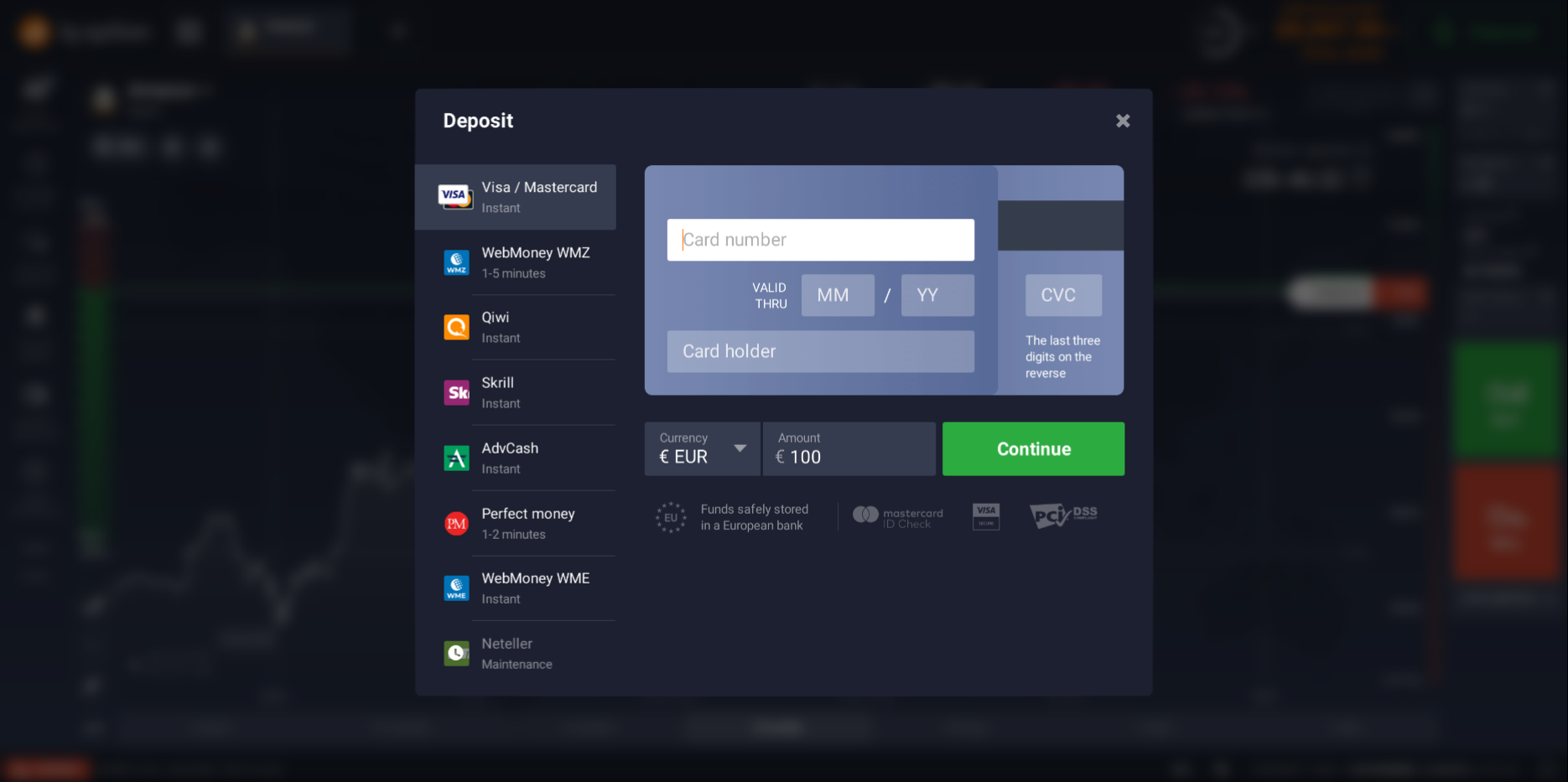 Is it wise to invest in Nike shares?
In order not to lose the desire to invest money after the first unsuccessful attempt, you need to remember to act carefully and gradually. Familiarize yourself with theoretical materials: there are many of them freely available on the Internet and on the platform itself. Please watch all of the training videos carefully. Make sure you practice investing by using a demo account.
When you fund a real account and start investing real money, invest the amount of money that you will not regret losing and that will not cause you financial ruin. Start small and increase the size of your own investments along with your own experience and knowledge. Take your time to use the multiplier in trading.
Nike is a successful and modern company, with vast experience in the market and, at the same time, an innovative approach to doing business. The new "thing" for customers of Nike products is the opportunity to immerse themselves in a sporting game and the opportunity to test out sports equipment on a treadmill or on a synthetic football pitch. The implementation of these plans could lead to the company's share price starting to rise.
Over the past year Nike's stock rose by 56.52% and market experts' forecasts are positive and promising another 20-23% increase in the share price by the end of this year.
The company's products continue to be in high demand, and a sporty lifestyle is one of the main trends in today's world, which only increases Nike's popularity.
SIMPLE AND RELIABLE
MONEY WITHDRAWAL