It is difficult to imagine today's world without internet technology. With the help of technological innovations, we now have access to online shopping, searching for any kind of information or ordering services. We can also take advantage of online lessons or simply communicate through social media.
The availability of the Internet to the average person today has led to an increased demand for various software developments for companies which enable companies to sell their products or services via the World Wide Web and for customers to order these products or services from the comfort of their home or office.
Brokerage companies followed suit and developed software which allows trading on the exchange without physically going to the exchange. This is how a whole new trend in investing, known as online trading, emerged, with its own strategies, nuances and approaches.
New methods of investing and new tools have emerged. Due to the possibility of starting trading with a small starting amount, investing became accessible to everyone. While previously only large investors with considerable capital were familiar with the investment market, now the average citizen is also interested in investing and is considering various options for increasing their income.
Despite the availability of many completely new financial instruments, equity investments are still popular today. Traders favour large companies with strong financial fundamentals and, when it comes to the sector, there is a growing interest in technology and technology companies.
One such company is NVIDIA Corporation, an American company that is one of the largest developers of graphics accelerators and their processors, as well as system logic kits.
In the following, we will take a closer look at how one can invest in Nvidia stock in Pakistan using the internet.
Why is NVIDIA Corporation interesting for investors?
In 1999, there was a dramatic growth in the computer games market, fundamentally changing modern computer graphics and parallel computing. More recently, the use of GPUs to accelerate deep learning algorithms has spurred the emergence of modern artificial intelligence. This ushered in a new era of computing, with GPUs serving as the 'brain' of computers, robots and unmanned vehicles capable of perceiving and interacting with our world.
The company was founded in April 1993. The company was founded by Jensen Huang, Chris Malachowsky and Curtis Priem, all microelectronics engineers who had already had positive experiences with well-known companies in similar fields.
The company is headquartered in Santa Clara, California.
The company quickly gained the trust and love of the customer, becoming a true global market giant before its time. It employs more than 13,000 people by the end of 2020.
NVIDIA is the pioneer in supercomputing, which is favoured by the world's most demanding computing consumers - scientists, designers, artists and gamers.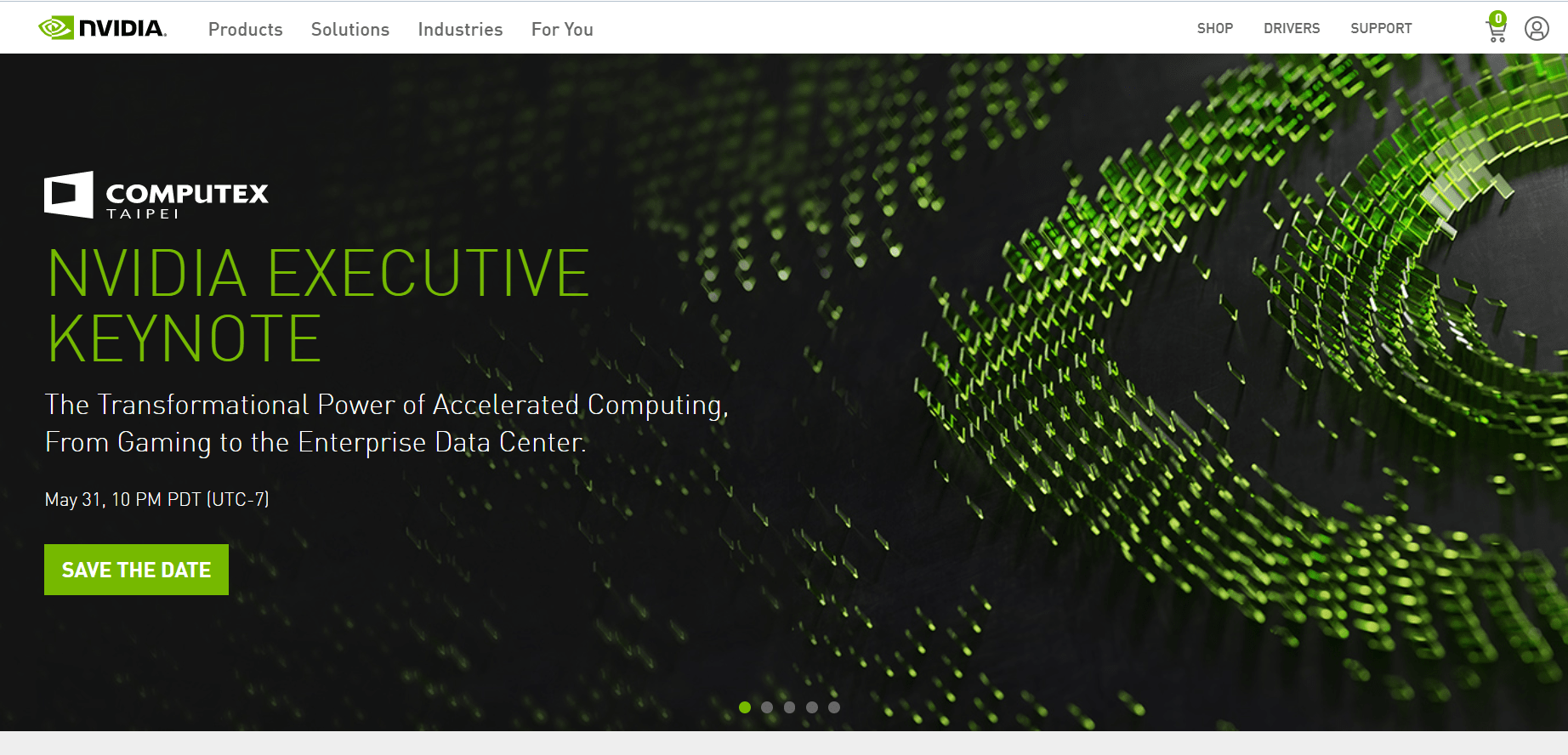 With the continued demand for higher-quality 3D graphics and the growing gaming market, NVIDIA has turned the GPU into the very brains of the computer, paving the way for numerous innovations at the intersection of virtual reality and artificial intelligence.
NVIDIA® RTX™ is the world's leading professional visual computing platform, designed for applications ranging from industrial design and architectural styling to special effects and advanced scientific visualisation.
Millions of professionals put their trust in GPU solutions:
GPU NVIDIA define modern computer graphics.
The company's development of the GPU in 1999 made programmable shaders possible, giving artists an endless array of colour tones to work with in realising their creative vision. NVIDIA has been a leader in visual computing ever since.
GEFORCE - the world's largest gaming platform.
The PC gaming market is worth about $100 billion, the largest entertainment industry in the world. And NVIDIA GeForce graphics cards are the largest gaming platform. GeForce® GTX graphics cards and the GeForce Experience™ application turn everyday PCs into powerful gaming machines. GameWorks™ software helps developers make games exciting and realistic.
NVIDIA powers the world's fastest supercomputers.
Today, GPU computing is the most advanced technology for HPC and data centres. NVIDIA powers the world's fastest supercomputers and the most advanced systems in Europe and Japan. Summit, based in the U.S., is the smartest and most powerful supercomputer in the world, delivering more than 200 petaflops of performance for HPC and more than 3 exaops (tensor operations) for artificial intelligence tasks. Summit is powered by 27,000 NVIDIA Volta GPUs with tensor cores, combining AI and HPC computing to accelerate scientific discovery.
Used in artificial intelligence vehicles.
Unmanned cars will dramatically change the $10 trillion transportation industry. NVIDIA DRIVE™ is a scalable artificial intelligence vehicle platform that encompasses the full range of autonomous driving capabilities. 225 companies around the world use the platform, from automakers and automotive component suppliers to start-ups and research organisations.
Deep learning and affordable sensors have created all the conditions for the so-called Cambrian explosion in autonomous machines - IoT devices with artificial intelligence. The NVIDIA Jetson TX2, an embedded supercomputer for artificial intelligence tasks the size of a credit card, delivers 1 teraflops of performance. Such power will lead to a new wave of automation in manufacturing. There will be drones scouring dangerous places and robots delivering millions of packages every day.
The 21st century is the age of artificial intelligence. Three factors led to the dawn of the age of artificial intelligence: access to vast amounts of data, the invention of deep-learning algorithms, and the superior performance of GPU computing.
New Internet services like Google Assistant understand speech by ear. Unmanned cars use deep learning algorithms to recognise surroundings and avoid collisions. In healthcare, neural networks trained on millions of medical images are able to find information on MRI scans that previously could only be obtained by invasive biopsy.
Artificial Intelligence will unleash a wave of social progress unmatched since the Industrial Revolution.
Thus, NVIDIA Corporation is a mega-successful company working in a very promising direction. Strong financial performance, continued growth, an ideal business reputation, and brand recognition and popularity around the world are all attractive to investors.
As of today, Nvidia's share price stands at USD 802.01 (+88.64% year-on-year).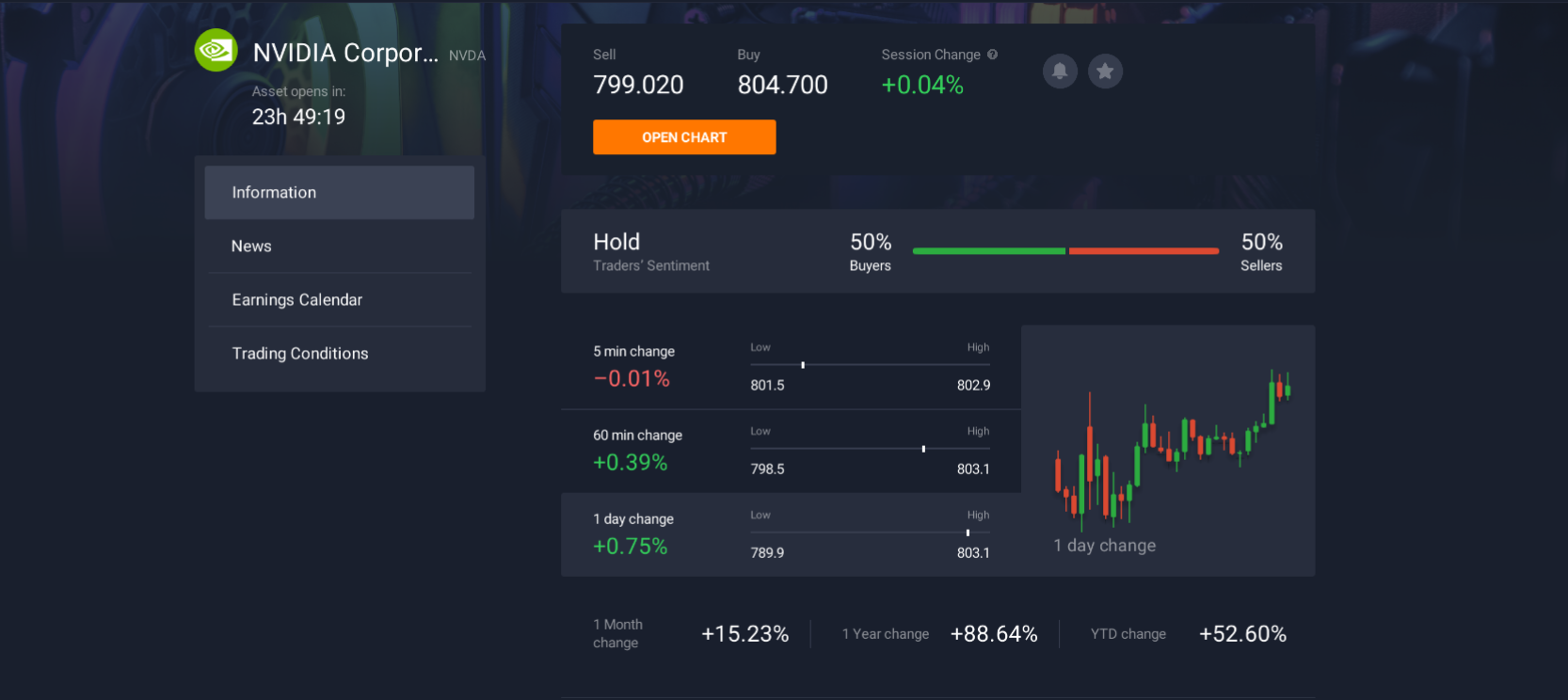 How to invest in NVIDIA shares in Pakistan?
The choice of investment method is an important issue. It matters whether your goals are to have a passive option for additional income in the future or a momentary profit from active trading on the market.
In the former case, the dividend method of investing will work for you.
In its simplest sense, dividend stock investing means that you buy a security and after a short period of time you will begin to receive steady dividend payments. Paying dividends is not an obligation but a right of the company. The board of directors decides on the fact and amount of the payment. It is important to understand that dividends are usually paid out of profits. Yes, there are companies which at some point are loss-making but still continue to pay dividends - but this is more of an exception.
You should not expect to make a quick profit with the dividend method of investing. Also, this method is more suitable for those who invest a significant amount in order to save money from possible depreciation and earn profits in the future.
The American corporation pays out quarterly dividends to its shareholders in the range of 1.97% per annum.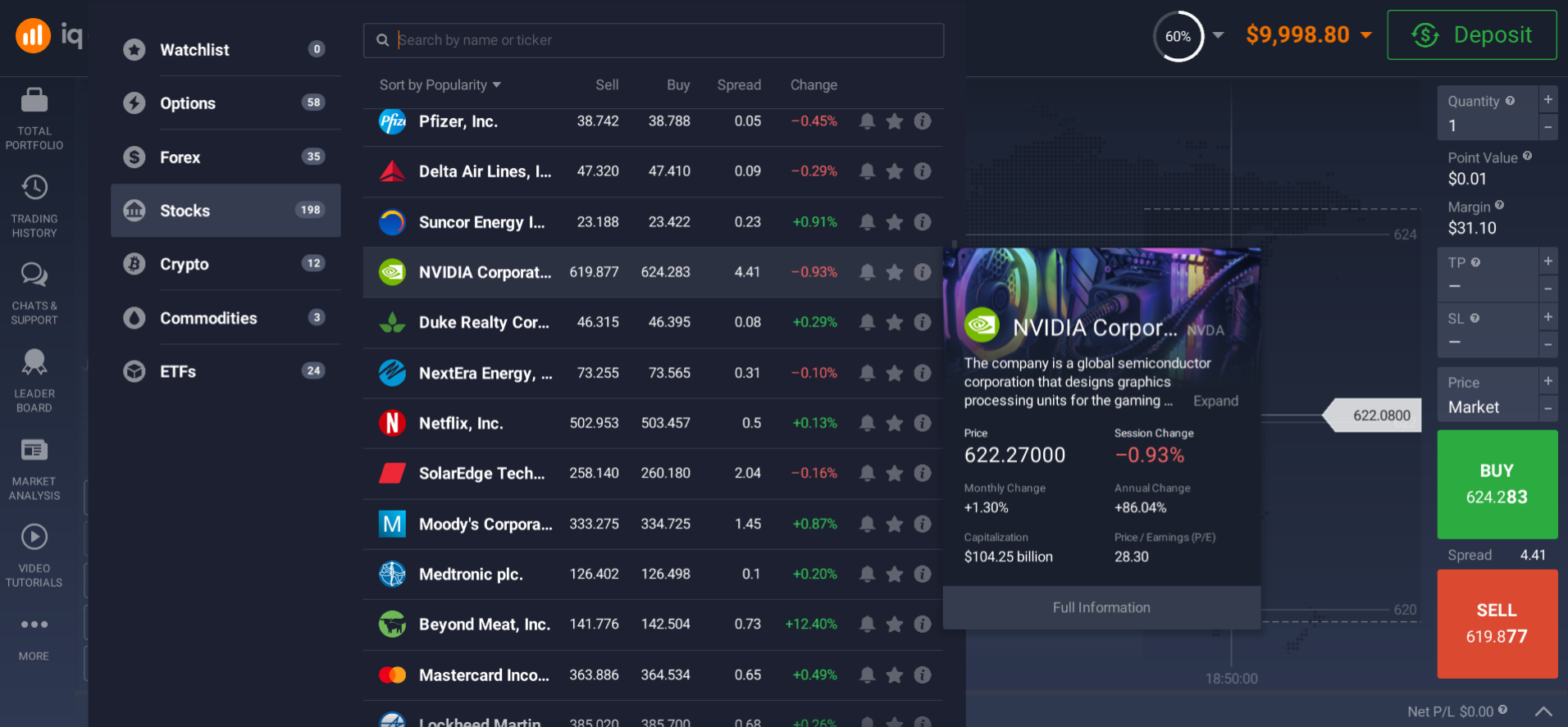 The most popular investment method is trading contracts for difference.
A contract for difference (CFD) is a popular type of derivative which allows you to trade on margin, giving you more options in the financial markets. When used, you do not buy the underlying asset. Instead, you buy or sell units of that financial instrument depending on whether you think the underlying price is going to rise or fall.
A CFD is a contract between a trader and a broker who agrees to exchange the difference in the value of the underlying security between the beginning and the end of the contract. This way you have the opportunity to make a profit even on a falling share price.
When trading with derivatives you can use leverage, known as "leverage". The "multiplier" function in the investment platform's dashboard simplifies this process and allows you to activate the leverage action in two clicks, without additional approvals.
However, while at first glance it may seem that trading with derivatives is easy and straightforward, it is not. Remember that CFDs are complex instruments with a high risk of rapidly losing money through the use of leverage. Statistics show that almost 60% of traders lose money trading CFDs. Make sure you understand how CFDs work and are able to take a high financial risk.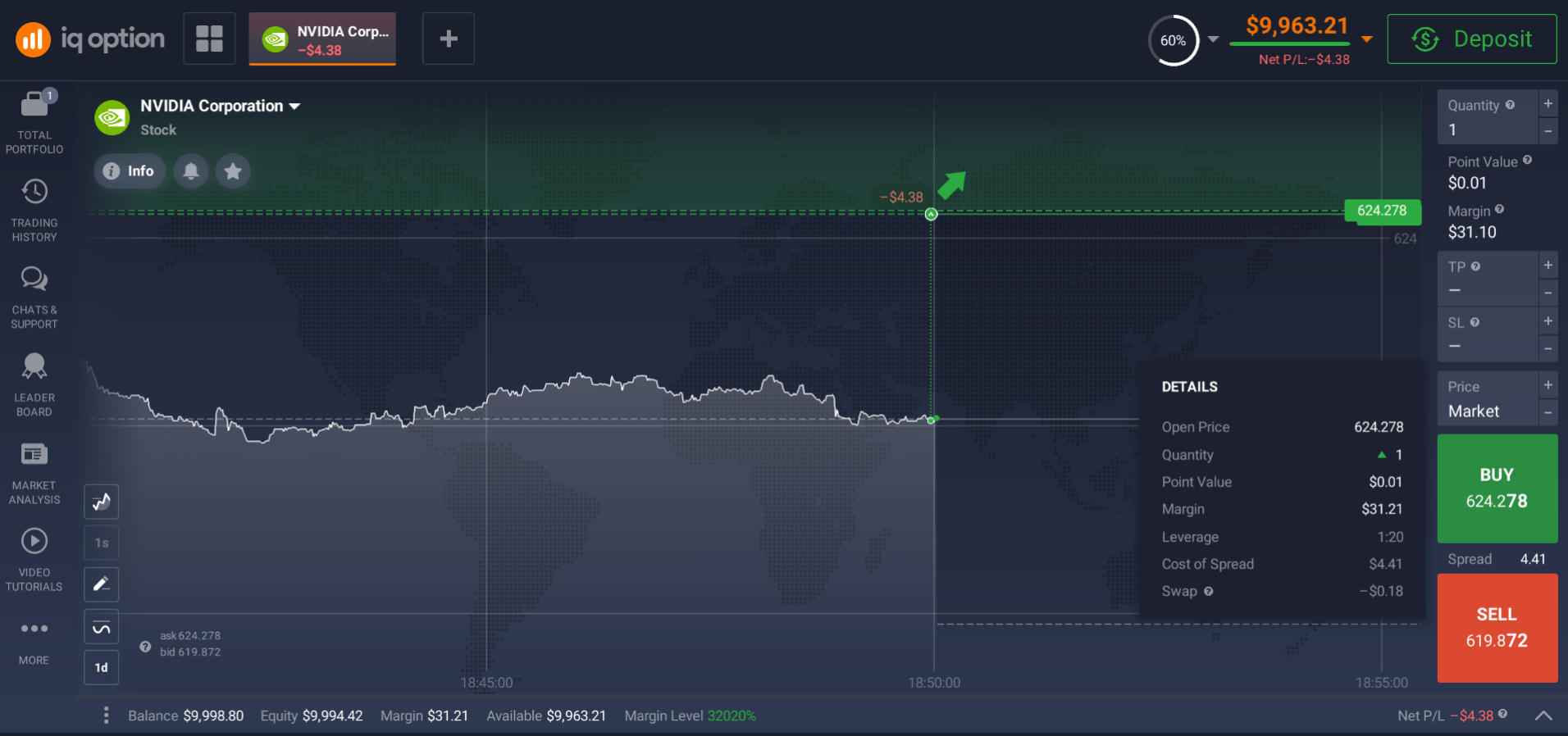 How to buy Nvidia shares?
To invest in NVIDIA Corporation stock in Pakistan, you must go through a licensed broker who deals in NVIDIA Corporation stock. To purchase shares, find such a broker. When choosing a brokerage company, pay attention to the following points:
availability of a licence to conduct brokerage activities;
feedback from experienced investors and stock market experts;

the functionality of the online trading platform that this broker will offer you for making transactions;

the amount of commission you will have to pay to the broker.

Choosing the right broker will to a large extent determine the success of your market transactions and the safety of your funds.
Pay attention to the online trading platform offered by your chosen broker. Pay particular attention to the following features of the trading application:
easy registration and user-friendly interface;
demo account and training section;

spreads and dividend yield;

depositing and withdrawal options;

availability of various tools to help you in trading;

comprehensive information about the assets and flexible settings to allow you to configure different types of alerts.

Choose your investment method and brokerage company on the basis of your personal financial possibilities and preferences. Then register on the online platform and start trading.
Registration on the online trading platform
Registering on the platform is not difficult, as registration is no different to registering on any other internet site, be it a social networking site or just an online shop. Visit the website of your chosen broker, find the "register" option and fill in the registration form with your username and email (or mobile phone number). After activating the "register" button, you will receive an automatic email to confirm your registration (or an SMS with an activation code if you provided your phone number). Click on the link, confirm your registration on the platform, log in to the platform and proceed to the next step, selecting your account type.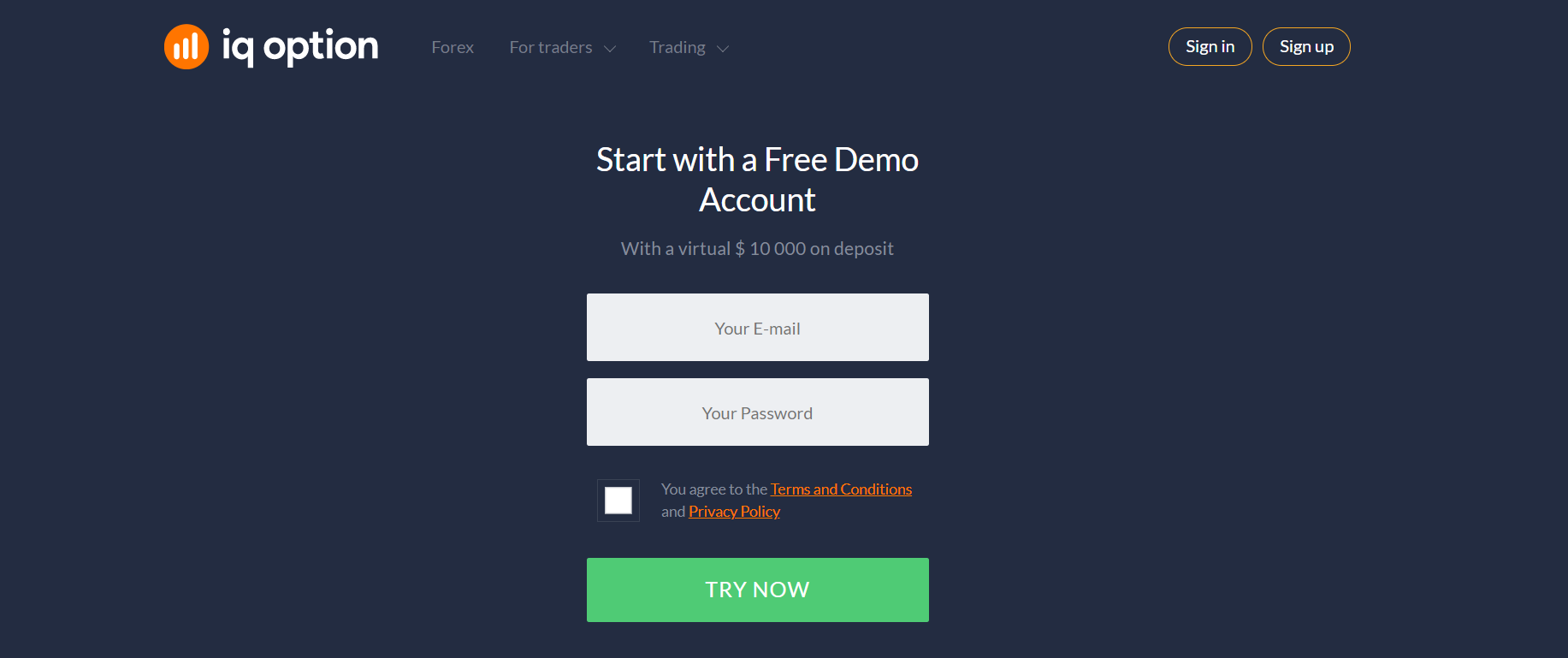 Use a demo account
Regardless of how confident you are as a trader when you sign up, the new platform involves new things and new subtleties in investing, new approaches to trading. That is why you should test yourself at the beginning to see if you really understand everything, by using a demo account.
On a demo account you will be presented with a kind of fictitious test amount. You can trade this amount at your own discretion, testing whether your methods will work or not. Of course, if they work and you see the accumulated profits on your demo account, then it is not realistic to withdraw these funds, because they are fictitious. But a possible loss will also not be an obligation to return the money, and only then will it serve as a lesson to you about the mistakes you make.
Study all the features of the platform in detail. Try to go through all the lessons in the "learning" section. Also don't forget to follow the economic and political news in Pakistan as well as the world news to understand the global trends and make the right moves.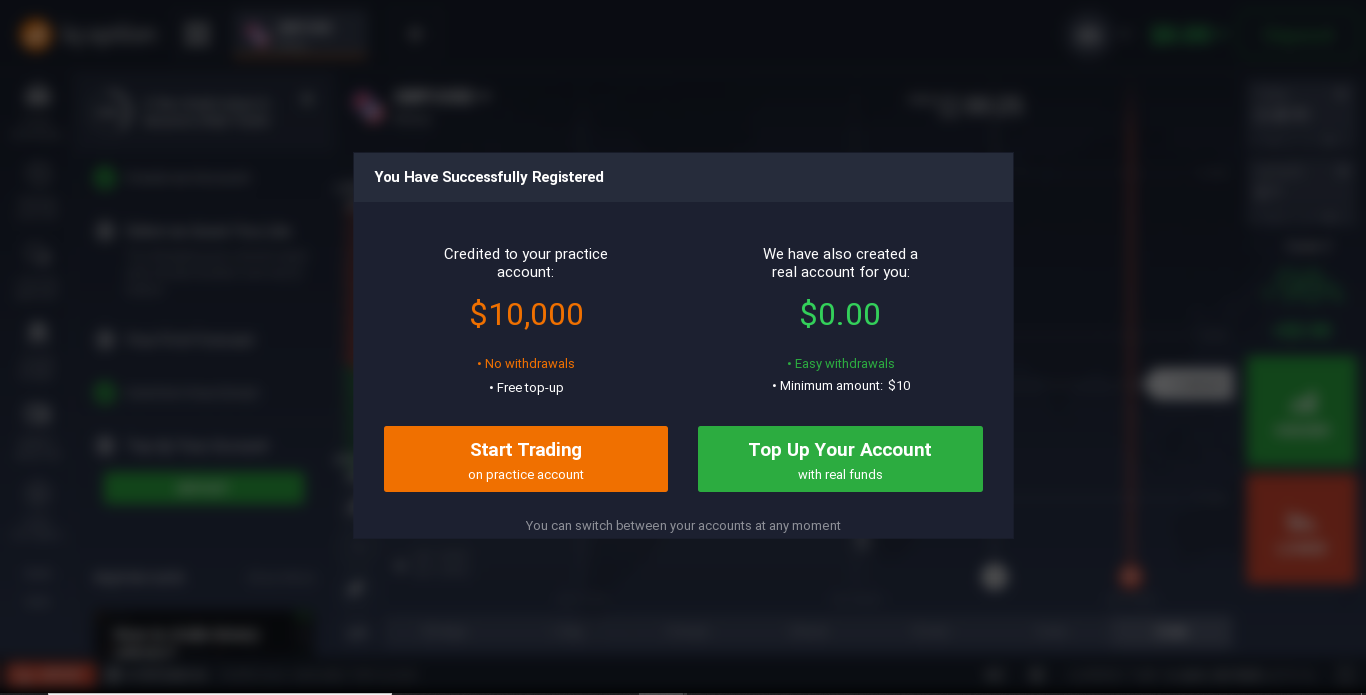 Start real trading
A real account is the next step towards online trading. Once you've tried out the demo version and are comfortable with your broker, you can then proceed to making real trades. This means you can wager real money and potentially make a real profit on your investment.
To activate a real account, make a deposit by clicking on the appropriate option on the platform panel. The system will redirect you to the deposit page, where you will see several options for making a deposit. You can make a deposit using a bank card or using an online payment system.
Once the funds have been transferred, they are available on the platform and can be used for investing. Topping up is usually done almost instantly.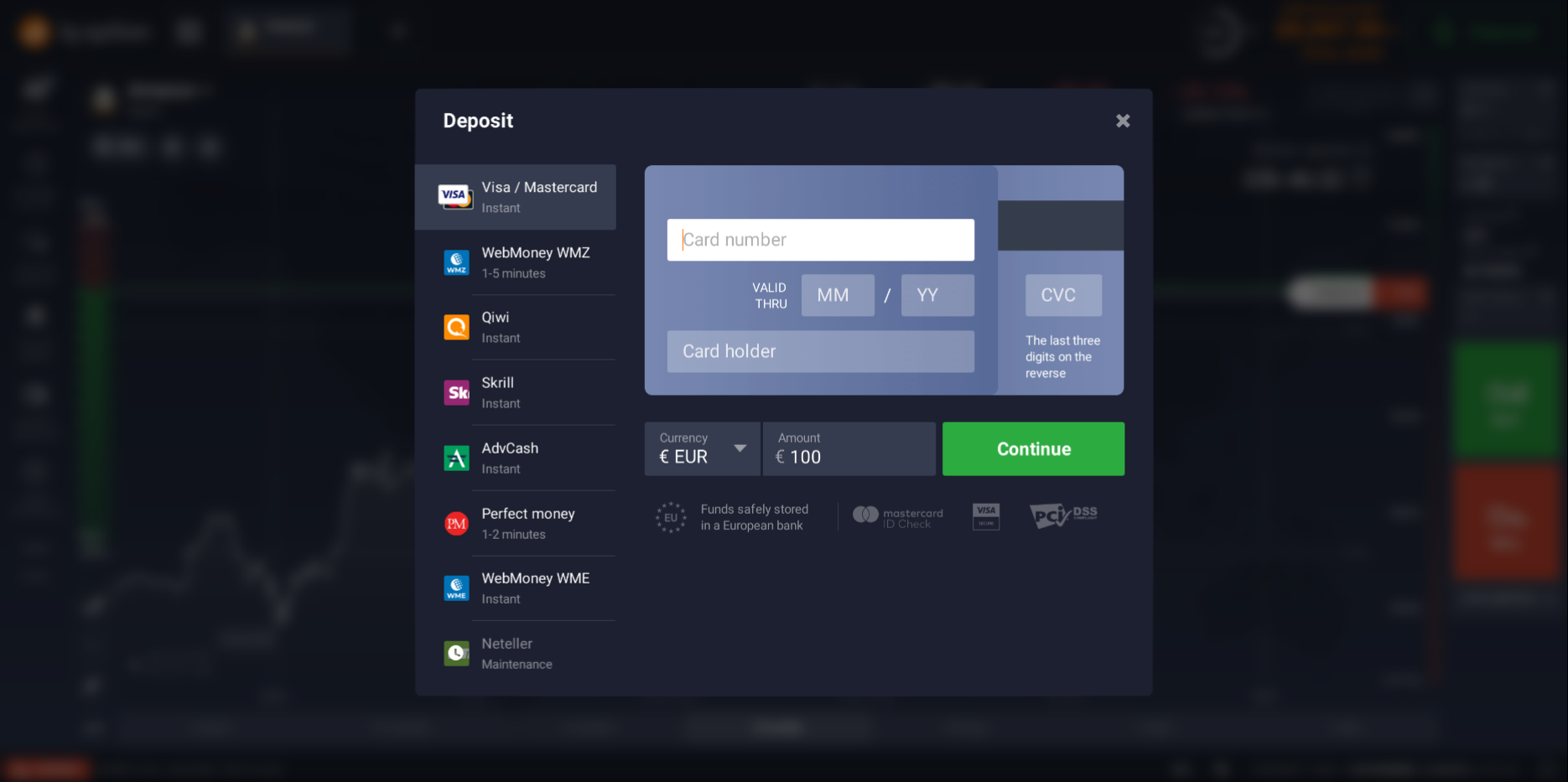 The secrets of successful investing
Investing is a rather complicated process. In order to invest effectively, creating profits rather than losses, it is not enough to simply study the stock market. It is worth remembering that the share price of an organisation is influenced by a number of external factors that need to be taken into account when investing, such as the political scenario in the country, foreign economic relations and economic legislation of the country, international economy, international political trends, etc. It is also worth paying attention to what kind of product or service the firm is currently producing, whether it intends to expand further or, conversely, whether it will close down. It makes sense to keep an eye on companies in which you are considering an investment. But we advise you to only use reliable sources of information.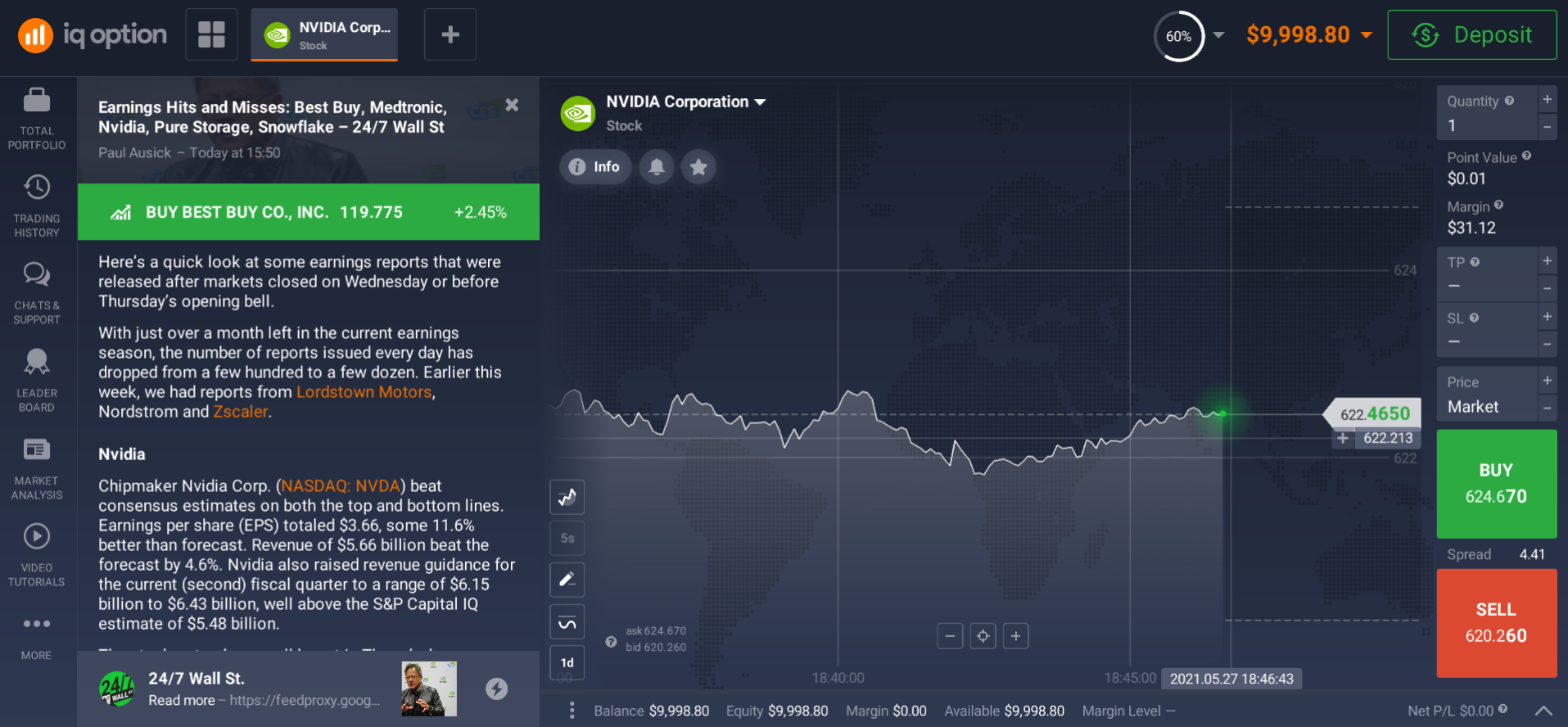 So, in summary, where to start investing:
find a reliable intermediary in the form of an online broker;
register with an online investment platform;
use the training section and the demo account to get to know the platform;
follow the news and keep abreast of the market conditions;
learn to analyse and make correct predictions.
Like any other activity, investing requires an all-round passion for it. If you want to become a successful investor, you need to make stock market research a hobby and following market trends should become a daily habit.
SIMPLE AND RELIABLE
MONEY WITHDRAWAL